When you shop through retailer links on our site, we may earn affiliate commissions. 100% of the fees we collect are used to support our nonprofit mission.
Learn more.
General Motors' SUVs have long suffered from "Goldilocks Syndrome," being either too big or too small to directly match the competition. Redesigned from top to bottom—all except for the name—the 2017 GMC Acadia finally gives GM a crossover SUV that's sized to directly battle the Toyota Highlander and Honda Pilot.
Buyers familiar with the previous-generation Acadia might feel somewhat short-changed by the new one. Basically a minivan wearing SUV clothes, the 2007-2016 Acadia (which carries on as the 2017 Acadia Limited) delivers the space of a big truck-based SUV (think GMC Yukon) while driving like a good car. Unfortunately, it also drinks fuel like a modern-day pickup, a legacy of its 10-year-old design. Competitors typically get four to six miles per gallon better than the outgoing Acadia's 16-mpg overall as measured in our testing.
Seven inches shorter in overall length, the 2017 Acadia redesign no longer provides three rows of adult-sized seating, but there are certainly benefits to the new smaller package. Shrinking dimensions make it considerably easier to park. Trim and lean from both the tidier footprint and an engineering-based diet, over 600 pounds were cut to improve fuel economy when comparing V6-equipped versions. EPA estimates point to a three mpg combined improvement over a comparable 2016 Acadia AWD.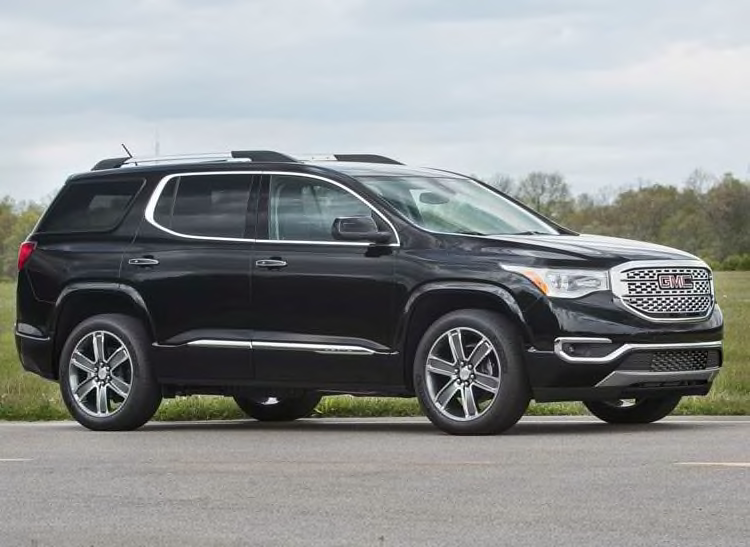 As a signpost that the 2017 GMC Acadia was designed when gas prices were over $4 a gallon, the base engine is a 193-hp, 2.5-liter four-cylinder. This isn't much power for a midsized SUV—other four-cylinder SUVs of this size usually sport a turbocharger—and accordingly, GM expects sales of this engine to be modest.
Most Acadias will come with a 310-hp, 3.6-liter V6 mated to a six-speed automatic. Power is in ready supply, but the engine sounds a bit gruff, especially at start-up. We're surprised that this new clean-sheet design comes with just six forward gears, as competitors are starting to have eight or nine. But GM says there just aren't enough eight-speed transmissions to go around. Regardless, fuel economy indeed appears to be better; we saw 22-23 mpg in mixed driving using the trip computer. (We'll more accurately measure fuel economy when we purchase our own Acadia.)
Driving the Acadia reveals no surprises, but it doesn't harbor many delights either. Direct steering makes it easy to drive, in a forgettable sort of way. Then again, few mass-market three-row SUVs put a smile on your face on a curvy road. Cabin noise is relatively well-controlled, with extra standard sound deadening in the top-trim Acadia Denali we tried. However, not all Denali distinctions are wins; its larger 20-inch wheels transmit more rough-road chatter than we'd like.
Not many owners take their SUVs off-road, but many want to look like they do. Hence the Acadia All Terrain, a five-passenger version with "black chrome" trim, different wheels, and added all-terrain and hill descent programming for the all-wheel-drive system. Acadia owners who tow might notice that maximum tow capacity is down from 5,200 pounds with the previous model to 4,000 pounds with the V6. That falls below the 5,000-pound ratings for the Ford Explorer, Honda Pilot, and Toyota Highlander.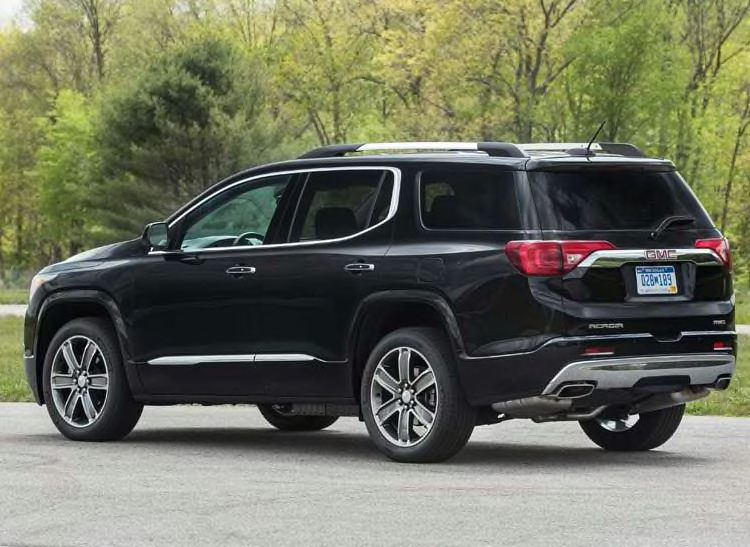 Inside, the practical cabin proves well-suited to family duty. Depending on seating configuration, the Acadia can fit five, six, or seven people. Many will have second-row individual bucket seats that recline and slide back and forth, granting more legroom to those stuck in the third row. Despite that olive branch, adults won't care for those those low and small seats. Some clever touches add utility, like a big pull-out drawer under the center console and levers in the cargo bay that can remotely fold the second row seatbacks to make more room.
Sitting up front, smallish windows make the cabin feel more closed in than a Jeep Grand Cherokee, Ford Edge, or especially the terrarium-like Pilot. Controls are familiar GM stock, with easy-to-use dials and buttons for climate and a straight-forward IntelliLink touch screen infotainment system. USB ports seem to be everywhere, both front and rear.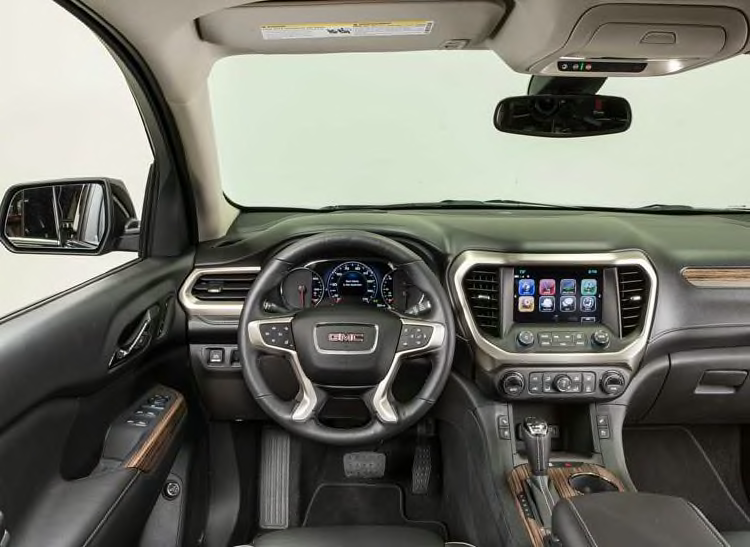 We wish advanced safety equipment was more evenly distributed through the Acadia lineup. Blind-spot monitoring comes standard starting with the mid-grade SLT1 trim, but forward collision warning with automatic emergency braking is only available on relatively posh versions, being optional on SLT2 trim and standard on Denali. GM targets top marks in the difficult Insurance Institute for Highway Safety small overlap crash test, something the outgoing Acadia would be unlikely to achieve.
Buying an Acadia can get expensive, following GMC's "professional grade" brand posturing. An all-wheel-drive SLT1 with leather, blind-spot monitoring, navigation, and sunroof stickers for $44,665. That price approaches upper-level versions of the Toyota Highlander or Honda Pilot that pack more safety equipment. Going for a full-zoot Acadia Denali easily pushes the price to $50,000, including the desirable safety gear, HID headlights and ventilated front seats. Despite real wood and aluminium accents, the Denali lacks the interior richness—and height-adjustable front seat lumbar support adjustments—that we expect for that kind of coin.
All in all, the Acadia gives GM the right-sized SUV that it needed, filling a hole in the corporate lineup. But we can't help but feel somewhat underwhelmed. Other recently designed GM products, like the Chevrolet Impala, Chevrolet Corvette, and the Cadillac CT6, have been more compelling and distinctive to drive. For better or worse, in this crowded field, the new Acadia feels like it hits average on more than just dimensions.