Which Air Fryer Accessories Are Worth It?
I tried 10 air fryer accessories to determine which ones will help you get the most out of your countertop cooker
When you shop through retailer links on our site, we may earn affiliate commissions. 100% of the fees we collect are used to support our nonprofit mission. Learn more.
If you own an air fryer, you already know that these miniature convection ovens are a game-changer in the kitchen. They can "fry" up foods with little to no oil and cut down on cook times when compared to a regular oven. But if you're only utilizing this multitasking device to cook up french fries, wings, and nuggets, you're not allowing it to live up to its full potential.
I've owned an air fryer for the better part of a decade, but I learned a lot from experimenting with 10 air fryer accessories: My appliance is more than capable of baking cakes, turning out kabobs, and preparing a personal pizza. Not to mention, these accessories have perfected the way I roast chicken and prepare baked macaroni while saving me time on cleanup.
I selected these particular accessories based on practical needs in the kitchen. After all, I wanted them to help make life easier, not simply take up space in kitchen drawers. I used each of them with the Gourmia GAF686 Digital air fryer. Until recently, it was our top-rated model, but it was just unseated by the Chefman TurboFry 4.5 Quart air fryer. It's still our top-performing large-capacity air fryer.
Below, how each accessory—from a cake barrel to a waffle mold—held up. While most of them are worth the money, there are a couple that didn't quite live up to my expectations. 
Contemplating buying an air fryer but haven't yet jumped on the bandwagon? Check out our air fryer buying guide for shopping tips and considerations. And for a glimpse at how a host of these models perform, take a look at our air fryer ratings and reviews. We've also rounded up the top performers from our tests in the Best Air Fryers of the Year.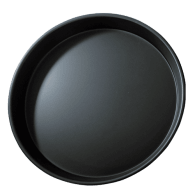 While baking in an air fryer might not seem like the most obvious choice, this accessory made it easy to whip up a small red velvet cake for my two-person household and turn out pound cake and bread rolls during a weekend baking kick. I also tried something a bit out of the box: In my West Indian family there is only one way to make mac and cheese, and that's to bake it. So I put this cake pan to the test, setting my cheesy mac inside, then using my air fryer's bake feature to set it. It came out great—perfectly browned on the top with a middle that was gooey and soft. Moving forward, this will be the only way I make this dish when cooking for two.
Verdict: Worth it
Disposable Air Fryer Liners
These disposable liners do have their benefits. Yes, they make cleanup a cinch and their perforated design make them safer to use in an air fryer than the typical parchment paper sold by the roll. But given their lightweight nature, these aren't created for use with all foods: Light bites, say vegetables and herbs, aren't heavy enough to keep the paper from flying into the heating element (I learned that the hard way). There's a great convenience factor with these being that they are disposable, but I found the silicone option (below) is easier to work with and a better, greener choice. 
 Verdict: Not worth it
Air fryers with a pullout drawer often come equipped with a grill pan. But if your fryer has a mesh basket, this accessory will instantly make your fryer more versatile. Designed with a nonstick coating and small openings for airflow, this tray made cooking chicken, turkey burgers, and my weekly fix of grilled asparagus—foods I often cook on my grill—a much easier task. And because the perimeter of the tray curves upward, it also helps with food slipping off the miniature grill grate and into the bottom of the basket.
Verdict: Worth it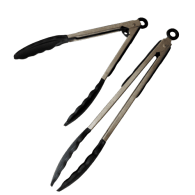 In my book, these tongs are an essential add-on. These aren't marketed as air-fryer specific, but they make flipping, turning, and adjusting foods in the appliance an easy task. Plus, if your air fryer has a nonstick surface, you never have to worry about the silicone leaving scratches like a metal utensil might. And because these tongs are heat-safe up to 500 °F, using them while the fryer is still hot is not a concern.
Verdict: Worth It
I first fell in love with personal pan pizzas as a kid who lived for BOOKIT! rewards. As an adult, I realized making my own personal pizzas was actually a way to have fun in the kitchen. For years I've put them in the oven on an upside-down baking sheet. But this little pizza pan, popped into the air fryer, makes it so much easier. I didn't have to wait for the tray to heat, and it cooks in a fraction of the time. The pizza crust was crispy how I like it, and it was easy to transfer from the pan to my plate. They (the pans are sold as a 4 pack) also clean up well.
Verdict: Worth it
Reusable Air Fryer Liners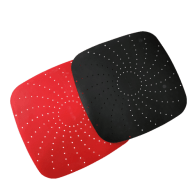 Unlike the disposable parchment paper liners (above), these reusable liners work well with most foods. I tried them with Brussels sprouts, breaded chicken, roasted chicken, and roasted cauliflower—all with impressive results. The small holes allowed for circulation, while keeping marinades and batters mostly in place, something I've found difficult to achieve in the past. It's worth noting, however, that this isn't ideal for fatty foods (say, a burger or bacon) that cook better when fat can easily drip into the basket below.
Verdict: Worth it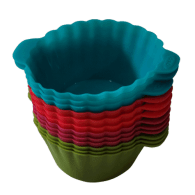 Before this experiment, I had never ventured to make baked goods in my air fryer, but I soon realized I had been missing out. Though this 12-pack has enough cups to feed a party, I was only able to fit a handful into my air fryer basket. Still more than enough for my household of two. The mold is sturdy enough to hold the batter for cupcakes or an egg mixture for quiches. And I didn't have to worry about greasing the form. The food easily releases from the cups so there was no mess and no half-crumbled cakes. 
Verdict: Worth it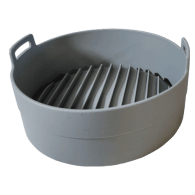 I was skeptical about this silicone pot. While it says it has multiple uses for multiple devices, I wasn't sure if air-fried foods would crisp up inside of a "pot" that did not have openings for airflow. My suspicions were wrong. This pot was among my favorites, of all the accessories I evaluated. The cooking performance was great—yes. But I was more impressed by the fact that it cuts down on cleaning time. I made potato skins, vegetables, chicken breast, and gave it a whirl with some of my favorite frozen foods. After using, it was a cinch to wash by hand with hot soapy water, and you can also throw it in the dishwasher. I did notice, however, that cook times increase when I used the pot. 
Verdict: Worth it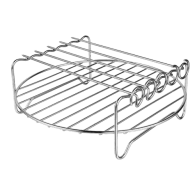 Grilled shrimp and vegetables are one of my go-to meals, so when I saw this miniature skewer rack, I knew I had to try it out. Typically I put my kebabs on a grill grate in the toaster oven or directly on the grill. And while nothing quite beats the taste of an actual barbeque, the air fryer does a pretty good job (especially when snow is on the ground). The length of these skewers (the racks come as a set of two) are far shorter than a typical skewer, so it's more appropriate for smaller households than for, say, a family of four. 
Verdict: It depends
Waffles are a bit of a weekend tradition in my house. And over time I've gotten pretty good at making them. I liked the idea that this waffle mold could make them look fancy for company or a quick dessert—without getting out my waffle maker. Unfortunately, my decadent dreams were dashed when I realized the batter for my waffles was much too thick for this shallow mold to handle. It started oozing over the sides. And beyond the mold not being deep enough, it also wasn't sturdy. Once I scraped off the excess batter, getting the mold from the counter to inside the basket was a juggling act. Let's just say the images on the retailer's page looked nothing like the finished product that came out of my air fryer. This one is a hard pass.     
Verdict: Not worth it