Best Air Purifiers Under $350
Minimize indoor pollutants with these top-rated models from our tests
When you shop through retailer links on our site, we may earn affiliate commissions. 100% of the fees we collect are used to support our nonprofit mission. Learn more.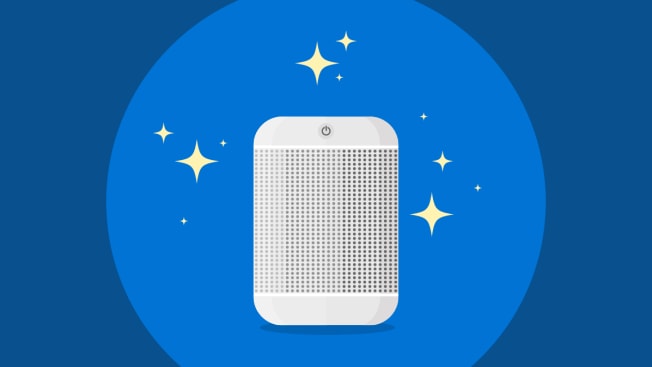 Indoor pollutants can be detrimental to our health. Pet dander, dust mites, burning candles, and gases emitted from cleaning products are just a few of the many sources of harmful particles lurking in our homes. 
Ventilating a space with clean air from the outdoors may be the best way to improve the quality of indoor air, but it's not always a viable or sufficient solution, especially for those living in areas where wildfires are prevalent. Portable air purifiers can be a good substitute, although they're designed to clear the air in a single room vs. an entire home. 
In our labs, we examine how well they're able to filter out dust, smoke, and pollen in an enclosed area while also observing how they perform at various speeds. Ahead, see the best air purifiers under $350, based on findings from our rigorous tests. 
For more options, see our review of the best and worst air purifiers and check out our air purifier buying guide for more on what goes into testing them.
The Blueair Blue Pure 211+ earns Excellent scores for particle removal at both the high- and low-speed settings. It's designed for rooms up to 540 square feet. But it can be a pain to move from room to room because the 16-pound machine doesn't have a carrying handle or wheels. A light will flash when it's time to change the filter, and this model also has a machine-washable fabric prefilter (a stocking that slips over the bottom half of the appliance and comes in five colors) for capturing larger particles like pet hair, thus prolonging the life of the main filter. One minor caveat: Expect some noise when the unit is running at high speed.
This portable Blueair Blue Pure 211+ auto air purifier is primarily filter-based and designed for floor or tabletop use in spaces up to 550 square feet. It earns an Excellent score in our tests when it comes to removing dust, pollen, and smoke particles from the air when at a high-speed setting. The model features a dirt sensor, three speeds, and relatively low operating costs, and it's easy to use. On the downside, it can be relatively loud when operating at higher speeds, and filter replacements can be costly. 
This portable air purifier from Carrier is primarily filter-based and features 19 speeds. Designed for floor or tabletop use, it can be used in rooms up to 426 square feet and even comes with a filter indicator that alerts you when it's time to change or clean the main filter. It earns an Excellent rating in our tests for removing dust, pollen, and smoke when set on a high speed and has relatively low annual operating costs.
If you don't mind some noise, this portable air purifier from GermGuardian may be a solid option. CR testers found that it's excellent at removing dust, pollen, and smoke particles from the air when running at high speed. The unit is pricey to maintain because the filters are relatively expensive to replace. It features a convenient carrying handle, easy-to-use controls, and a programmable timer.
The Honeywell AirGenius is ideal for midsized rooms, up to 250 square feet. That said, we recommend purchasing air purifiers that are designed for areas larger than they're intended for. That way they will perform even better in a smaller space. Filter replacements cost $40 per year and energy costs run about $40 per year. This model cleans best at high speed, earning a Very Good rating for particle removal in that test. And it does so while keeping noise to a minimum, a feat that few high-performing air purifiers can do.
Although its annual costs are high due to pricey filters, this portable air purifier from LivePure is a solid option if you're looking for a unit that can quickly clean the air in a room. It's among the most effective air purifiers CR has tested when running on its highest speed, garnering an Excellent score for particle removal performance. But it's relatively noisy when running on its high-speed setting.