Does the Molekule Air Purifier Live Up to the Hype?
CR tested the air purifier everyone's talking about—and recommends three better alternatives
When you shop through retailer links on our site, we may earn affiliate commissions. 100% of the fees we collect are used to support our nonprofit mission. Learn more.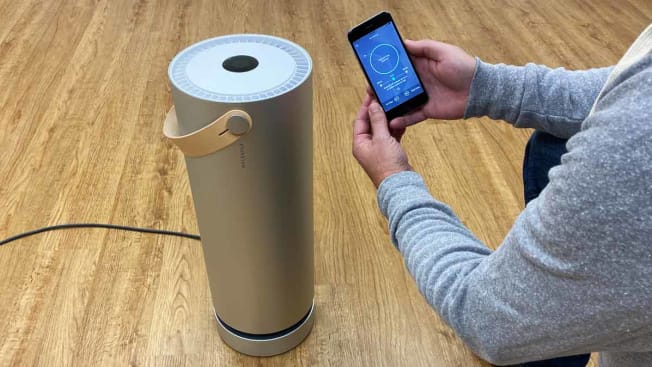 Maybe you've seen the ads for the Molekule Air in your social media feeds: the sleek, cylindrical air purifier set inside a clean, minimalist home. Amid calming mint-green graphics are claims that it'll destroy the harmful molds, viruses, bacteria, and gaseous chemicals lurking in the air you breathe at home. 
Like so many brands that trend on social media, the Molekule Air is available only through the manufacturer's website—for a whopping $800. It's the sort of niche product that we wouldn't necessarily test, but given the buzz it has generated, we felt a responsibility to weigh in with test data.
And because the Molekule manufacturer claims to have revolutionized air cleaning with its proprietary PECO technology, we dug a little deeper. Here's the story of our reporting and our lab tests.
This acronym is short for photoelectrochemical oxidation. It isn't new technology, per se, but rather a boosted version of PCO (photocatalytic oxidation), which has been used for decades to clean contaminated air and water. 
A typical mesh filter—HEPA, for instance—captures only airborne particles. PECO and PCO, however, take it one step further and also target gases. It does this by coating filters in a catalyst (PCO usually uses titanium dioxide) that reacts with UV light to oxidize gaseous pollutants and breaks them down into harmless molecules.
Molekule Air Test Results
We put the Molekule Air through our standard battery of air purifier tests, and it almost flunked: We put it into a sealed chamber and injected particles as small as 0.1 micron and up to 1 micron into the room—a range that includes dust mite allergens, cat allergens, smog, smoke, and atmospheric dust. (For reference, human hair has a diameter of 100 microns). A particle counter measured the change in air-particle concentration as the machine ran for 15 minutes. As usual, we tested at the highest speed and again at a lower speed.
Both the Molekule Air and its larger, newer sibling, the Molekule Air Pro, lag behind similarly priced and similarly stylish alternatives. The Molekule Air gets a Fair rating for smoke and dust removal at high speed and a Poor—the lowest score possible—at low speed. It is the seventh-lowest-scoring air purifier of the 105 in our tests. The larger Molekule Air Pro did better at its highest setting, but this is tempered by its extremely high noise level at high speed and its even higher price. The manufacturer says the Molekule Air is sized for rooms up to 600 square feet, but its performance in our tests ranks it among compact models that are designed for small rooms. Based on our lab's calculated rate at which it can process the air, the Molekule Air wouldn't be able to handle any room larger than 100 square feet.
We shared our methodology and findings with Rao, and she took issue with our testing.
"It's a very limited assessment of Molekule because instantaneous removal of particles is not the full picture of what air purification looks like," Rao says. "And while we may be destroying at a slower rate, we're still doing something much more complicated, which is truly purifying the air at the nanoscale level and making it safer."
But if the Molekule Air isn't pulling enough air into the machine in the first place, it may struggle to clean the air at any scale. 
"Even if the PECO filter works and it purifies the air of microscopic particles, it's still not effectively catching the large particles, which are also irritants," Dickerson says.
In addition to the Molekule Air's poor performance in our testing for particle reduction, there's the price to consider. The Molekule Air costs $800, with an annual cost of $130 for filter replacements, plus an additional $50 per year for energy use, based on our calculations. (The model is not Energy Star certified, unlike the majority of air purifiers we test.) The Molekule Air Pro goes for around $1,000, and also isn't Energy Star certified, leading to a combined annual cost of more than $375.
Even the smaller, less powerful Molekule Air isn't very quiet, garnering a Fair score for noise on the high-speed setting and a Good score on the low-speed setting.
Our verdict? Pass on either Molekule and opt for one of CR's recommended air purifiers.
Here are three models, listed in alphabetical order, that perform well in our particle removal tests and cost hundreds less.
Editor's Note: This article, originally published Oct. 25, 2019, was updated Dec. 9, 2019, to clarify our expert's critique of the Molekule Air.