When you shop through retailer links on our site, we may earn affiliate commissions. 100% of the fees we collect are used to support our nonprofit mission.
Learn more.
Many of the things we do to keep energy costs down in winter, such as fixing drafty doors and leaky windows, can also seal in pesky pollutants and irritants. To keep the air clean, use the exhaust fans in your kitchen and bathroom and vacuum frequently, especially if you have pets. And ditch the scented candles. If that doesn't do the trick, you may want to consider an air purifier.

Consumer Reports tested dozens of portable air purifiers and whole-house air filters that use high-efficiency particulate air (HEPA) or similar filters to clean the air. If you have a forced-air furnace, it may simply need a filter upgrade. The best filters are designed to capture pollen, dust, or smoke particles; regular furnace filters don't do that. If you don't have a forced-air system, check out our top portable room air purifiers. But skip electrostatic air purifiers, which can produce small amounts of ozone, a respiratory irritant, and ozone generators, which emit higher levels of ozone. Here are some affordable air cleaners to consider.

Portable Honeywell HPA300, $250
Why we like it. This Honeywell is our top pick because it combines excellent smoke and dust filtering with handy features, including four speeds and a programmable timer. It tells you when it's time to change the filter. And unlike most models, it was relatively quiet at its highest speed.
But consider. The annual cost for filters isn't cheap and will surpass the cost of the machine within 16 months.

Portable Whirlpool Whispure AP51030K, $300
Why we like it. The Whirlpool cleaned as well as the Honeywell at its lowest speed and offers similar features but is slightly smaller. It also was relatively quiet.
But consider. Annual costs for its filters are even higher than the Honeywell.

Whole-house Filtrete Healthy Living Ultimate Allergen Reduction 1900 MPR, $20
Why we like it. This furnace filter only involves a simple swap with your current one. It was especially effective at removing dust from the air with little noticeable restriction of the furnace's airflow.
But consider. It was only so-so at removing smoke.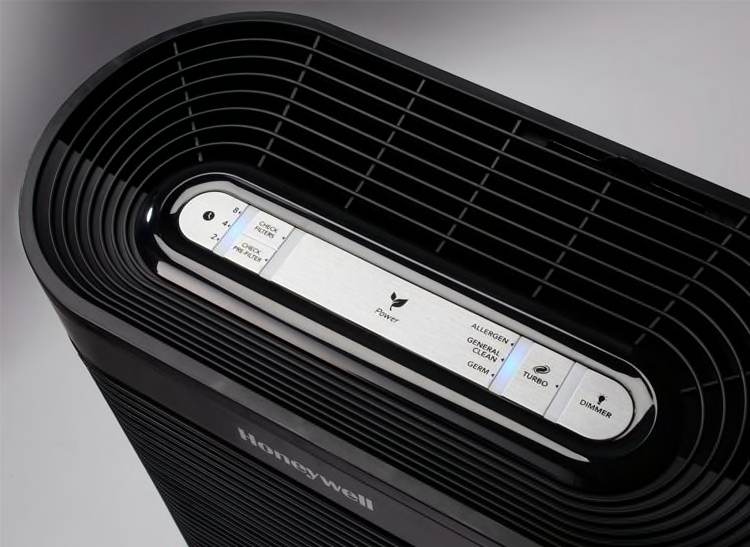 Can a HEPA Vacuum Do the Job?
HEPA filters, which provide the highest level of vacuum-cleaner filtration, can benefit someone with asthma. And in our vacuum cleaner tests, models with a HEPA filter have been very effective at reducing emissions. Some models that don't have HEPA filters, however, have performed just as well, and such vacuums typically cost less than HEPA models.

If you're concerned about a vacuum's emissions, buying one with a HEPA (high-efficiency particulate air) fi‰lter is a good choice. But you can find other worthy models in our vacuum cleaner tests that scored well for low emissions. Two bagged canister models that fit the bill are:

Kenmore Elite 21814, $500
Why we like it. Fine cleaning and pet-hair pickup helped make this bagged canister a top pick. Carpet cleaning and airflow for tools are both impressive, while pickup on bare floors was superb. Other pluses include manual carpet pile-height adjustment, suction control for drapes, a brush on/off switch for bare floors, and a retractable cord. Among canister brands, Kenmore has consistently been among the top performers.

Panasonic MCCG937, $330
Why we like it. Panasonic's bagged canister had impressive cleaning across the board, making it one of our top picks. Panasonic is also among the more reliable brands of upright vacuums. This model had ample airflow for tools and did equally well at picking up pet hair. Helpful features include a brush on/off switch for bare floors, suction control for delicate items like drapes, easy on/off, manual carpet pile-height adjustment, and the expected retractable cord.