When you shop through retailer links on our site, we may earn affiliate commissions. 100% of the fees we collect are used to support our nonprofit mission.
Learn more.
Long before COVID-19 had us wondering about the air we breathe, the quality of indoor air was a cause for concern. Pollutants such as pollen, dust, mold, and smoke can affect your family's overall health. According to the Environmental Protection Agency, long-term exposure to high particle levels is linked to bronchitis, reduced lung function, and premature death.
No wonder, then, that sales of portable home purifiers have been on an upward swing for years. In 2020 alone, demand for air purifiers grew by more than 57 percent in the U.S., according to a report from Verify Markets, a market research and consulting firm. CR's air purifier experts expect to see that popularity hold long after the pandemic is over. By 2027, research suggests that the global air purifier market value will reach $19.2 billion. The U.S. is expected to account for roughly $4.5 billion of that.
Air purifiers with HEPA filters are capable of capturing many of the harmful particles that you might find indoors, including pollen, pet dander, dust, and even wildfire smoke—and, yes, the coronavirus if someone in your home is sick with COVID-19. (See the illustration below.)
In our labs we evaluate air purifier models on their highest and lowest setting for removal of particles as small as 0.1 micron and up to 1 micron. We've found that HEPA filters, with their intricate web of fibers, do the best job at removing problematic particles, from dust to smoke to dander. The best air purifiers from CR's tests do an excellent job at reducing dust, smoke, and pollen when set to its highest speed, and receive an Excellent or Very Good rating when set to its lowest speed. You can see the complete list by visiting CR's room air purifier ratings.
Here's a closer look at some of the pollutants a HEPA air purifier can trap.
Sizing Up Indoor Air Pollutants*
Air purifiers with HEPA filters can capture 99.97 percent of particles that are 0.3 micron, which is far smaller than the diameter of a human hair.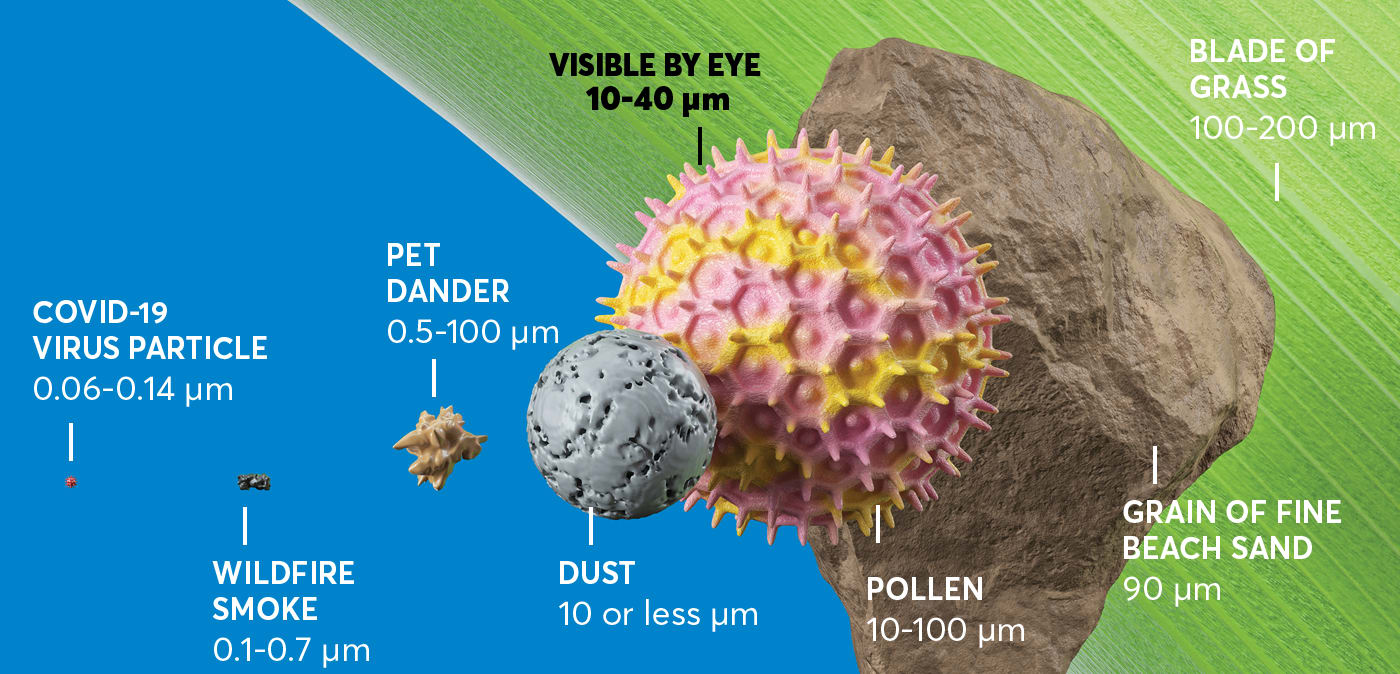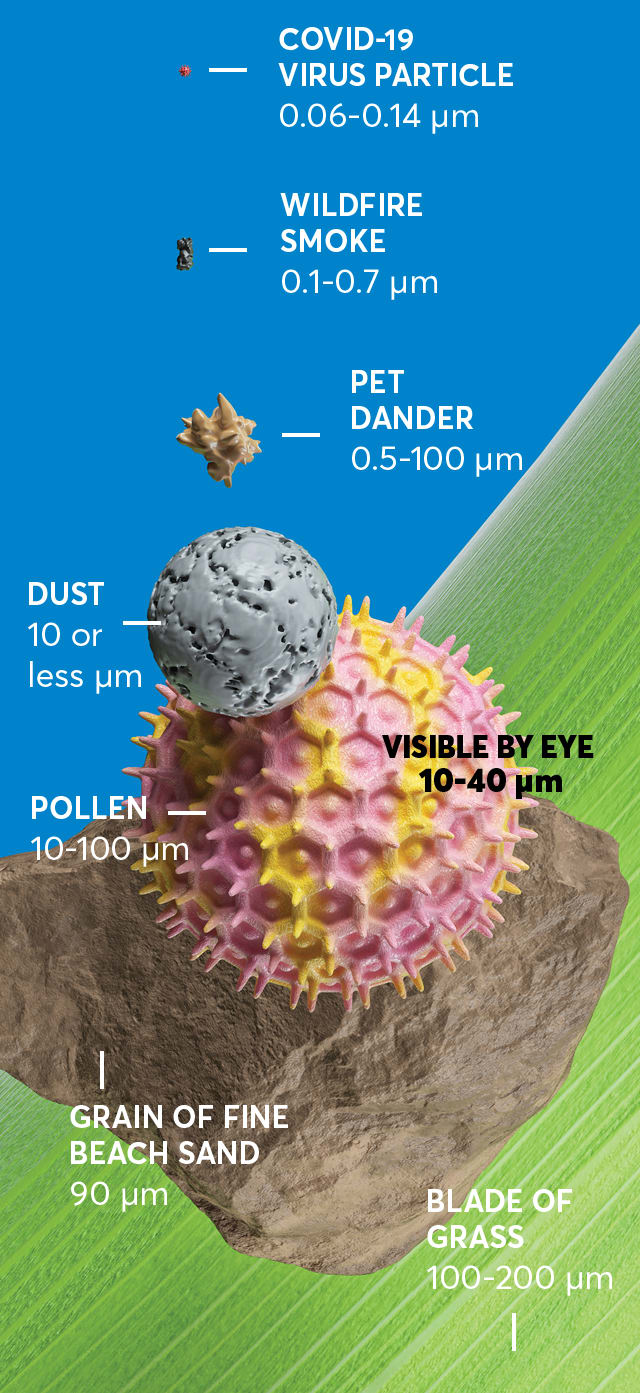 COVID-19 Virus Particle
The more air a purifier can draw in, the better it will be at reducing the amount of virus droplets in your air. COVID-19 particles are estimated to be 0.06 to 0.14 micron, a size that HEPA filters have proved to be able to capture. But because particles travel inside aerosols, which are bigger, there's an even better chance a HEPA filter can catch the airborne contagion. The EPA warns that by itself, air cleaning is not enough to protect people from getting sick from a virus, but if someone in your home is sick with COVID-19, using a HEPA air purifier can help keep others from getting sick.
Wildfire Smoke
Wildfire smoke is measured at 0.1 to 0.7 micron, and when inhaled, can cause a number of health problems. These include—but are not limited to—a burning sensation in the eyes, bronchitis, asthma attacks, and more serious conditions like a heart attack and stroke. According to the EPA, this smoke, often composed of vegetation, natural fuels, and synthetic materials, has been linked to premature death and trouble breathing in children.
How good are home air purifiers with HEPA filters at removing smoke? Very. CR's tests have found that the best models can effectively remove smoke particles, and the EPA has recommended air purifiers as an effective tool to combat smoke.
Pet Dander
If you suffer from allergies to pets, you know the sometimes eye-watering effects of exposure to pet dander, which range from 0.5 to 100 microns. While pet hair can often be taken care of with sweeping or vacuuming, air purifiers can capture the microscopic flakes of skin, or dander, that animals sometimes shed. These sheddings can cause an itchy throat, puffy eyes, and respiratory problems to people with an intolerance.
Dust
It can be the bane of our existence—all those fine dust particles, measuring 10 microns or less, that never seem to go away. Dust also has the potential to cause serious health conditions if it is inhaled deep within the lungs. The most effective air purifiers equipped with a HEPA filter are able to capture 99.97 percent of particles as small as 0.3 micron. That means they're efficient at capturing dust particles and can even capture dust mites which are much smaller and often too tiny to see with the naked eye.
Pollen
It's one of the biggest culprits of seasonal allergies and a frustrating consequence of a change in weather. An air purifier with a HEPA filter can capture pollen, which measures roughly 10 to 100 microns, leaving you to breathe easier.
*Source: Scientific Reports, February 2021 (COVID-19); Remote Sensing, 2020 (wildfire smoke); National Academies of Sciences, Engineering, and Medicine (pet dander, pollen); Environmental Protection Agency (dust, beach sand); Forages, Volume 2 (grass).
Best Air Purifiers From CR's Tests
The air purifiers below all earn high scores for filtering out dust, pollen, and smoke in our tests.
Editor's Note: A version of this article also appeared in the August 2021 issue of Consumer Reports magazine.