4 Ways to Save Even as Airfares Climb
Rising fuel prices and a number of other market factors could make air travel more expensive this year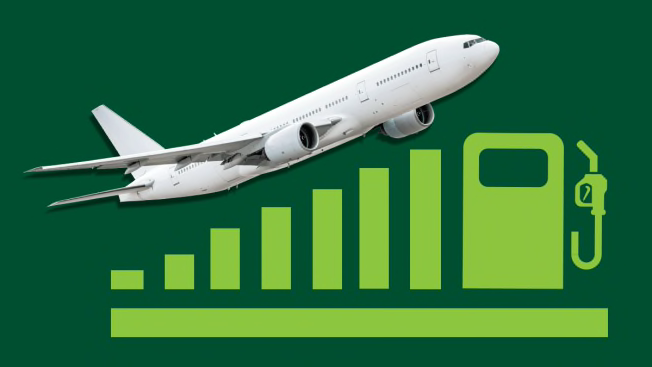 Consumers aren't the only ones feeling the pinch at the gas pump. Airlines are also facing higher fuel prices, and are passing some of the increased cost on to travelers. 
How much more expensive will airfares be? Travel experts say that domestic ticket prices could rise as much as $30 to $40 on a typical round-trip ticket in the coming weeks and months.
At an investors' conference last week, Delta Air Lines president Glen Hauenstein said that ticket prices were likely to increase by "somewhere under 10 percent" from current levels. Various industry sources estimate that domestic fares average between $320 and $400 round trip, depending on factors like the date of travel or competition on a particular route.
"Increased fuel costs are going to hurt the airlines' bottom line, force them to raise fares, or both, " says Scott Keyes, founder and chief flight expert for the airline deal site Scott's Cheap Flights, adding that fuel is the second largest expense for airlines after labor. Since late last year the cost of jet fuel, which is derived from crude oil, has risen more than 50 percent.
Consumer Advocates Voice Concern
Some consumer advocates are voicing concern over the fare increases, pointing out that previous carrier surcharges and price hikes related to temporary fuel price increases remained in place even after fuel prices had returned to normal. 
"Airlines were very quick to institute fees when fuel prices spiked in the past, but they were awfully slow to remove those fees when prices went down," says William J. McGee, aviation adviser for Consumer Reports. 
For example, McGee says American Airlines cited a spike in fuel prices when it introduced fees for checked baggage in 2008. Those fees, which were also adopted by most other U.S. carriers, remain in place today. Oil prices have eased somewhat in the past week, but are expected to remain higher than $100 a barrel at least through the next three months, according to the latest forecast from the U.S. Energy Information Administration.
Be flexible. While price hikes are inevitable, you can minimize the damage to your wallet by finding the lowest fares. The key is to be flexible, says Scott Wainner, CEO of Fareness, a booking app that tracks airfare trends, adding that the last-minute deals common during the pandemic are much scarcer now.
"There has never been a secret formula, but if you can look at least a couple of weeks ahead you'll start to get the best prices," Wainner says.
Shop around. Some carriers give you the option of locking in a fare for a few days before you buy the ticket, either free or for a small fee: You can use the extra time to make sure you're not missing out on a better deal. 
Consider a package. If your travel plans include a hotel stay, consider booking an air and hotel package through the airline: The fare you'll get is often lower than what you'd pay if you booked the ticket separately. 
Use price alerts. If your travel dates are flexible, set up a price alert to be notified when the fare drops on a given route. You can do this on many fare comparison and booking sites, and on apps including Hopper and Kayak. Many travel websites also have flexible date calendars that indicate the least expensive days of the month to fly a given route.