Smarter: ✈️ How to Avoid Ridiculous Airline Fees This week, I'm looking airlines deep in the eyes and asking, "Why do you hate us?" Just kidding. What I will be doing is sharing strategies on how to avoid one of the peskiest things about flying: fees. Also in this issue: Does your car's Eco mode save gas, and can you use Windex to clean a flat-screen TV? 
THE BIG STORY:
'Wing, Lose, or Draw'
Flying is such a pain.
Let me explain. A few weeks ago, I booked a flight from New York City to Orlando, Fla. I thought I had done my due diligence, looking for the cheapest flights on Google Flights and Skyscanner for nearly an hour. When I decided I was going to purchase my ticket from a certain airline because of the cheap airfare listed, I thought I had scored the best deal and my homework was thus done.
I was naive. It's been a while since I've flown, and I had not counted on all the extra fees for what I considered basic amenities that would pop up in the process of my booking the ticket. Want to select a seat? Fee. Want to check your bag? Fee. Oh, you'd like to bring a carry-on with you? Fee. I believe that if they could get away with charging me money for using the restroom on the plane, there probably would be a fee for that as well. (You think I'm joking, but there was a European airline that was seriously considering this, though the plan was later dropped.)
In addition to avoiding fees, how can you save money on airfares in general? 
💸 Book early. If you buy your tickets a few weeks in advance, you may get better prices than if you buy them last-minute.
📉 Use price alerts. Set up alerts on fare comparison websites and apps such as Kayak and Hopper to notify you if the fare on a given route drops.
🏨 Consider a package deal. If you book a flight and hotel package through an airline or a travel agency, your fare is often lower than what it'd be if you booked your ticket separately. 
🔒 Lock in fares. Some airlines allow you to lock in a fare for free or for a small fee a few days before you buy the ticket. You can use this time to shop around in case there's a better deal out there.
✅ Bonus tip: Department of Transportation rules also allow reservations to be canceled without penalty within 24 hours if the tickets are purchased at least seven days before a flight's scheduled departure. The 24-hour refund requirement, however, doesn't apply to tickets booked through online travel agencies, travel agents, or other third-party agents, so you should contact the travel agent directly for a refund before you contact the airline.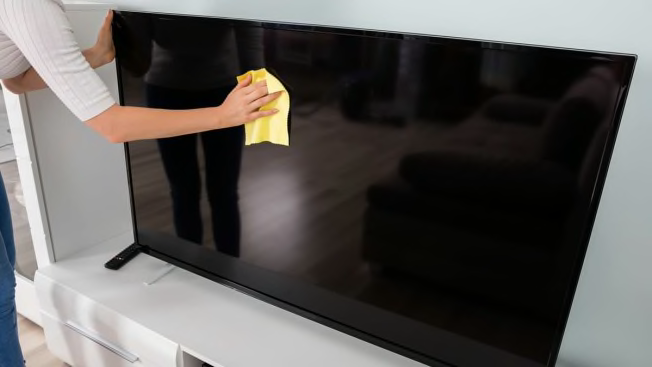 Yes or no: Can you use Windex to clean your flat-screen TV?
(Answer at the end.)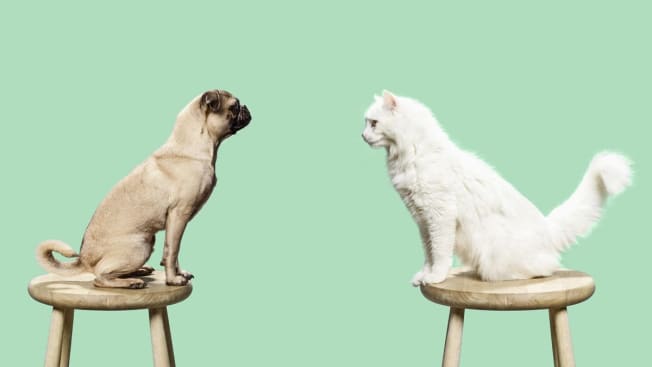 If you had to wager a guess, do you think there are more cat or dog owners in the U.S.?
I personally would lay down my life for either of these animals, but when it comes to pet ownership, 53 percent of Americans are dog owners, while 32 percent are cat owners, according to a recent nationally representative survey conducted by Consumer Reports. Fourteen percent own both a cat and a dog.
And if we dig deeper into numbers and costs, dog owners spent a median of $592 per dog on overall pet costs, including food, grooming, and pet insurance, over the previous 12 months, while cat owners spent $303 per cat.
SWEET DREAMS ARE MADE OF THIS
Are sweet potatoes good for you?
AND THE WEBBY AWARD GOES TO...
🎉 Consumer Reports is a Webby Award honoree and nominee! Cast your vote to help Upkept by Consumer Reports win best app/software in the Best User Experience category. Vote now.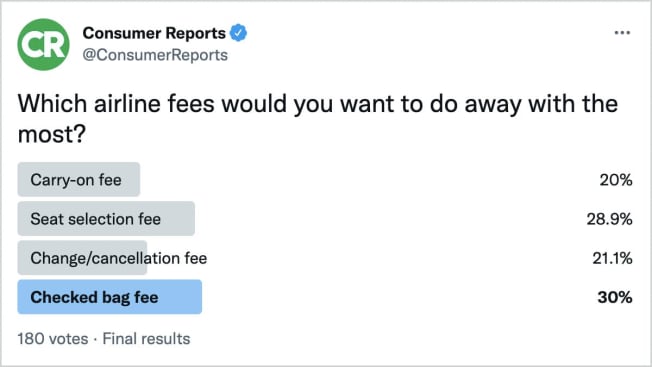 Let's face it: All airline fees are grating in one way or another, but which fee is the most infuriating of them all?
We asked our readers on social media which fee they would want to get rid of the most. By a slim margin, Twitter users voted for the checked bag fee as public enemy No. 1, followed closely by the seat selection fee. On Instagram, checked bag fees also received the majority vote, and change and cancellation fees came in second.
Which fee bothers you the most, and what's the most outrageous amount of money you've ever been charged for an airline fee? Send your grievances my merry way.
The answer is oh, no, no, no. You should avoid using Windex or any cleaner that contains alcohol, ammonia, or acetone because it will damage your flat-screen TV. 
Instead, use a soft, dry microfiber cloth to get rid of dust and debris, and if your TV has a stain that's hard to remove, you can dampen the cloth with distilled water and gently clean the surface. Read more tips on how to clean your flat-screen TV here.
"My star sign is the window seat in the front of the plane."