You can't see it when they're whirring around but fans tend to collect a lot of dirt, especially if they're in or near a kitchen where steam and airborne grease can be a magnet for dust. Now is a good time to tackle this project before the weather gets too hot and your fans are in constant rotation. Here are some simple steps from Consumer Reports' book, "How to Clean Practically Anything."

Clean fan housings with a damp cloth and an all-purpose cleaner, or a cloth dampened with a solution of water and mild detergent. Don't let liquid get into the motor. Dirty fan blades don't move air efficiently. When cleaning the blades, be careful not to bend them; bent blades may vibrate when the fan is operating.
Floor, table and window fans. Dust regularly on both sides of the grille using a vacuum-cleaner brush attachment, or a lambswool duster. Make sure the fan is unplugged and clean the blades and inner workings with a hair dryer or a can of compressed air. If the grilles can be removed, hose them down or put them under the shower two or three times a year; scrub with a brush to remove dirt. Clean blades and other plastic parts with a cloth sprayed with or dipped in an all-purpose cleaner.
Attic (whole-house) fans. Brush and vacuum the louvers and screening at least once a season for maximum airflow. Some fans are thermostatically controlled, so be sure that the fan is turned off.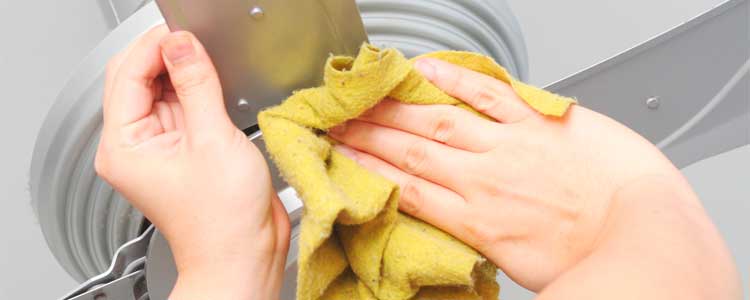 Ceiling fans. Clean these difficult-to-reach fans at least once a season. A special tool—a long-handled, U-shaped brush—is available from hardware stores and home centers. The blade fits in the inner part of the U, so both sides can be cleaned at the same time. Two or three times a year, wipe the blades and housing with a damp cloth and an all-purpose cleaner. Dry thoroughly because damp blades attract dust.

Exhaust fans. Dust these with a vacuum-cleaner brush or a damp cloth. If the fan covers can be removed, twice a year wipe down the blades and other nonelectric parts with a cloth sprayed with or dipped in an all-purpose cleaner and clean or replace the filter.

Consumer Reports is an independent, non-profit organization dedicated to helping consumers. We make it easy to buy the right product from a variety of retailers. Clicking a retailer link will take you to that retailer's website to shop. When you shop through retailer links on our site, we may earn an affiliate commission – 100% of the fees we collect are used to support our mission.
Learn more.
Our service is unbiased: retailers can't influence placement. All prices are subject to change.