When you shop through retailer links on our site, we may earn affiliate commissions. 100% of the fees we collect are used to support our nonprofit mission.
Learn more.
More than 110,000 builders, designers, manufacturers, and media professionals descended on Las Vegas last week for the annual unveiling of innovative products, materials, services, and technologies for the home that is Design & Construction Week. There was a new aroma on the floor of the convention center—the smell of yeast from all the freshly baked pizza. And 2016 saw a record number of goggled show goers, whether in the Oculus Rift or Google Cardboard.
Consumer Reports sent its usual team of editors, market analysts, and product testers to unearth the most compelling remodeling trends from more than 2,500 exhibitors, spread across 1.2 million square feet of convention space. Whether you're building a new home or remodeling the one you have, here are five key trends to consider this year.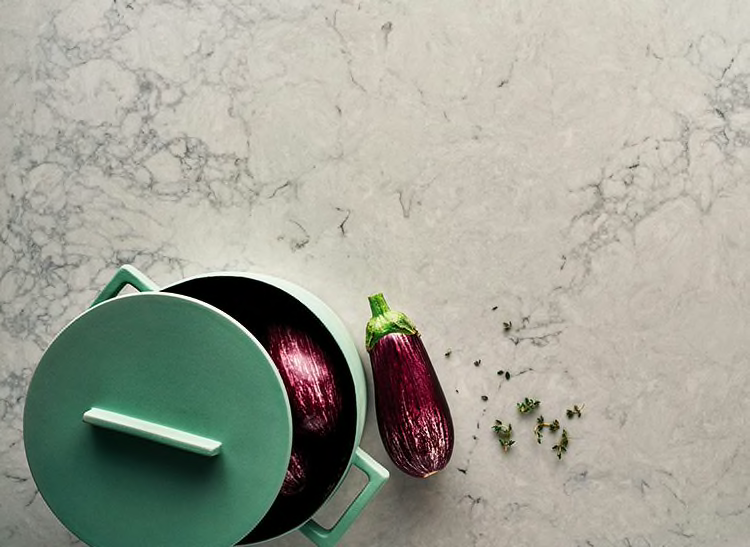 Low Maintenance Meets High Design
The millennial effect is a factor here. In a recent Consumer Reports survey of 18- to 35-year-olds, low maintenance made the list of most desirable home features. Beauty, however, will always rank supreme with homeowners. That's driving even more interest to quartz countertops, which come in some stunning designs without all the upkeep of marble, granite, and other natural stones. Two favorites from the show: Caesarstone's marble-inspired Nobel Grey, above, and Cambria's Roxwell, with its undulating movement of gray dappled with white, black, and charcoal flecks.
Stainless steel is also getting a low-maintenance makeover from several major brands. KitchenAid's black stainless steel resists fingerprints better than traditional stainless and it's a softer, warmer finish. GE's new graphite finish for its Monogram Professional appliances, pictured at top, is made through physical vapor deposition, or PVD, a process that promises exceptional strength and scratch resistance along with a rich luster we haven't seen before.
Exterior products are getting less fussy, too. If you're creating a new exterior living space, check out the Trex Pergola, an outdoor structure made from cellular PVC with structural aluminum cores and stainless steel hardware. The easy-to-assemble pergola is available with a motorized canopy, providing instant sun and rain coverage to any deck or patio space.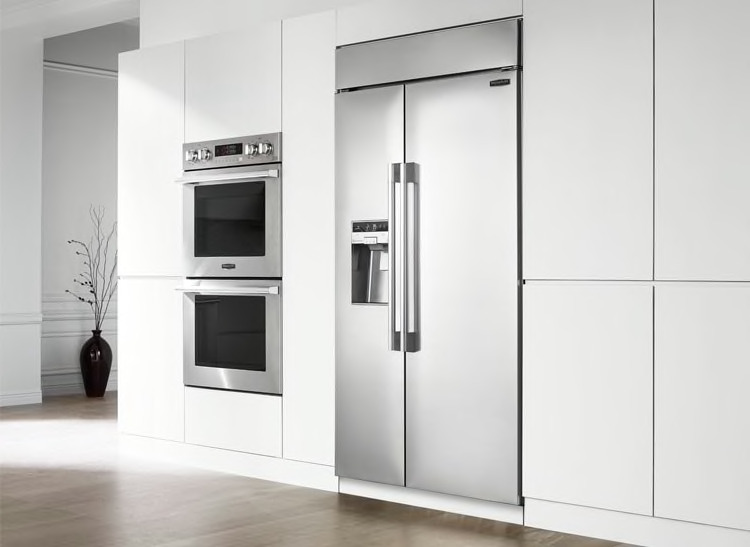 Luxury Appliance Suites Get Richer
It's not every year that a major new appliance brand debuts at the show, but 2016 saw the launch of Signature Kitchen Suite, a line of "super-premium" home appliances that includes refrigerators ($5,000-$10,000), cooktops ($1,500), ranges ($5,000), dishwashers ($1,300), and more. Though the brand was developed by LG, it's being marketed separately by the South Korean manufacturer, much the way Lexus stands apart from its parent company Toyota.
The Signature Kitchen Suite will compete with luxury brands like Viking, Jenn-Air, and Thermador. The appliances have many high-end accents, including sleek finishes and hefty controls. The big value proposition for consumers is that, in addition to the sleek design, the appliances are loaded with smart innovations, including Wi-Fi operation and a "Kitchen Concierge" service that notifies you if something goes awry with one of the units.
Bertazzoni, the Italian manufacturer known for its gleaming pro-style ranges, also unveiled a new suite of appliances at the show. But whereas LG aimed higher with its Signature suite, Bertazzoni is targeting a more middle-market consumer with the suite. The cabinet-depth refrigerator, for example, sells for $3,000, while the dishwasher starts at $900. The suites are available in three styles—master, professional, and heritage—to coordinate with Bertazzoni's various ranges. The question is: will these freestanding appliances look the part next to an uber-luxe Bertazzoni range?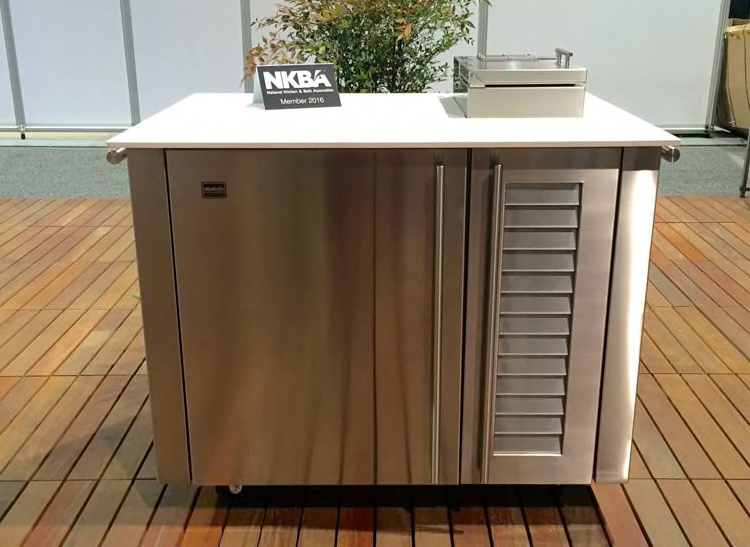 Restaurant Features Find Their Way Home
Backyard smokers are nothing new, but the Smoker Cabinet unveiled by Kalamazoo takes the experience to a new level, with a gravity-feed charcoal design that many pit bosses swear by. Thanks to its sealed system and heavily insulated box, Kalamazoo claims the dedicated smoker can maintain an ideal 225° F smoking temperature for more than 10 hours on a single load of charcoal. The undercounter unit, which will cost between $10,000 and $12,000, measures 36 inches wide by 30 inches deep, making it compatible with most outdoor cabinetry systems. And its three large shelves should hold enough smoked meat for even the biggest backyard barbecues.
From smoked meats to fresh-baked pizza, GE unveiled its new Monogram Pizza Oven, $10,000, a first-of-its-kind indoor oven that fits into a standard 30-inch wall opening and requires no additional ventilation. GE claims the oven can reach ideal pizza baking temperature of 750° F in 30 minutes. Take a look at our video from the show to see the oven in action.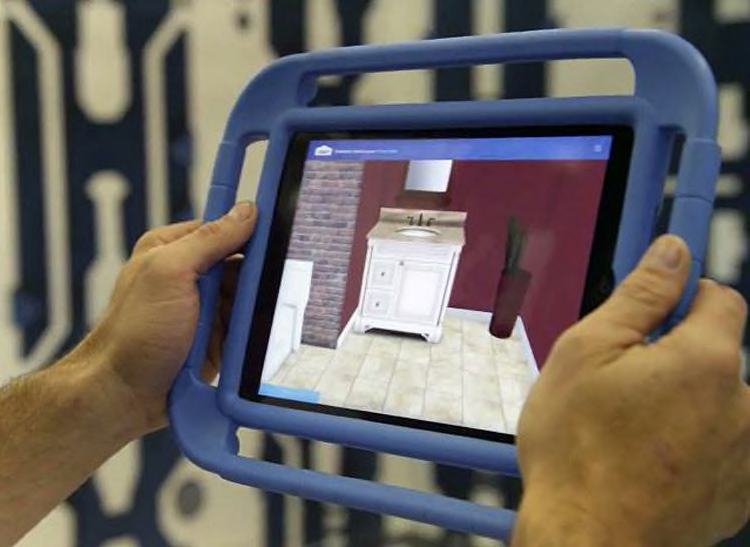 Virtual Reality Becomes Practical
Let's say you're planning a major kitchen remodel. If you've done your homework, or you're working with an experienced designer, you know to come up with a floor plan that promotes good traffic flow. But until you're actually standing in the space, it's impossible to know for sure that it works—and by that time it could be too late. Enter the brave new world of virtual reality, which lets you experience your new kitchen (or any room in the house) before the real work gets underway. Lowe's Holoroom is the most mainstream example, but many smaller companies are coming out of the woodwork, so to speak, and we expect virtual reality to be a major trend in 2016. Watch this Consumer Reports video for more details.
Clever Ways to Save Water
Drought conditions have eased up in some parts of the country, but the market for water-efficient products remains red hot. One of the most innovative show offerings was the AquaBoy Pro II from Aquarius Brands, an atmospheric water generator that produces up to five gallons of purified water, hot or cold, from the air. One caveat: the machine needs the relative humidity to be at least 30 percent, so it might not be an option in some arid regions during the daytime. The AquaBoy Pro II sells for $1,850, with leasing options.
Smart water heaters are another possible source of savings, since they let consumers track their consumption in real time. The Trutankless TR Series smart water, starting at $1,600, incorporates connected capability in a tankless water heater—an inherently efficient piece of equipment, since it only delivers hot water when you need it (unlike traditional water heaters, which maintain a storage tank full of hot water whether you need it or not). The catch with the Trutankless is that it runs on electricity, which is more expensive than gas in most regions. In addition to tracking water usage, the Wi-Fi heater allows users to remotely set the temperature through their smartphone. Rheem and Rinnai, two other water heater manufacturers, also introduced Wi-Fi-enabled models, including both tank and tankless water heaters that run on gas.
In the laundry category, Electrolux's new Perfect Steam Washer with LuxCare Wash and SmartBoost, which took home the 2016 KBIS Best in Show award, uses an exclusive technology that premixes the water and detergent in a special chamber before the cycle begins, promising a deep clean in all cycles. The new washer also features a 15-minute Fast Wash Cycle, which saves consumers time. Overall, Electrolux says the new washer will save 40 gallons per week, on average, compared with a leading high-efficiency top load washer. We'll confirm those claims when we get the machine into our labs for testing.
As you're considering these new products and technologies for your remodel, be sure to check out the tried and true from our latest tests of appliances, building materials, power equipment, and more.