When you shop through retailer links on our site, we may earn affiliate commissions. 100% of the fees we collect are used to support our nonprofit mission.
Learn more.
Electric tea kettles have been popular in tea-drinking Britain for decades. In the U.S., sales are slowly heating up, so the pros at Consumer Reports tested six electric tea kettles to find out if they really boil water better.
"These kettles aren't just for tea," says Claudette Ennis, a market analyst at Consumer Reports. "You can use one of them to make oatmeal, instant noodles, or for quickly boiling water, then transferring it to a pot when cooking pasta."
Some manufacturers claim their electric kettles heat water faster than stovetop kettles or microwaves. Another advantage? These electric models shut off when water comes to a boil. And the bottom of the kettle's carafe stays cool, so you can place it right on the counter or table, if you like.
But it all comes down to one thing: speed. Do these electric appliances earn a permanent place on the counter?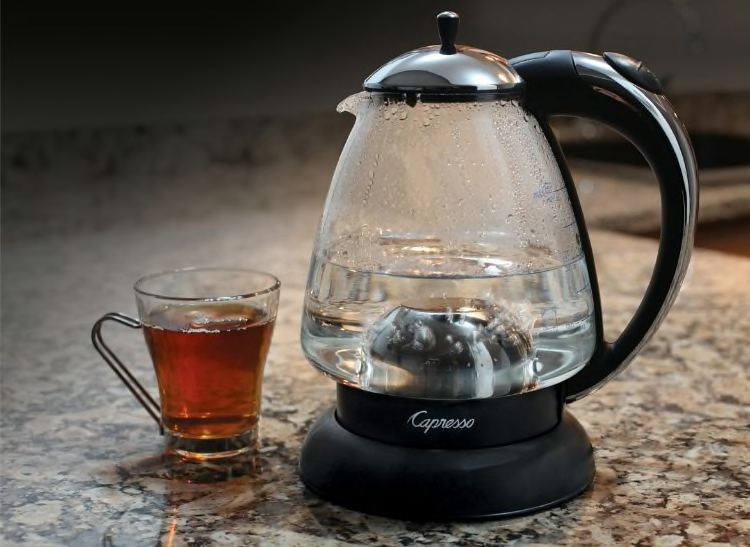 Putting Tea Kettles To The Test
All six electric tea kettles brought a liter of water (slightly over 4 cups) to a rolling boil faster than a microwave. The fastest kettle saved just over 2 minutes.
But most took around 4½ minutes to boil water. That's roughly as long as it takes to boil water on an electric coil top range, and only slightly faster than it takes on a gas range (a little more than 5 minutes).
Here are the tested kettles, appearing in descending order of overall performance based on the time it took to boil a liter of water. It's worth noting that all of the markings on the kettles are in liters—except for the Breville, which has metric on one side and cups on the other fill line.
Capresso H20Plus, $60
Scoring Very Good overall, the stylish Capresso (pictured above) reached a raucous boil in less than 4½ minutes. The glass kettle holds 6 cups of water, and the warranty covers one year.
Hamilton Beach 40998, $20
The affordable Hamilton Beach also scored Very Good overall and reached a boil in under 4½ minutes. This stainless steel kettle holds 4 cups of water. Warranty lasts a year.
Breville IQ Kettle, $130
Overall the Breville received a Good score and boiled a liter of water in 4½ to 5 minutes. This model holds more than the others—around 7½ cups of water. There are five settings, so you can adjust the water temperature when making green, white, oolong, or black teas. The keep-warm function holds the set temperature—other than full boil—for 20 minutes. The kettle is made of glass, and warranty is one year.
Chef's Choice Cordless 681, $50
Good overall, this cordless kettle boiled a liter of water in 4½ to 5 minutes. It's made of stainless steel, and holds 7 cups of water. Warranty covers one year.
Cuisinart CPK-17, $90
Good overall, the Cuisinart also boiled a liter of water in 4½ to 5 minutes. Holding 7 cups, the Cuisinart is made of stainless, has 6 temperature settings for different tea varieties, and a keep-warm option that holds the set temperature for 30 minutes. Warranty lasts three years.
KitchenAid KEK1522, $180
This kettle took the longest to reach a full boil, requiring more than 5 minutes. It scored Good overall. The KitchenAid holds 6 cups and has a sliding temperature control in Celsius. The external thermometer shows Fahrenheit too, but in much smaller numbers. The kettle is made of aluminum, and the warranty lasts five years. Available in red, white, black, and silver.
Is Coffee More Your Cup of Tea?
See our current coffee maker ratings. We tested drip coffee makers, single-serve models, and electric French-press coffee makers.