When you shop through retailer links on our site, we may earn affiliate commissions. 100% of the fees we collect are used to support our nonprofit mission.
Learn more.
This was the year that outdoor equipment and large appliance makers started thinking outside the box in a big way. The refrigerator box. The dishwasher box. The space heater box. The result was some interesting and innovative products that maximize space, use new technologies, or just have a fun twist. Like a refrigerator that makes hot coffee and a washing machine that brings back the old washboard. Robotic mowers and vacuums cleaned up with little effort on our part and we found appliance doors that open in new or unusual ways.
Here are some of the most creative products that Consumer Reports brought into the Home and Appliance labs this year.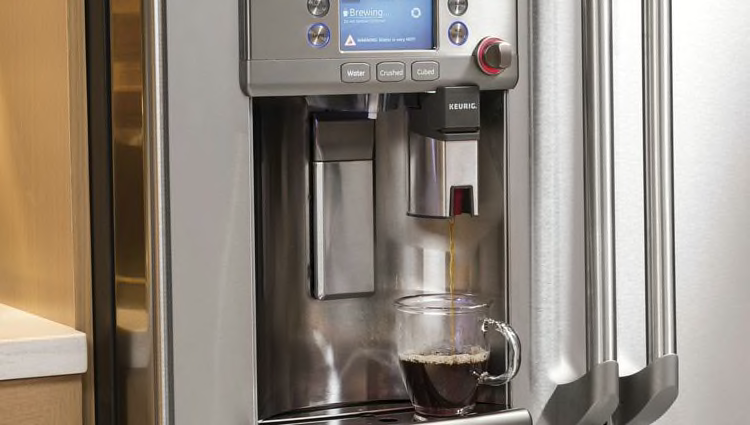 A Refrigerator Gives New Meaning to Instant Coffee
A GE refrigerator equipped with a single-serve Keurig coffee maker has just arrived in our labs for testing. GE already makes a refrigerator that dispenses hot and cold water so this takes that idea one step further.

Why we like it: It saves counter space. Plus GE claims the GE CYE22USHSS refrigerator uses an advanced water filtration system that removes 98 percent of five trace pharmaceuticals from water. The dispenser is also Wi-Fi enabled, meaning you can preset the brew time via your smartphone so that water in the reservoir is hot when you're ready for your morning cup.

Here's the score: Our test results aren't in yet but the feature will be available on two GE Café Series French-door bottom-freezer models, including the GE CYE22USHSS, $3,300.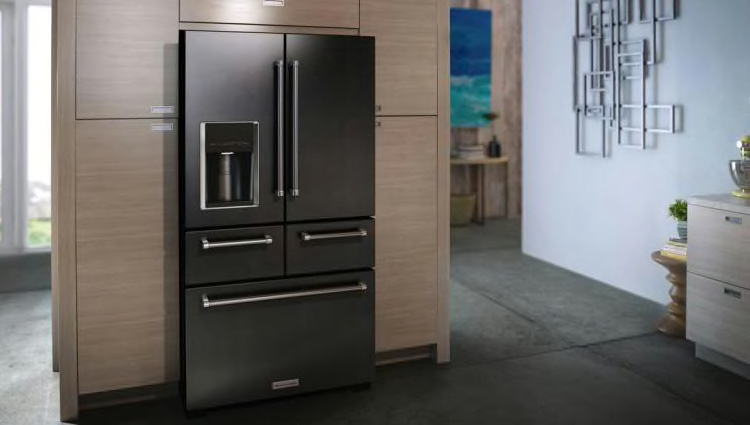 The First 5-Door Refrigerator in Our Tests
Door? drawer? In the world of refrigerators they're considered the same. It used to be all refrigerators were two-door then came the three-door French-door models and now four-door and even five-door have hit the market.

Why we like it: We tested the KitchenAid KRMF706EBS, $4,000, which has French-doors on top and three drawers on the bottom. The side-by-side middle drawers have multiple settings for meat, drinks, deli items, produce and so on and the bottom drawer is a freezer.

Here's the score: While the KitchenAid didn't rise to the level of our top refrigerator picks list, it has excellent temperature control and was quite quiet. It struggled with energy efficiency and we estimate it would cost $88 a year to run, more than many French-door models in our tests.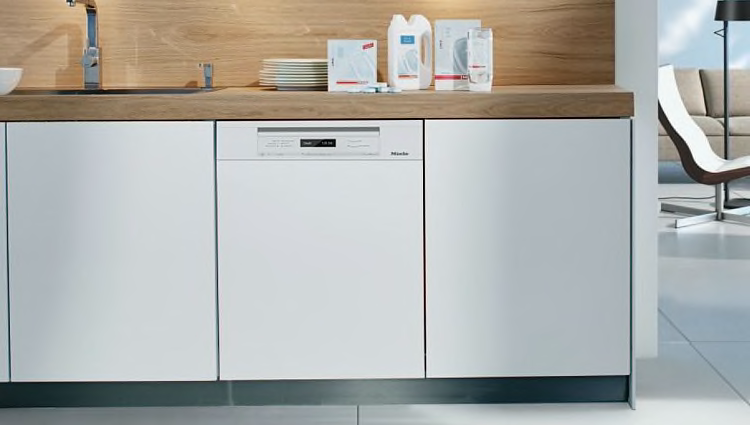 Knock, Knock. Who's There? Your Clean Dishes.
Your hands are messy but you have to stick one more dish in the dishwasher. With a gentle rap of your knuckles you can open the door of the Miele Futura Lumen G6595SCViK2O dishwasher.

Why we like it: It's a fun feature and makes it easy to leave the door slightly ajar as your dishes cool and dry. Other fancy features include a lighted interior and a lot of flexibility such as adjustable racks, tines, and 11 different wash options. You can add a custom panel so it matches your cabinets.

Here's the score: The $1,800 Miele didn't make our list of top dishwasher picks but got excellent marks on our wash test and very good scores for energy efficiency and noise.
A Swanky Wall Oven With French Doors
Wall ovens are convenient because you can place them at a comfortable height so you're not stooping over to put a roast in the oven, as with a range. But you still have to lift heavy pans over the swing-down open door.

Why we like it: Enter the GE CT9070SHSS wall oven, which has French doors that swing open, borrowing a design from some commercial ovens. With its narrow door clearance, the sleek oven can also be a space saver in smaller kitchens.

Here's the score: A top pick, the 30-inch oven was impressive at baking and broiling and superb at self-cleaning. There's a touchpad for setting cooking time and two dials for setting temperature and mode. The convection option cuts cooking time on some foods and you can control the oven from your smartphone, and for that price—$4,000—you should.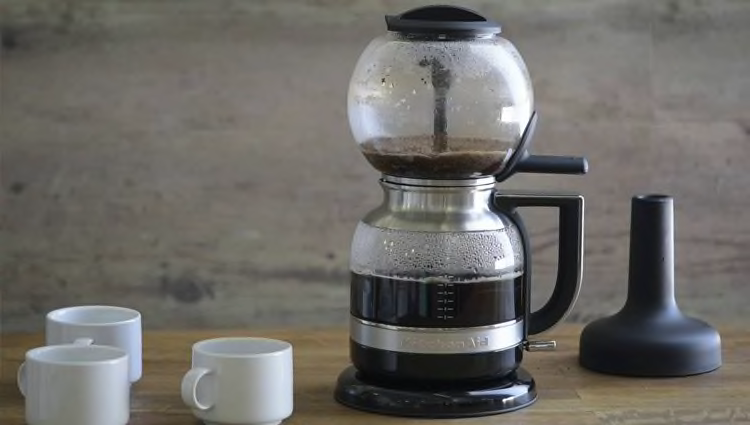 A Coffee Maker Puts on a Slow Show
The KitchenAid Siphon Coffee Brewer is a throwback to simpler times when brewing coffee was both an art and a science. But with the continuously growing coffee craze, such brewing methods are coming back.

Why we like it: KitchenAid claims the coffee maker is theatrical and we agree. The whole show takes eight minutes. The brewer has two sections connected by a siphon tube—an upper spherical chamber and a lower carafe. As water in the bottom section gets warmer, vapor forces it through into the upper chamber where it mixes with the grounds. The circulating vapor swirls the water around. When the heat below is turned off, a vacuum is created that draws the coffee back down into the carafe.

What's the score: The retro KitchenAid Siphon Coffee Brewer, $250, doesn't fit neatly into any category of our tested coffee makers—drip, pod, and electric French press. To compare its brew performance to other machines we measured the temperature range and how long the machine maintained optimal brewing temps, and it brewed close to industry standards.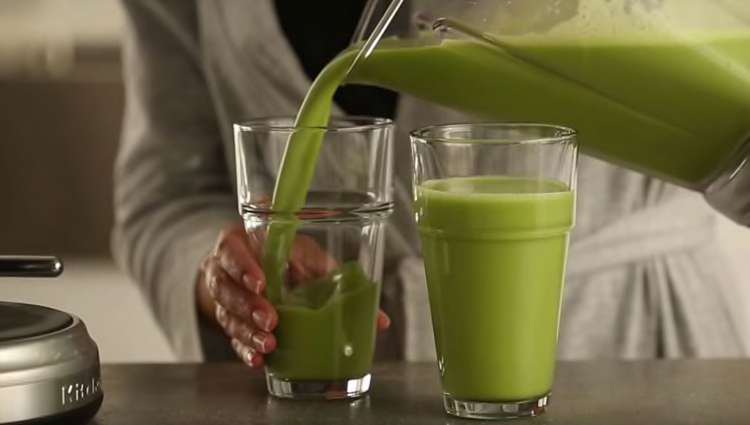 A New Spin on a Blender
Unlike most blenders that click on to a base, the pitcher of the KitchenAid Torrent Magnetic Drive KSB5010 blender slides in like a coffee maker. A magnetic drive locks the pitcher in place and the controls are on top rather than the bottom.

Why we like it: The new design lowers the profile of the blender so it fits on the counter under most cabinets. And you don't have to hold down the top with your hand as you make your mixture.

What's the score: While the KitchenAid was excellent at pureeing and very good at crushing ice, it was only so-so at making icy drinks and smoothies and was a bit noisy.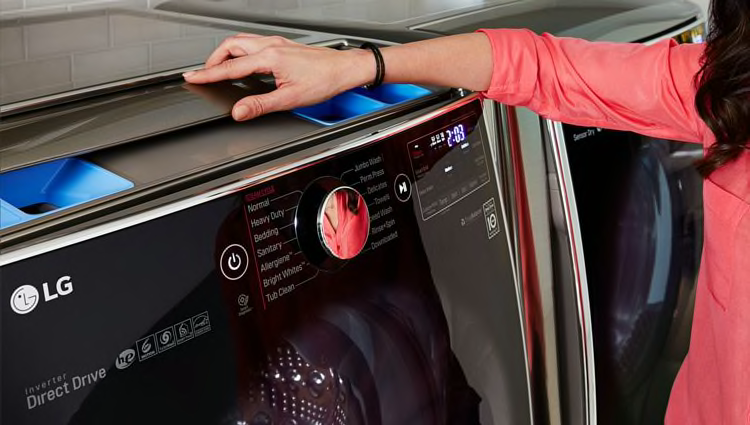 A Washing Machine Does Double Duty
Pedestals were originally designed to raise washers and dryers off the ground making them easier to load. Some incorporated a storage drawer but LG decided to maximize the space and add another washer.

Why we like it: The 1-cubic-foot mini-washer can be used at the same time as the front-loader so together they're called the LG TwinWash. The $700 mini can be paired with any LG front-loader made from 2009 on. It has six cycles and is intended for lightly soiled clothes.

What's the score: The $1,800 main washer, the LG WM9000HVA, is one of the most expensive of our top picks and was superb at cleaning. It has a jumbo capacity and fits about 26 pounds of laundry. Gentle on fabrics, it's relatively quiet, and vibration wasn't an issue. Despite its convenience, the mini-washer doesn't deliver the cleaning power of the front-loader.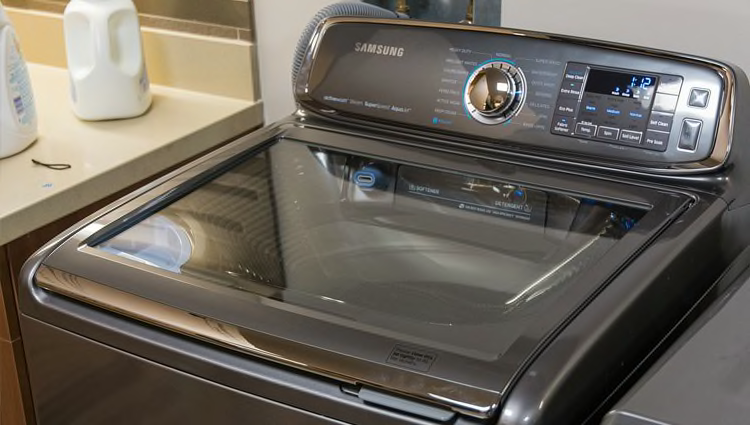 With This Washer, Everything Old Is New Again
It's called a built-in sink but the top insert in the Samsung Activewash looks more like an old-fashioned washboard. And its function is the same as you're encouraged to rub stained clothes on the ridges before tossing them in the washer.

Why we like it: The washboard eliminates the step of soaking your clothes in the sink and then transferring the dripping garments to the washer.

What's the score: This $1,000 top pick offers impressive cleaning, excellent water efficiency, and a jumbo capacity. In our tests, it held about 26 pounds of laundry. It's relatively quiet but wasn't so gentle on fabrics, which is true for most high-efficiency top-loaders. Normal wash time, using the heavy-soil setting, is 75 minutes. Speedier settings shave off time without affecting cleaning.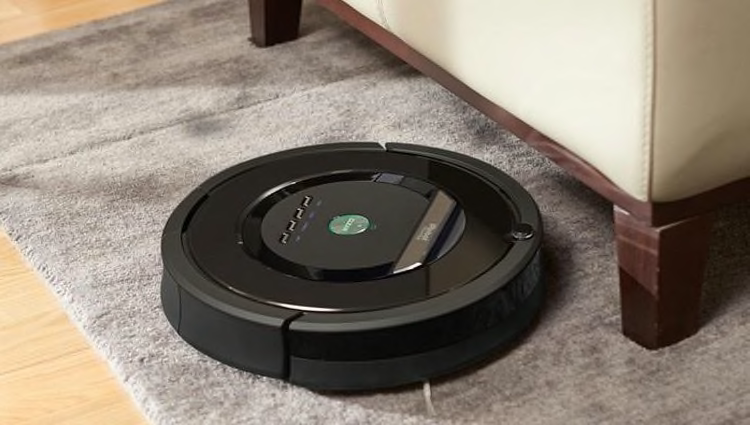 A Robovac That Tackles Pet Hair, Not Pets
Videos of cats riding robotic vacuums are popular on YouTube but the appeal of the Roomba 880 is that it can tackle your chores with little supervision.

Why we like it: No more pushing an upright or pulling a canister vacuum around and it takes up less storage space.

What's the score: While on the expensive side, for robotics there's no beating this $700 Roomba's ability to clean carpet surfaces and bare floors, including edges. You can set a different program for each day and it includes a quick setup guide. Programming it entailed a bit of a learning curve, and we needed to occasionally clear cat hair from the brush. Still, this robotic is a winner overall.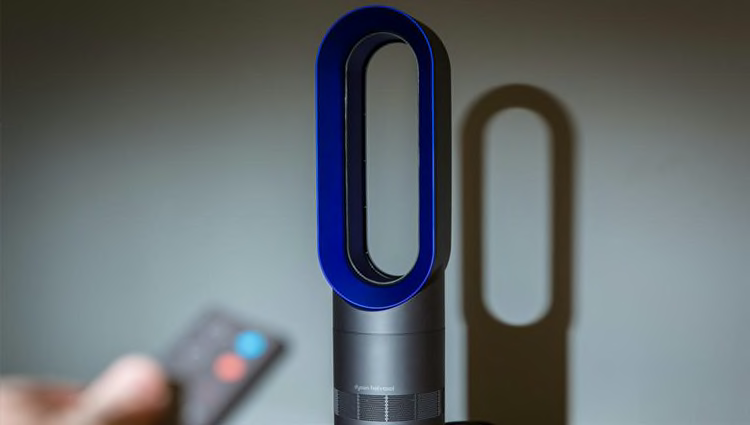 A Sculptural Space Heater With a Small Footprint
The tall Dyson AM09 space heater looks better than most space heaters and costs more too—$450. But it is full of features you don't usually find on a space heater.

Why we like it: Dyson has done it again by applying upscale design to the lowly space heater. You can also use it as a fan when you don't need the extra warmth.

What's the score: The Dyson AM09 aced our space heater tests and was equally adept at quickly heating a room or just heating a person. It stays relatively cool to the touch and employs a lot of safety features. Using the handy remote, you can turn it on without bending over. But it was a bit noisy.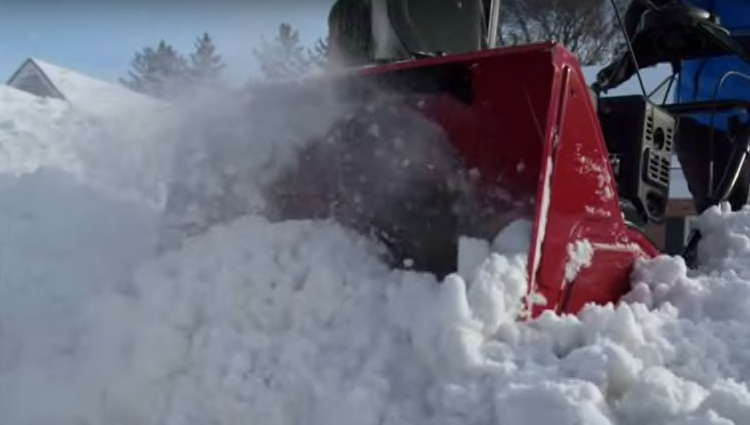 A Snow Blower That's Easier to Push
The Toro Snow Master 724 QXE snow blower is one of the first single-stage blowers that's self-propelled, a technology often found in walk-behind lawn mowers.

Why we like it: With the added oomph, the Toro Snow Master was easy to maneuver making quicker work of what's often a thankless task in frigid weather.

What's the score: While surface cleaning was excellent, the Toro Snow Master scored fair for removal speed and also at removing the plow pile at the end of the driveway. Throwing distance was only good; this matters most if you have a wide driveway. Manipulating the various controls—the speed, chute, and auger—was excellent.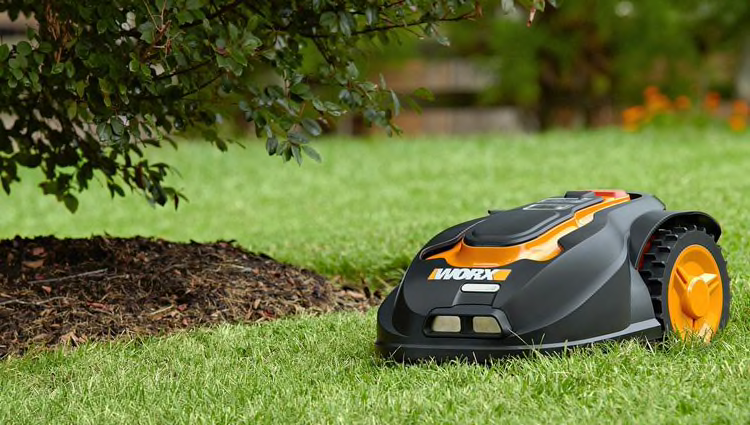 Mow the Lawn From Your Lawn Chair
While the Roomba is working inside, you can turn the robotic Worx mower loose outside.

Why we like it: No more wrestling with a mower. The Worx Landroid WG794 has the best quality cut and was the easiest to use of the four robotic mowers in our tests.

What's the score: The $1,000 Worx robotic mower has a 7-inch cutting width and can maintain a maximum area of 10,800 square feet, about a quarter-acre. It weighs 20 pounds and has a cutting-height range of 1.6 to 4 inches. It cut the grass more cleanly than the competition but sometimes left a random pattern. Establishing the mowing perimeter and setting up the mower was relatively easy.