When you shop through retailer links on our site, we may earn affiliate commissions. 100% of the fees we collect are used to support our nonprofit mission.
Learn more.
The sculpted and sleek 2016 Audi TT is one of those sports cars that performs as beautifully as it looks. And with such a sophisticated exterior profile, it definitely knows how to make an entrance. The interior breaks new ground with a modern design that's luxurious and boasts a driver-focused infotainment interface. But while the 2016 Audi TT is entertaining and unintimidating to drive, its reflexes are a step behind sharper sport coupes like the BMW 2 Series and Porsche Cayman.
Read the complete Audi TT road test.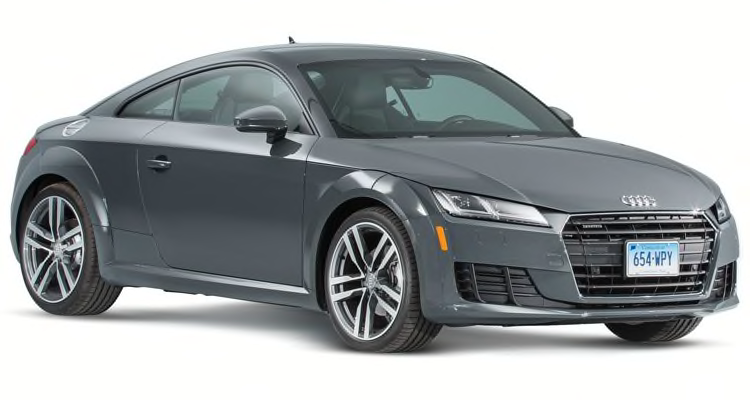 Few car companies create modernist elegance like Audi. And few sporty cars look and feel like the 2016 Audi TT.
This German-bred coupe delivers on its design promise of performance credibility. From its zippy 220-horsepower, 2.0-liter turbo engine and quick-shifting automated manual transmission to its standard all-wheel drive, the TT provides nimble and entertaining transport.
Dashing to 60 mph from a standstill takes 6.3 seconds—not lightning-fast, but enough to induce a whoop from a passenger. And at 26 mpg overall, the 2016 Audi TT is fuel-efficient—at least among its peers. But the engine lacks the silkiness of a BMW six-cylinder and is missing the brawn of a V8-fortified Ford Mustang. And there's an odd omission for a sports car: No stick-shift transmission is offered.
Take it on a winding, swirling back road, and the TT dives into corners with enthusiasm and confidence, staying steady and composed. Changing the driving mode from "Comfort" to "Dynamic" injects an added boost of playfulness, ramping up the responsiveness of the engine and transmission, and amplifying the exhaust sound to a sonorous snarl.
The TT's ride is firm but not punishing, with the suspension delivering decent insulation from road imperfections. The car's structure feels like a quiet, reassuring cocoon. We wouldn't hesitate throwing two bags in the back and heading out for a long weekend.
A word of caution for your getaway, however: Your passenger is going to feel left out of the action. The TT's ergonomics and interface are fiercely focused on the driver. Looking for the traditional center-stack placement for the radio-navigation display and climate controls? They're not there. Instead, the colorful display lives directly in front of the driver as part of the instrument panel. And the climate-control dials, digital temperature displays, and seat heater controls are intriguingly integrated into the turbine-look dash vents.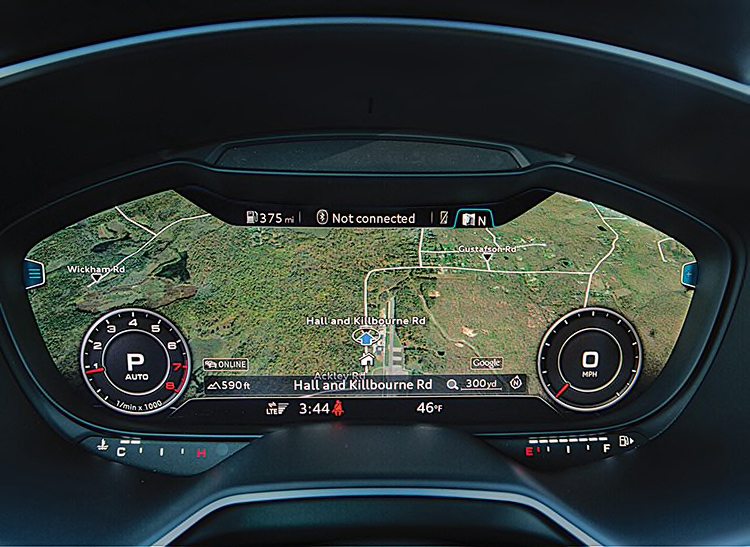 HIGHS: Agility, braking, connectivity, front-seat comfort, fit and finish, fuel economy
LOWS: Controls' learning curve, ride, access, rear seat
POWERTRAIN: 220-hp, 2.0-liter 4-cyl. turbo; 6-speed automated manual; all-wheel drive
FUEL: 26 mpg
PRICE: $43,825-$52,825
The presentation of this neue-technik instrumentation is neat, uncluttered, and dazzling from a product-design perspective. It works, but it takes getting used to. That also means your passenger will have to crane over your shoulder to glimpse the crisp graphics of Google Maps. And as the driver, you will have your own steep learning curve with the infotainment system.
The TT's interior is impeccably finished and filled with thoughtful details, including the diamond-quilted pattern on the leather seats, a chunky flat-bottom steering wheel, and aural delights from the optional Carnegie Hall-worthy Bang & Olufsen stereo system.
The multi-adjustable front sports seats are extremely supportive. But the rear seat is almost laughably puny—best used for a duffel bag or a dachshund.
Aside from adapting to the controls, the worst things about the TT are its poor visibility (you'll want the optional blind-spot monitoring) and seats so low that you need to be a yoga master to get in or out.
But the toughest call might be the price. A few options took our tested TT past $50,000. For the same money, you can get a BMW M235i—which outpoints the TT in almost every dynamic respect.
But for pure style, the TT is tough to top.