When you shop through retailer links on our site, we may earn affiliate commissions. 100% of the fees we collect are used to support our nonprofit mission.
Learn more.
We wouldn't strip you of your car-aficionado credentials if you failed to spot the 2017 Audi A4 for what it is: A thoroughly redesigned car.

Although the ninth-generation A4 may look eerily familiar to the last version, it actually rides on a new platform. In spite of the car's larger size, its curb weight has dropped between 66 and 99 pounds—depending on equipment levels—thanks to a lighter body and a reworked suspension that makes greater use of aluminum.

The A4's 0.4-inch-longer wheelbase, plus an extra inch of overall length, attempts to address complaints regarding cramped rear-seat space. But legroom is still limited.

Pricing starts at $37,300 for a front-wheel drive 2017 Audi A4 Premium, marking a $1,400 increase over the 2016 model. We opted for an A4 with Quattro all-wheel drive for our test fleet, starting at $39,400, then added the popular Premium Plus package ($3,800), as well as the Technology ($3,250) and Cold Weather ($500) packages. Total price: $48,890.

---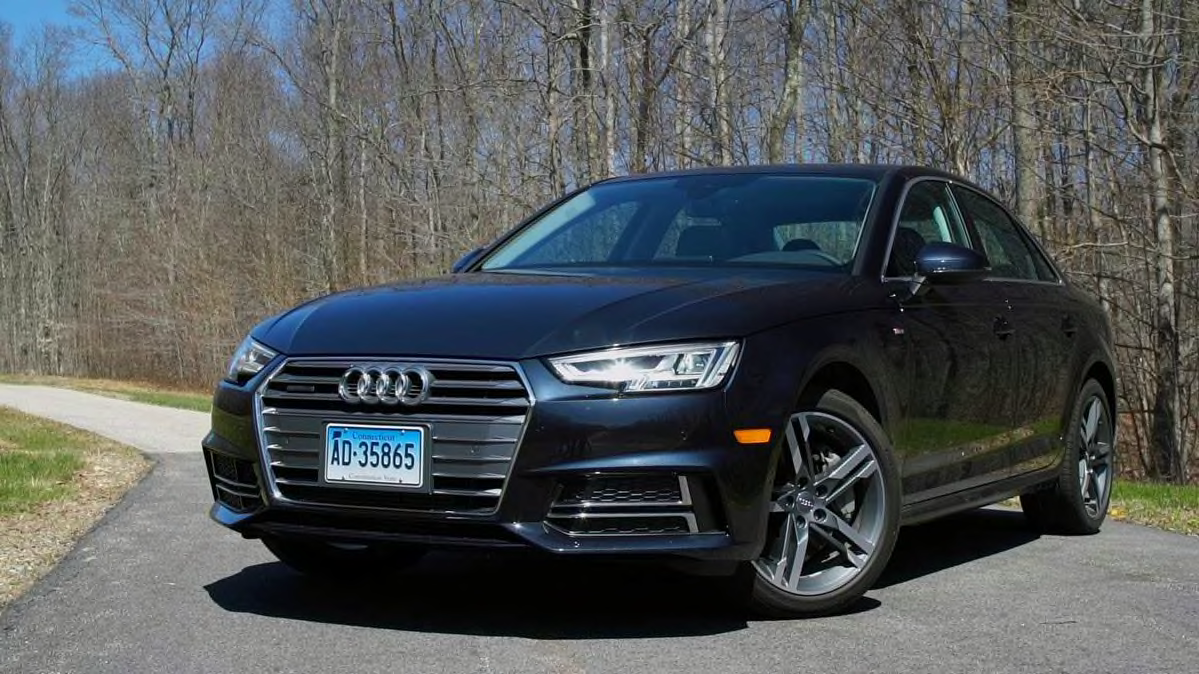 The familiar 2.0-liter turbocharged four-cylinder engine remains under the A4's hood, re-engineered to produce 252 horsepower, up from 220 hp. This engine continues to impress, with superb throttle response, ample low-end power, and a light, free-revving nature. It feels smoother than most turbo fours, and gives a nice growl under hard acceleration without barking obtrusively.
Instead of the previous pairing of front-drive cars with a continuously variable transmission (CVT) and all-wheel-drive versions with an eight-speed automatic, for now all 2017 A4s come with a seven-speed dual-clutch setup. It works so well, most drivers will assume it's a traditional automatic. A six-speed manual will become available on Quattro models early next year.
Audi has managed to polish out the common dual-clutch transmission hiccups. Past issues with lurching and jerking in stop-and-go traffic, as well as vibrations at idle, are nicely squelched. The A4 leaves the line smartly, and the transmission upshifts quickly and smoothly. But we wish Audi would scrap the A4's new high-tech shifter; you counter-intuitively push the lever forward for Reverse. It reverts back to center after engaging Drive or Reverse. Park is engaged via a button. The whole process is unnatural, and we feel like we're using it for the first time. Every time.

The A4's new structure feels fantastic; it's rock-solid, the definition of "carved from one piece." This is a satisfying car to drive, with tossable, secure handling and minimal body roll. It's aided by one of the better electric power-assist steering systems on the market. Turn-in is immediate without feeling darty, and there's good feedback through the wheel.

As good as the handling is, the real improvement comes in the form of ride comfort. The A4 proves supple and controlled, taking bumps in stride. It is much more compliant than is the norm from Audi. The car is also remarkably quiet, with impressively hushed wind and road noise.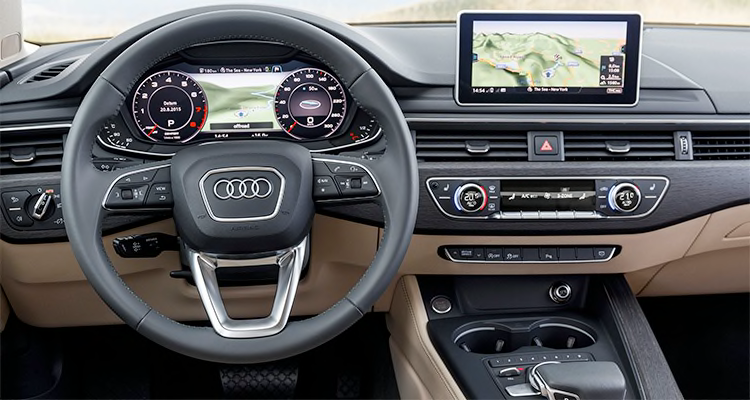 Slide into the A4's cabin and you're greeted by high fashion and great quality. Even hard plastic bits have nice graining. The controls have a fluid feel, and the temperature knobs turn with a solid "click-click." But in a very non-Audi fashion, adjusting the steering wheel requires some serious elbow grease to push the release lever down. Maybe it will "wear in" with time. Power adjustment would be preferred.

Technology abounds (largely thanks to the Tech package), almost overwhelmingly at first. From MMI touch handwriting-recognition ability, to an 8.3-inch center dash screen to the 12.3-inch configurable instrument panel. Audi calls the last a "virtual cockpit," and we've seen it previously on the TT and Q7. The big benefit is the ability to display a vivid color Google map across the entire IP, minimizing the tachometer and speedometer in the process. The idea is to keep your eyes looking more straight ahead, but some feel it's actually more distracting to have that giant map in front of you.

The standard leather front seats are firm yet comfy and the driving position is excellent. The new body design gives nearly an inch of extra head room. Rear-seat entry requires more of a duck than up front. The seats are well padded with good leg support.

All 2017 A4s come standard with a city-speed automatic emergency braking system (up to 52 mph), forward-collision warning, and a rearview camera. The comprehensive Technology package bundles a suite of safety systems, including blind-spot detection, vehicle exit assist (warns the driver when opening the door if a cyclist or vehicle is approaching from the rear), and rear cross-traffic alert for backing out of parking spaces. In addition, it comes with Virtual Cockpit, Audi Connect (remote service and onboard modem), and MMI navigation.

If you purchase a 2017 Audi A4, there's a good chance most people won't realize it's an all-new car. But buyers who simply want an enthusiastic driving experience? They won't care, as they're going to be thoroughly satisfied with the new A4's class and dynamics.

We're certainly happy racking up the break-in miles, in preparation for a full road test in the weeks ahead.