When you shop through retailer links on our site, we may earn affiliate commissions. 100% of the fees we collect are used to support our nonprofit mission.
Learn more.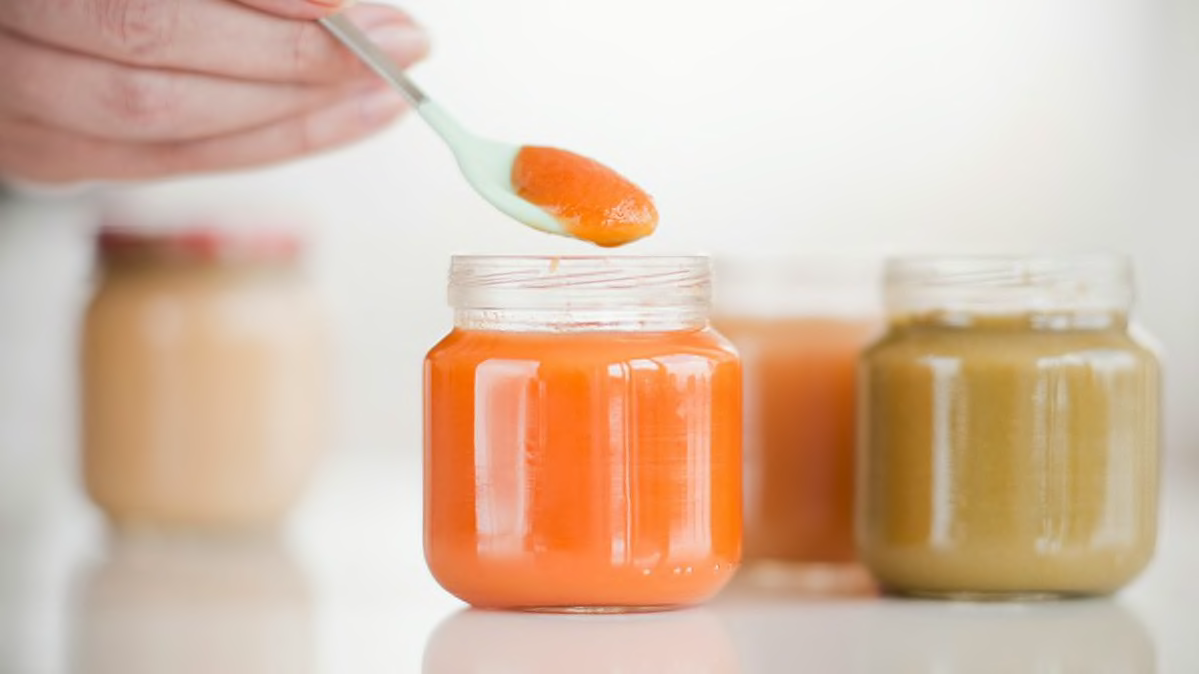 Lawmakers will introduce legislation on Friday that would set strict limits on the amounts of inorganic arsenic, lead, cadmium, and mercury in baby foods.
The Baby Food Safety Act of 2021 seeks to restrict young children's exposure to these metals because they increase the risk of several health issues, including lower IQ and behavior problems.
The bill will be introduced in the House by Rep. Raja Krishnamoorthi (D-Ill.) and Rep. Tony Cárdenas (D-Calif.) and in the Senate by Sen. Amy Klobuchar (D-Minn.) and Sen. Tammy Duckworth (D-Ill.).
The Food and Drug Administration also announced plans earlier this month to take action against heavy metals in baby foods, including putting limits in place "soon."
The FDA has a limit of 100 parts per billion (ppb) of inorganic arsenic (the most harmful type) in baby rice cereals, but not for other baby foods, nor any limits for other heavy metals in foods designed to be eaten by young children.
The new bill would not only require the FDA to establish maximum allowable limits of heavy metals in all baby and toddler foods, it would specify what those limits should be.
"Getting to the point where manufacturers are able to produce baby food with undetectable levels of heavy metals is the ultimate goal," says Brian Ronholm, director of food policy at Consumer Reports.
CR supports the bill and encourages lawmakers to support it, Ronholm says. The targets are ambitious, but feasible.
"The recommendations in this bill are similar to what CR and other advocacy organizations have been calling for for several years," Ronholm adds.
Passage of the bill is uncertain, however. While there are sponsors in both the House and Senate, all are Democrats so far.
"It's heavy metals in baby food, you should be able to get bipartisan support around that," says Tom Neltner, chemicals policy director of the Environmental Defense Fund (EDF). "I think it's something people should rally around."
That said, even if this bill doesn't become law, it could raise awareness and lead consumers to pressure manufacturers to do more to reduce heavy metal levels, according to Ronholm.
"It's going to take constant pressure on the industry, constant pressure on the marketplace," he says.
In the meantime, there's a lot that parents can do to reduce the amount of heavy metals their children get from baby foods, according to James E. Rogers, PhD, director of food safety research and testing at CR.
Limiting the amount of rice-based foods like rice cereal and fruit juice in their diets is a good first step because these products are known to be prone to contamination with arsenic and lead, according to Rogers.
For other tips on reducing exposure, see CR's advice to parents.
CR's past testing of heavy metals in baby food has found that it is possible for manufacturers to achieve very low, even undetectable levels of metals in their products. In 2018 CR tested 50 nationally distributed baby foods, and while two-thirds had worrisome levels of at least one type of heavy metal, one-third were below our level of concern.
The new bill, if enacted, would likely mean manufacturers would need to reformulate certain products, especially those that include rice, according to Neltner.
Under the bill, one year after enactment, the limit for inorganic arsenic would be 10 ppb in baby food and 15 ppb in baby cereal. The maximum allowable levels of lead or cadmium would be 5 ppb in baby food and 10 ppb in baby cereal. And the maximum allowable level of mercury in any baby food would be 2 ppb.
The bill would require these levels to be lowered further within two years of the bill's enactment, and lowered to "levels protective of infant and toddler neurological development, taking into account the most sensitive testing available" within three years.
"This makes it clear to FDA that it's not [about] finding a level industry can handle, but it's finding a level that drives these metals out of our food," Neltner says.
These final levels would likely require these metals to be undetectable, as experts agree that there's no safe level of exposure to heavy metals, especially for children.
Importantly, the bill would also require testing of finished baby food products and not just their ingredients. The subcommittee's initial report had found that when manufacturers only tested ingredients, the result was significant underestimation of total levels of heavy metals in finished products.