Why You Should Consider Moving Your Money to a Minority-Owned Bank
It can help address racial inequities while providing all the financial services you need. Here's how, plus some banks to consider. The current movement for racial reconciliation has raised awareness of the centuries-long wealth gap in America between whites and people of color—and of the role Black-owned banks can play to bridge it.
Some companies are turning awareness into action. Last June, Netflix announced plans to shift $100 million into Black banks and other financial institutions, in order to bring more capital to communities of color "and make a meaningful difference for the people and businesses in them." That same month PayPal made a $530 million commitment to support Black-owned community banks and businesses. By September, Biogen, a biotech company based in Cambridge, Mass., moved $10 million to OneUnited Bank, the nation's largest Black-owned bank.
The surge is coming from individuals, too. In 2016, before the corporate investments, OneUnited challenged members of the Black community to open an online account with the bank and invite 20 friends to do the same. By year's end the #BankBlack challenge saw $20,000,000 in new deposits to the bank.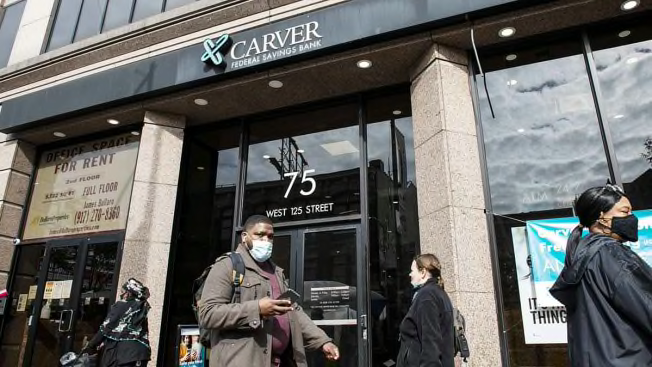 Carver Federal Savings Bank, New York City
Founded in 1948 to serve Black communities with limited access to mainstream financial services, the bank's reach goes beyond its Harlem headquarters. This February, in conjunction with the Society for Financial Education & Professional Development, a nonprofit that promotes financial literacy, the bank piloted a program at three historically Black colleges and universities to increase African Americans' financial and investment knowledge to close America's wealth gap.
Assets: $687 million
ATMs: 55,000 Allpoint locations nationwide
City First Bank, Los Angeles and Washington, D.C.
When City First merged this April with Broadway Federal Bank, based in Los Angeles, it became the largest Black-owned financial institution in the U.S., with over $1 billion in assets. The former Broadway Federal Savings and Loan Association was created in 1946 by a group of Black professionals to offer conventional loans to returning veterans and to address decades of disinvestment and socioeconomic discrimination.
Assets: over $1 billion
ATMs: 55,000 through Citibank branches, STARsf, and Allpoint network
Commonwealth National Bank, Mobile, Ala.
Commonwealth stakes its claim as the only bank, Black or otherwise, headquartered in Mobile, underscoring its commitment to the community. The bank opened its doors in 1976 to meet the needs of individuals and businesses previously denied equal access to financial services. Bank CEO Sidney King hosts a virtual "lunch and learn" series on creating and maintaining Black wealth.
Assets: $54.5 million
ATMs: 15,000 through Commonwealth branches, Publix Super Market, and PNC Bank
First Independence Bank, Detroit
First Independence Bank asserts itself as the only Black-owned bank headquartered in Michigan. Opened three years after the 1967 Detroit race riots, its charter is to deliver financial services to underserved and minority communities. In April, the bank launched an eight-part workshop for Detroit area youths and young adults to foster and promote financial literacy.
Assets: $287 million
ATMs: 147 in the Metro Detroit area and access to about 4,000 nationwide via First Independence Bank, Fifth Third Bank, TCF Bank, and Chemical Bank
OneUnited Bank, Cambridge, Mass.
One of America's largest Black-owned banks says it is also the nation's first Black-owned bank to offer online banking. The bank began almost 50 years ago as Unity Bank & Trust in Boston, and was established with the joining of Black banks in Los Angeles, Miami, and Boston. Along with banking services, OneUnited Bank runs a robust financial literacy program on subjects ranging from banking basics to avoiding financial fraud to business plan development.
Assets: $666.6 million
ATMs: 30,000 MoneyPass locations nationwide
If you decide that you want to make a new bank your primary one, here are the steps you should take.
1. Open a checking account at your new bank without closing your existing bank account (more on that below). That's a relatively easy online process; done in person, it can take 30 minutes to an hour. Opening an account may require only a small deposit or even none at all.
2. Contact your employer to move direct deposit of your paycheck to the new institution. Direct deposit may also make you eligible for free checking. To get the new account up and running fast, you could go online to your former bank or use a money transfer service such as Zelle to transmit funds to your new account. Or write a check from the old account to deposit into the new one—but see steps 3 and 4 first.
3. Stop automatic bill payments. This can be easily done if you've been using the bank's online bill payment feature, where you control when so-called push payments are sent out. If you autopay by authorizing a payee to pull the payment from your account, you'll need to contact the company and follow its procedures for stopping payment. Then we recommend that you never use the pull method again so that you retain complete control of your account.
4. Keep the old account open. Be sure to keep your old account open until the last check you wrote has been cashed or deposited and has cleared. As added security you may want to wait one more billing cycle to avoid missing any outstanding charges you've forgotten about.
5. Set up additional account features. Familiarize yourself with the digital features you need at your new institution and activate them. That includes services such as online bill payment, mobile banking, Zelle and other peer-to-peer money transfers, and alerts.
6. Close the old account. Check your home branch's COVID-19 protocols and inquire about alternatives to an in-person goodbye. Zero out any remaining balance by having the old bank electronically transfer the funds to your new account or by obtaining a cashier's check or cash. Make sure to clarify whether there are any fees for closing your account.
7. Move your other deposit accounts. If you also have a savings account or certificates of deposit at your current bank, you may want to consider moving them, too, especially if you're getting a low interest rate. Weigh this option carefully because you will incur a penalty for closing out CDs before they mature. Shop widely for the best savings and CD rates.