Products With the Best Battery Life From Consumer Reports' Tests
These smartphones, laptops, cars, vacuums, drills, and even chainsaws are long-lasting
When you shop through retailer links on our site, we may earn affiliate commissions. 100% of the fees we collect are used to support our nonprofit mission. Learn more. For once, consumers can relate to the winners of the Nobel Prize in Chemistry. Forget "phage display of peptides and antibodies" or "super-resolved fluorescence microscopy." This year's winners—John B. Goodenough, M. Stanley Whittingham, and Akira Yoshino—earned an early morning call from Sweden (and a shared cash prize of $904,000) for their work in developing the lithium-ion battery.
"The impact that these batteries have on our daily lives is extensive," says Consumer Reports' chief scientific officer, James Dickerson, who co-authored a research paper on fuel cells with Goodenough. "These relatively lightweight, rechargeable energy storage devices have revolutionized society's use of electronics, from laptop computers to cordless drills, from smartphones to hearing aids, from renewable energy storage to electric cars."

The first commercially viable lithium-ion battery hit the market in 1991 after Yoshino substituted a more stable material inside the battery. Since then, the list of uses has quickly multiplied as the batteries continue to get smaller, longer-lasting, and more powerful.

CR often focuses on those rare times when Li-ion batteries malfunction, as with the Samsung Note 7 smartphone in 2016. But scientists are quick to remind us that these batteries are very safe and are likely to be with us for a long time to come, given that alternative battery technologies are still many years away from commercial applications.

Here's a list of products that have emerged from Consumer Reports' test labs with chart-topping run times, thanks to their lithium-ion batteries.
CR's take: In years past, Apple iPhones tended to lag behind the competition in battery life. But the company has steadily increased the iPhone's staying power with various improvements, including energy-efficiency advances programmed into its processors. As a result, the new iPhone 11 Pro Max jumped to the top of our list of smartphones with the best battery life, logging a stellar 40.5-hour run. That's 11 hours better than last year's iPhone XS Max.
Run time: 40.5 hours

CR's take: The first thing you'll notice with the 13.3-inch HP Spectre Folio is that it's fully clad in leather. The second thing? The 18.5-hour battery life, of course. That puts the Spectre Folio at the very top of our list of laptops with the best battery life. The model we tested has a powerful Intel Core i7 processor, 8GB of memory, and 256GB of solid-state storage. The only thing that separates it from a high-end gaming PC is the lack of a dedicated graphics card.
Run time: 18.5 hours
CR's take: With a run time of 86 minutes, the top robotic vacuum in our tests, the Samsung POWERbot R7065 outruns the next best robovac by a full 14 minutes and many others by much longer. That's a lot of cleaning time. In a category that's seen many noteworthy new entrants, Samsung's Powerbot steals the show. It deftly handles dirt on carpets and bare floors, acing both tests, and even finds its way into tight corners, thanks in part to its rectangular bumpers. It operates quietly enough that it'll go unnoticed, though it's hard to resist watching it return home to dock and charge after each intensive cleaning session.
Run time: 86 minutes
CR's take: The cordless Bissell Air Ram 1984 has the longest run time of any of the stick vacuums we've tested, and it's a good choice if you have pets and a variety of flooring. It earns an Excellent rating in our tests for cleaning carpet, bare floors, and pet hair. It quietly zips along edges, leaving them debris-free, and easily scoots under furniture. As a brand, Bissell earns a middling rating of Good in both predicted reliability and owner satisfaction, based on data from CR's member survey.
Run time: 47 minutes
CR's take: Although the cordless Dyson V7 Trigger is one of the more expensive options in our handheld vacuum tests, it has the longest run time by far—30 minutes. The powerful little vac looks like a Dyson stick vacuum minus the wand. It's the only handheld vacuum in our ratings with two power modes (normal and max), and the only one that runs so long on one battery charge. It receives an Excellent rating for bare-floor cleaning, leaving little noticeable debris behind on the lab floor. It also comes with a crevice tool and a removable brush that makes maintenance—removing pet hair from the brush roll—a breeze. It takes more than three hours to charge.
Run time: 30 minutes

CR's take: Arlo wireless home security cameras were among the first to run entirely off battery power, allowing you to position them anywhere inside or outside in range of their wireless base station. The Arlo Pro 2 builds on the models that came before it, offering superb 1080p HD picture quality and plenty of smart features that earn it a Very Good rating for our Smart IQ tests. The Pro 2 comes with a siren, voice control via Amazon Alexa and Google Assistant, and a rolling seven days of free storage for motion-triggered video clips. CR doesn't evaluate run time for this product category, but Arlo says you can expect the battery to last 3 to 6 months before it needs recharging.
Run time: Months
CR's take: With a run time of 60 minutes, you can accomplish a lot of mowing with the self-propelled Ego LM2102SP. In addition to its long run time, it gets top-notch marks for handling, noise at the ear, and noise at 25 feet. In our cutting tests, it's impressive at side-discharging and mulching but only so-so at bagging. It gives an even cut and features a 21-inch-wide deck (a relatively standard size for battery mowers). The handlebar swings up so you can collapse it, fold the mower flat, and store it upright.
Run time: 60 minutes
CR's take: At 12 minutes, the run time for the Kobalt KHB 400B may seem unimpressive, but it's longer than most leaf blowers and offers some of the best performance we've seen. It sweeps and loosens leaves with ease, and earns a rating of Excellent for noise at 50 feet. Like all electrics, it starts easily, and the battery can be used to power other tools from Kobalt.
Run time: 12 minutes
CR's take: Run time for chainsaws varies widely and we don't record it, but we were able to cut through a 6x6-inch square oak log 40 times between recharges of the battery with the DeWalt DCCS670X1. It cuts like a much beefier gas saw while offering all the conveniences of an electric, such as instant starting and zero engine maintenance. It earns a rating of Excellent for cutting speed. And like all electrics, there's no need to mix gas and oil; you simply keep the battery charged. Another plus: Like most electrics, it's quieter than a gas saw, though you'll still want to use hearing protection while you're cutting.

CR's take: The ultra-potent 12-volt lithium-ion battery in the Bosch PS32-02 fits neatly into the cordless drill's pistol grip. This top-scoring tool weighs just 2 pounds, but it's as powerful as drills that weigh twice as much. The tool can sink 190 #10 wood screws into pine on a single charge, more than any other drill in its class, and more than twice as many as some models that feature older, nickel-cadmium batteries. The drill comes with two batteries and a rapid charger, which tops off a battery in 90 minutes.
Run time: 190 #10 wood screws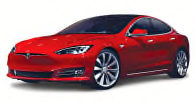 CR's take: The Tesla Model S rewrites the rulebook for cars, because it's a different kind of car from a different kind of company, a Silicon Valley startup. The fully electric Model S is a remarkable car that combines performance, agility, styling, high-tech, no emissions, and low operating costs. It's one of the best cars we've ever tested. The Model S 100D has a 100-kWh battery rated for an impressive range.
Run time: 335 miles
Editor's note: This story, originally published on October 9, 2019, has been updated to remove a reference to the predicted reliability of Ego self-propelled mowers for lack of sufficient survey data.