When you shop through retailer links on our site, we may earn affiliate commissions. 100% of the fees we collect are used to support our nonprofit mission.
Learn more.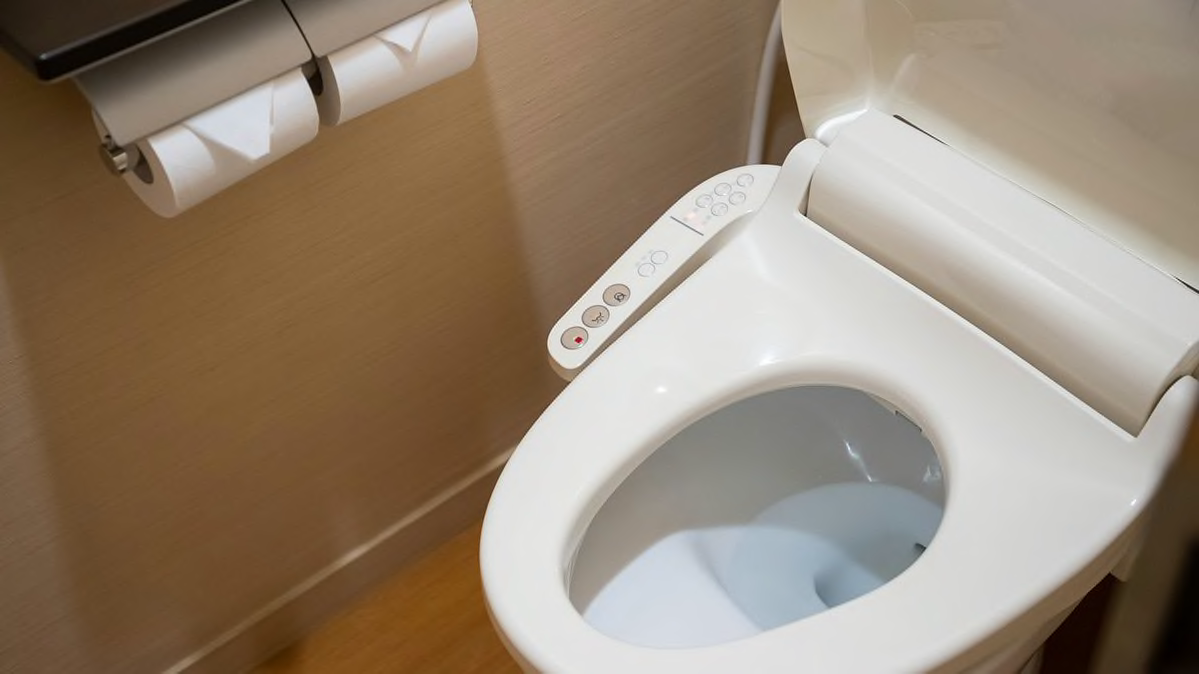 "I feel a lot cleaner than when I use toilet paper," says one panelist in our recent user-tested bidet review. A bidet seat or attachment can certainly get you clean, but it can't clean itself. So you'll want to return the favor.
"Occasionally, a very poorly maintained bidet can malfunction," says Steve Scheer, president of bidet manufacturer Brondell. "The nozzle heads can get clogged with sediment or buildup, especially if you have very hard water."
Not every bidet is the same, but the maintenance involved is similar. Generally, you want to stay away from harsh chemicals like bleach and abrasive powders. "Excessive amounts of chlorine-based products can cause rubber O-rings and gaskets to weaken and fail, which leads to internal leaking," says Scheer. Scrubbing too hard could scratch a bidet.
More on Toilets and Bidets
Also, never fully wash or submerge your bidet, especially if it uses electricity. That can ruin the electronics and pose a shock hazard.
So what should you do? Read on for advice from bidet manufacturers BioBidet, Brondell, Toto, and Tushy, for the cleaning to tackle daily, monthly, and semiannually. Just remember to unplug the bidet seat if it uses electricity (attachments typically don't), shut off the water supply to the bidet, and drain the piping and the tank, if it has one, before cleaning. You'll need to consult the manual for these steps, because every model is a little different.
In the market for a new bidet? Read our user-tested reviews and see how well different seats and attachments compare.
How to Clean a Bidet
What to Do Daily
1. Make use of your bidet's nozzle wash feature daily—it runs water over the nozzle to clean it.
2. For light dust and dirt, wipe the seat and crevices that you can reach without removing the bidet using a soft, slightly damp cloth. You can also use a mild cleanser, like the ammonia-free version of Windex or Simple Green. Some bidets have germ-resistant plastic, but you should still wipe off dirt daily.
3. For heavier dirt, wipe with a soft, slightly damp cloth that has been soaked in a diluted dish detergent with a neutral pH (Dawn, Joy Ultra Concentrated, and Seventh Generation Dish Liquid all fit the bill).
If you have a bidet with a control panel or remote, lightly dampen a cloth with a mild spray cleaner (like Windex or Simple Green) and wipe it clean. Just don't submerge the remote or controls in water or excessively spray them with cleaner.
What to Do Monthly
1. Remove the bidet and the toilet lid, and wipe them with a soft, damp cloth and neutral kitchen dish soap. Let them dry or wipe them with a dry soft cloth.
2. If your bidet seat has a deodorizing filter, remove it and clean it with a toothbrush and water, then rinse and let it dry.
3. When all the components are dry, reinstall everything so that you can clean the water nozzle. If your bidet seat uses electricity, plug it back in. Even if your bidet seat has a nozzle wash feature, it's still a good idea to manually clean it once a month.
If your model has a nozzle cleaning button or setting, press it to extend the nozzle out, then very gently wipe the outside of the nozzle with a soft, wet cloth, no detergents. "When cleaning the nozzle, do not pull, push, or press the wand with excessive force, because it may cause damage or malfunction," says Lenora Campos, senior manager of public relations at Toto.
If you have a bidet attachment, see whether you can gently pull out the nozzle to clean the interior of the nozzle hole with an old toothbrush.
What to Do Semiannually
1. Some bidet seats include a strainer near the inlet that helps protect its inner components against mineral deposits or buildup. "These should be checked every few months," says Spencer Weidner, a marketing strategist at BioBidet. Once you've shut off the water supply to the bidet, remove the filter and rinse it to get rid of any sediment, grime, or rust.
One thing to consider if you have hard water: You can add an extra layer of protection against mineral deposits by installing a bidet water filter between the water hose and the seat. It costs $20 to $30 at home improvement stores and should be replaced every six months.
2. If your bidet seat has a connection hose with a water shutoff valve, clean the inside of the valve with a toothbrush to clear any sediment (make sure to turn off the water first).