Blender Face-Off: Vitamix vs. Blendtec
CR tests and compares two top blenders from these high-end brands
When you shop through retailer links on our site, we may earn affiliate commissions. 100% of the fees we collect are used to support our nonprofit mission. Learn more.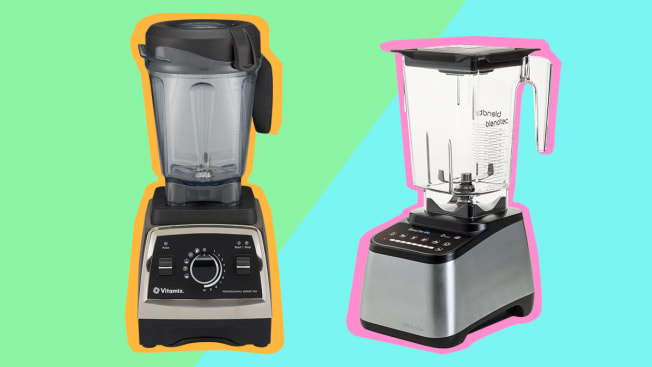 High-end blenders sell for $300 to $1,000, and just two brands account for half the models in that price range in our ratings: Vitamix, a regular at the upper echelons of Consumer Reports' rankings, and Blendtec.
Here's a look at the brands' best models from CR's blender ratings. Each costs around $650.
Vitamix Professional Series 750 vs. Blendtec Designer 725
Both house powerful motors, but that doesn't fully explain their high cost and high performance. "The design of the blades and container plays a role, too," says Cindy Fisher, who oversees Consumer Reports' blender test labs.
Tip: Be sure to check each model's height if you plan to keep it on your counter and under upper cabinets—it may or may not fit.
Vitamix: This blender has 1,656 watts, and the plastic container holds 8 cups. One toggle switch starts it up, and the other is for pulsing. Use the dial to choose one of the 10 speeds, or pick a setting for smoothies, frozen desserts, purées, hot soup, or self-cleaning. The blender's fast-whirring blades create heat, allowing you to make hot soup. We did, following a Vitamix recipe, and the result was smoothly blended hot soup in 5 minutes.
It's available in black, stainless, copper, and red, and it has a seven-year warranty.
Icy drinks: Both blenders serve up smoothies with a smooth, consistent texture, especially when made of soft fruits, such as berries and bananas. This test is a draw.
Puréeing: Both can purée parsley, and carrots and other firm vegetables without leaving stringy greens, meaning your veggie smoothies will turn out nice and smooth. Again, both blenders earn the same admirable rating here.
Ice crushing: The Vitamix doesn't so much crush ice as it does pulverize it into a uniform medium you would swear is snow. The Blendtec's crushed ice looks more like a snow cone, which may be plenty pleasing for most folks but which warrants a lower rating in our lab tests (the bigger the chips, the lower the score). Vitamix comes out on top on this toughest of tests.
Noise: Both blenders are noisy—as blenders tend to be. In fact, not a single one of the 75-plus full-sized models in our ratings scores an Excellent for noise. Only a few score a Very Good , and we'll give you a hint: These two are not among them. If you were to use one of these blenders all day—say, making margaritas for guests—our experts would advise you to wear hearing protection.
Durability: Testers crush ice 45 times over two days, and in the past we have seen blenders fail under the stress. Most, including this Vitamix and Blendtec, keep going. Both passed with equivalent results.
Convenience: Testers found both blenders to be pretty convenient in terms of ease of cleaning, clarity of controls, how easy the container makes pouring, and other factors that affect how much you may enjoy using the blenders.
Brand reliability: There are 12 brands captured in our member survey, and only two, including Vitamix, earn an Excellent rating for reliability. This rating is an indication of how likely a brand's blender is to break within the first four years. Blendtec, on the other hand, earns a subpar rating of Fair in brand reliability, making it the lowest-rated brand in our survey, and CR cannot recommend Blendtec full-sized blenders at this time. (Our survey results are based on CR members' experiences with 29,031 full-sized and personal blenders purchased between 2008 and 2018.)
Owner satisfaction: Owners are very happy with their Vitamix and Blendtec blenders, to the extent that they would highly recommend their blender to family and friends.
Some high-end items are more status symbols than superior products. In this case, however, the Vitamix offers both top-notch performance and brand reliability. The Vitamix wins this contest.
Do your own face-off by using the filters in our blender ratings to compare other Vitamix and Blendtec models in a variety of ways. You'll also find high-end models from Braun, Breville, Cuisinart, Hamilton Beach, KitchenAid, L'Equip, NutriBullet, and Wolf.