When you shop through retailer links on our site, we may earn affiliate commissions. 100% of the fees we collect are used to support our nonprofit mission.
Learn more.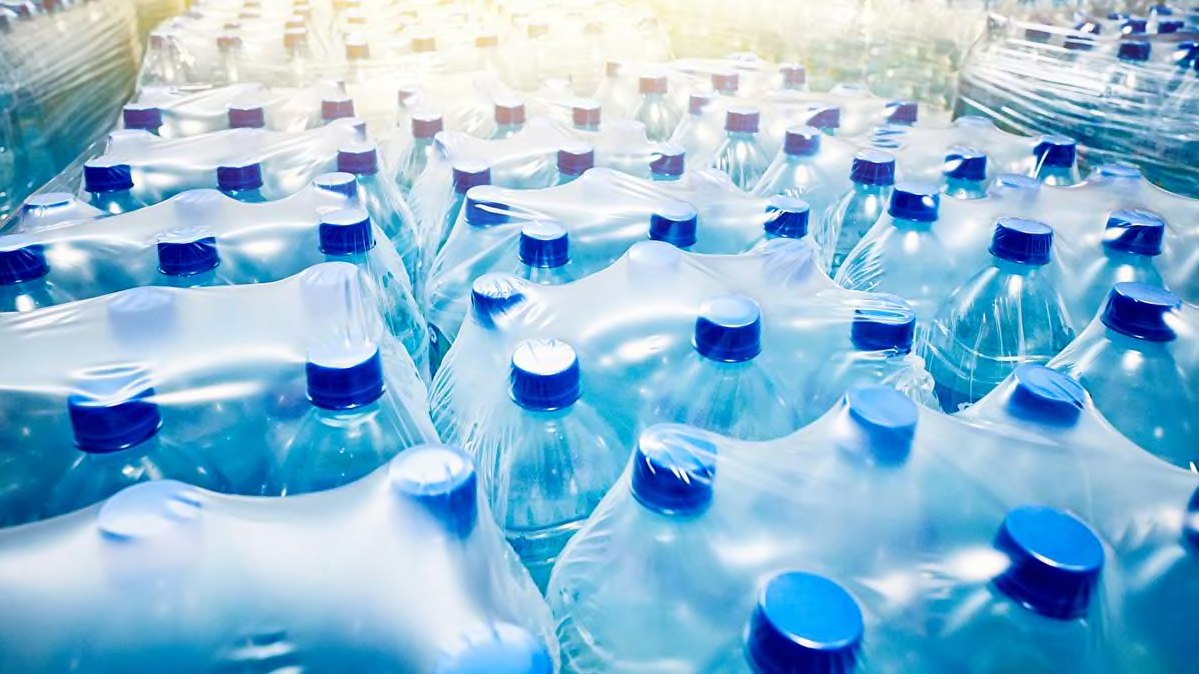 Tap water contaminated with chemicals known as PFAS has become a major concern for some communities across the U.S. in recent years, with many turning to bottled water as an alternative source. But after tests last month showed that bottled spring water sold in several New England states had also been tainted by PFAS, questions are being raised about the safety of bottled water for those dealing with problems at their tap.
The lack of required testing for PFAS in bottled water has been a particular concern for at least one state, Michigan, grappling with tap water contaminated by PFAS, according to documents recently obtained by Consumer Reports through a Freedom of Information Act request.
Major bottlers say they now test for PFAS. But the documents reveal a problem that regulators face in dealing with tap water contaminated by the harmful chemicals: Without legally mandated testing for PFAS in bottled water, they can't be entirely sure the alternative option is any safer.
PFAS stands for per- and polyfluoroalkyl substances. The compounds, sometimes called "forever chemicals," have been widely used for decades and have been found in everything from pizza boxes to firefighting foam. Studies have found the chemicals in almost all people tested, and research into their health effects is still evolving.
In a November 2018 letter, Michigan's Department of Environmental Quality asked the International Bottled Water Association, an industry trade group, to require its members to start testing for PFAS chemicals. Neither Michigan nor the Food and Drug Administration, which oversees bottled water in the U.S., currently has a regulatory limit for PFAS.
"We have relied on creating partnerships with communities to address the issue of PFAS proactively while formal regulatory paths are developed," says the letter [PDF], which was sent by Carol Isaacs, director of Michigan's response team to investigate PFAS contamination in the state, to Bob Hirst, the IBWA's vice president of education, science, and technical relations.
Isaacs' letter describes how Michigan has been working to address PFAS contamination across the state. In particular, she pointed to the experience in the city of Parchment, Mich., which discovered in July 2018 that its public water supply had levels that exceeded the Environmental Protection Agency's health advisory level of 70 parts per trillion, which covers two major PFAS chemicals.
In response, Isaacs wrote, the city was connected to a separate water supply, and residents were advised to not drink their tap water until testing had been completed.
"While the testing was being conducted, residents were provided with bottled water," the letter says. "Due to the efforts in Parchment, one of the questions residents often ask is whether bottled water contains PFAS."
The department had conversations with unnamed individual bottlers, Isaacs says, and it didn't appear to be a problem. However, she added, "that statement is only true of those specific bottlers."
A spokesperson for the Michigan Department of Environmental Quality (now called the Department of Environment, Great Lakes, and Energy) didn't respond to a request for comment.
The IBWA began requiring its members to tests for PFAS as of Jan. 1, CR reported last month, with the limit for one PFAS chemical set at 5 ppt, and for more than one at 10 ppt. Jill Culora, the IBWA's vice president of communications, said this week that the IBWA's decision to enforce standards for its members was made by an internal committee prior to the November 2018 letter.
"Our members have always been committed to providing the highest quality bottled water products to their customers, and several years ago, as PFAS was becoming a more prevalent issue in tap water, IBWA started encouraging its members to begin testing for PFAS," Culora said. "Many of our members did take this suggestion and have been testing their products for the past few years."
The group's members include major bottlers, such as Danone, DS Services, and Nestlé. More than 97 percent of initial tests reviewed by the IBWA registered nondetectable amounts of PFAS, Culora says, and all samples were below the EPA's advised limit of 70 ppt.
But the group doesn't represent all bottlers.
Last month, for example, an IBWA spokesperson confirmed to CR that Spring Hill Farm Dairy, the source of last month's bottled water contamination, isn't a member of the group. Even still, bottled water sourced from Spring Hill had been distributed widely across several New England states under a variety of brands at stores such as CVS and Whole Foods.
Massachusetts bottled water regulator issued a warning last month for bottle-fed infants and women who are pregnant or breastfeeding to not drink spring water sourced from Spring Hill with a production date prior to July 24. The advisory stressed that not all Spring Hill brands list spring water as the source. Spring Hill waters labeled as distilled, purified, or fluorinated aren't affected by the PFAS advisory, according to the Massachusetts advisory.
A Spring Hill spokesperson told CR it took immediate action to install a new filtration system that is expected to remove PFAS chemicals.
Lawmaker Calls for FDA to Act Quickly
The Spring Hill contamination was only discovered as a result of spot testing conducted by the New Hampshire Department of Environmental Services in preparation for new proposed PFAS standards in the state.
During its investigation, New Hampshire regulators tested nearly two dozen brands of bottled water for PFAS and discovered that several brands sourced from Spring Hill had notable levels of the PFAS. The agency informed the Massachusetts DPH a week before the test results [PDF] were published in early July.
Following a CR report last month on New Hampshire's tests, U.S. Sen. Richard Blumenthal, D-Conn., called on the FDA to set and enforce safety standards for PFAS in bottled water.
Citing CR's earlier reporting, Blumenthal noted that the industry has taken steps to address the issue, including Spring Hill's decision to install new filtration.
"However, had they not chosen to take this route, there would be no legal recourse to prevent the distribution of such water," Blumenthal wrote in a letter to the FDA.
Blumenthal said the FDA should set and enforce a limit of 70 ppt for five combined PFAS chemicals in bottled water. For PFOA and PFOS, two of the chemicals known to be harmful, he said limits of 14 ppt and 13 ppt should be set, respectively.
"Given the widespread persistence of PFAS in our environment and drinking water, many people have turned to bottled water to avoid adding toxins to their bodies," he said. "In light of this, it is especially concerning that bottled water may contain PFAS in unsafe concentrations."
CR agrees that the FDA should quickly act to set and enforce a PFAS limit in bottled water and other beverages.
"The FDA must do its job and ensure that bottled beverages are safe," says William Wallace, a safety policy advocate at CR. "The FDA should enforce a binding limit for PFAS in bottled water and other bottled beverages at no greater than 10 ppt—the current level used by the IBWA—and evaluate evidence showing it may need to be significantly lower."
Consumers in the New England area can check to determine whether their bottled water comes from Spring Hill by looking on the product's label, which lists the water source. The Spring Hill products affected by PFAS are those that list "spring" water on the label.
The advisory applies only to water produced before July 24, 2019, and in containers ranging in size from 1 to 2.5 gallons. The production date can be found on the shoulder of the bottle.