Bread Maker Review: Which Ones Rise to the Occasion?
See how models from Breadman, Cuisinart, and Zojirushi compare in Consumer Reports' tests As states began issuing stay-at-home orders in March, it wasn't just toilet paper that vanished from store shelves, but also baking supplies including flour and yeast. Suddenly, lots of people decided to make their own bread.
But not everyone has the knack for kneading a loaf from scratch, so many consumers have turned to bread makers. Sales climbed 800 percent in the last year, according to the King Arthur Flour Company. It came as no surprise to Sharon Davis, director of programs at the nonprofit Home Baking Association. "In our opinion, people finally have time to do something they wanted to do anyway," Davis says.
Today's bread makers are more versatile than before, offering a range of settings for pizza dough and gluten-free bread in addition to basic white and whole-wheat bread.

Read "Decoding Bread Labels" so that you're not fooled into thinking you're buying a healthy loaf when it's not.


As part of these tests, Casaregola baked basic white bread and whole-wheat bread, choosing from the recipes that come with each model. With bread flour sold out at supermarkets when she tested these bread makers, she used all-purpose flour instead. (She made recipe adjustments for different types of flour.)
Casaregola evaluated how easy the bread makers were to set up and use, how noisy they were during kneading and baking, and whether the loaves of bread looked evenly baked.
Despite the set-it-and-forget-it nature of bread makers, it's possible to botch a loaf. Davis notes that to get the best results from any model, it's critical to measure the ingredients accurately. "Weighing your ingredients on a digital scale is always more accurate than measuring by volume," she says. Doing so ensures that you get the right ratio of ingredients, and that makes for a better loaf of bread.
Casaregola's tests revealed some marked differences among these three models. CR members with digital access can check out the results below in our model-by-model ratings and reviews.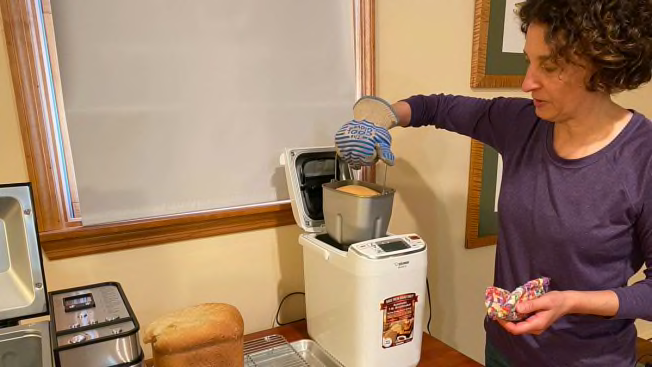 Become a member to read the full article and get access to digital ratings.
We investigate, research, and test so you can choose with confidence.