Millions of Americans Lack Fast Internet Service, CR Survey Shows
High monthly bills and lack of access are hurdles, but consumers can try to negotiate a better price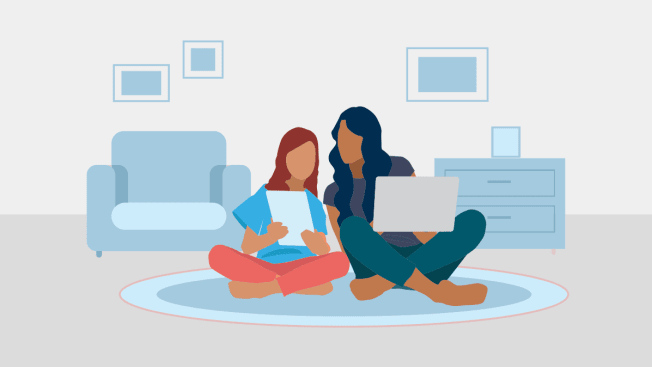 Millions of Americans struggle to pay for fast internet service, or find that it's not available where they live, a new Consumer Reports survey shows.
The nationally representative survey of 2,565 adults (PDF), conducted in June of this year, adds urgency to debates over broadband infrastructure and competition, according to consumer advocates.
Approximately 3 out of 4 Americans say they have broadband, or high-speed internet, service in their households. But 1 in 20 says they rely on slow DSL connections or a dial-up service, 15 percent use their cellphone plans to access the internet, and 3 percent of Americans say they have no internet access at all in their homes.
Nearly a third of those who lack broadband say it's because it costs too much, while about a quarter of those who do have it say they find it difficult to afford.
Struggling to Pay Monthly Bills
Forty-three percent of Americans who have broadband service in their home are using it more now than they were before the pandemic hit, according to the survey, and 16 percent decided to upgrade their plans to meet their growing needs.
A higher percentage of Hispanic, Black, and English-speaking Asian consumers than of white consumers upgraded their service. However, the difficulty in affording fast internet service is felt disproportionately among communities of color. Thirty-two percent of Black and 33 percent of Hispanic Americans who have broadband at home say they have some level of trouble paying their bill. That's true for 21 percent of white Americans.
According to the survey, the median monthly broadband bill, including taxes and fees, is about $70. In areas where there's competition, prices are lower. The median monthly price in a market with just one provider is $75, but that figure drops to $68 when consumers have a choice of three providers.
Paying More to Keep Up
People of color were more likely to upgrade their service in response to COVID-19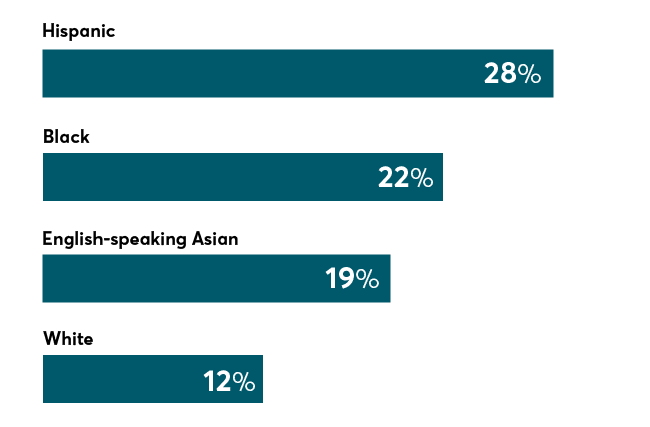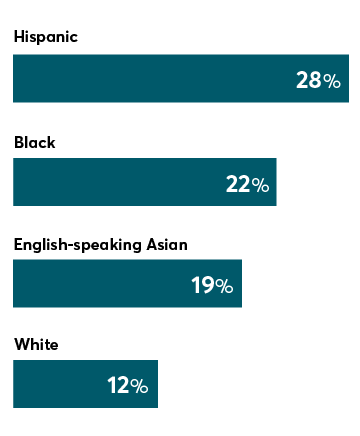 Source: June 2021 CR nationally representative survey of 2,565 adult U.S. residents.
Lack of local infrastructure is also a barrier for some Americans, especially those living in rural areas. Of those who don't have broadband internet service, a quarter say it's because it is not available where they live.
The survey shows that more African American households (21 percent) rely on smartphones for at-home internet access than white (14 percent) or Hispanic (15 percent) households.
To gather more information on internet pricing and access, Consumer Reports is working with a coalition of partner organizations to collect and analyze thousands of internet bills from across the United States. Individuals can participate in the Broadband Together project by taking an internet speed test, sharing a bill and answering a few questions about your broadband service.
Consumer Reports plans to publish the initial results this fall, in partnership with several other media organizations.
Support for Municipal Broadband
The CR survey also gathered information on municipal broadband services, in which a town or city offers its own internet plans to residents, often in partnership with a private company.
These city-run services may provide fast connections to people's homes in neighborhoods where none are available from other internet service providers. They can also introduce competition—and often lower prices—in markets that lack it.
Many of these municipal broadband services are popular with their customers. EPB, in Chattanooga, Tennessee, for example, has periodically showed up at the top of CR's telecom ratings for internet providers.
About 20 states have curtailed or banned such internet services to prevent local governments from competing with private enterprises. Consumer Reports and other advocacy groups have long opposed such restrictions.
Most Americans share that view. Three out of 4 Americans feel that municipal broadband services should be allowed to help ensure that all Americans have equal access to the internet.
According to the survey, the level of support varies with political affiliation, but is shared by majorities of Democrats (85 percent), independents (74 percent) and Republicans (63 percent).