When you shop through retailer links on our site, we may earn affiliate commissions. 100% of the fees we collect are used to support our nonprofit mission.
Learn more.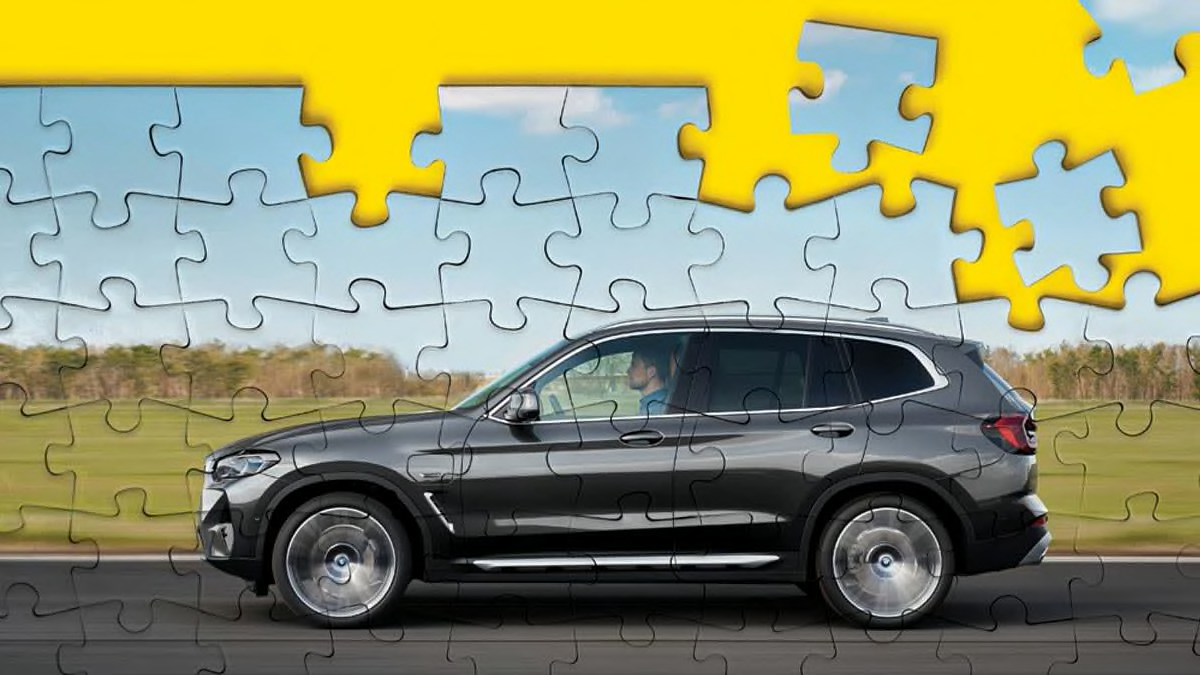 Photo-Illustration: Joe Darrow; Source: BMW
You've probably heard that it's a tricky time to buy a car, be it new or used. And that's true: Availability is tight and prices are higher than usual. But there are plenty of good reasons you might want (or need) to buy a car right now. Maybe your old car is on its last legs, your lease is almost up, your teen needs a car—or maybe you're just excited about all the safety and convenience features the latest models have and are ready to upgrade. Don't worry. Even in today's challenging car-buying market, you can find a car you love for a reasonable price. We'll tell you how.
But first, a quick look at the factors causing the current challenges. It mostly comes down to a global shortage in the supply of microchips. Each new car requires anywhere from 30 to 100 computers, each with multiple chips, to operate everything from window motors to infotainment display screens. The chip shortage and other pandemic-related supply-chain disruptions have made it tough for manufacturers to build cars quickly enough to meet consumer demand. To keep up, some manufacturers have even temporarily suspended certain features. General Motors, for example, announced late last year that it would leave out heated seats and other options on several models. Experts say the chip shortage will probably stretch into next year.
The resulting new-car shortage has amped up demand and prices in the used-car market, too.
With plenty of would-be buyers vying for available cars, dealers aren't as motivated to offer discounts, so bargaining over price isn't easy. Some of the more sought-after models are even selling for well above the manufacturer's suggested retail price (MSRP), such as the Kia Telluride, which is recommended by CR and for which people are paying about 15 percent above, on average. But there's a silver lining: If you have a car to trade in, it has never been more valuable and can help to offset higher prices on your next vehicle.
Read on for help from CR's auto pros on navigating four common car-buying scenarios, plus their expert picks for the best new and used cars available now.
1. You Can't Wait Any Longer for an Upgrade
Perhaps you've held off buying a new car since the pandemic began, but you don't think you can wait any longer. Or maybe you want something with cutting-edge tech and active safety features that your old car doesn't have. Dealership stock may be a bit thin right now, but you can still find a nice upgrade to your current car if you're flexible on details like the trim level, paint color, or even the exact model. Browse around to see what's available, keeping an open mind. A model you hadn't considered before might fit your needs. And depending on where you live, you might find that it's worth checking dealerships outside your area to find a better selection.
"Peruse sites like Cars.com, CarGurus, and manufacturers' sites to see new inventory, including what's coming soon," says Gabe Shenhar, associate director of CR's auto test program. "If you find the right car, contact the dealer and put a deposit on it. If you still can't find what you want, you can special-order a car."
With a special order, you configure your car online or at a dealership, and in a few months, when it rolls off the assembly line, you get a model with the exact options you want. (Be sure to double-check that the car has everything you ordered before you drive it off the dealer's lot after delivery.)
The models we've selected here have the latest safety and convenience features—and reasonably wide availability.
2. Your Car Lease Is Ending
In years past, when your lease was up you'd probably just turn in the car and lease something new. But today's sky-high used-car prices mean that the smart move could be buying the car you're currently leasing. Most contracts include a buyout option, and because the terms of a lease expiring today were calculated two or three years ago, the price at which you might buy your lease will be much lower than the same car would fetch today on the open market. That means you could get a great deal on the car you're already driving. Check CR's Trade-In Value Estimator to see how much your car is currently worth. If you prefer to lease a new car instead, you might be able to leverage the high value of your lease return to get terms on a new lease that are better than those advertised by the dealer or manufacturer. Here, two widely available models you might consider leasing.
3. You Have to Replace Your Car Fast
If your car requires a big, expensive repair (or it was just totaled in a crash), you might need another car right away. First, use CR's Car Value Estimator and Car Repair Assistant to see whether it's worth repairing your car. Because used-car prices are so high, even a pricey repair could make good financial sense—as long the cost of the fix doesn't eclipse the value of the vehicle. In other words, don't spend $8,000 repairing a car that's worth only $6,000. Below, we show you how to break up the cost of a big repair and compare it with a new-car payment.
If the old car was totaled or isn't worth fixing and you need another car fast, you can buy or lease a new one, or save money by buying a used car. You'll find the best prices in the 6- to 10-year-old range. Check dealer inventories frequently to see what's available, or go to websites like Carvana and TrueCar to search the listings.
4. You Want a Car for Your Teen
It can be tempting to give a hand-me-down or an inexpensive used car to your teen, but CR recommends buying the newest, safest car your budget will allow. After all, teens are inexperienced drivers who are nearly four times more likely to be involved in a crash. New cars have all the latest and greatest safety features and crash-avoidance technology. Realistically, however, buying a brand-new car for a teen isn't an option for many families, because price—both for the car and insurance premiums—can be prohibitive.
Whether you're buying new or used, look for a model with the most important safety features for teen drivers: electronic stability control (ESC), which has been required on all new models since 2012; good brakes that stop the vehicle from 60 mph in 145 feet or less in CR's testing; average or better handling as measured in CR's tests; above-average reliability; "Good" ratings in four key Insurance Institute for Highway Safety (IIHS) crashworthiness tests; and at least four stars in the National Highway Traffic Safety Administration's overall five-star safety rating.
These two models hit the most important safety notes and fit a range of budgets. Go to CR.org/teencars for a list of the best used cars for teens.
Your Car Search Guide
Identify the Models That Fit Your Needs
Browse ratings and reviews online, factoring in budget, size, and lifestyle needs, such as third-row seating and towing capability. You can also check the reliability histories, owner satisfaction scores, and information about safety features and crash-test results at CR.org/carsatoz. You'll also want to learn about other trim levels and comparable models, so you can pivot to a second choice.
Decide Between New and Used
Look at current transaction prices using CR's Build & Buy Car Buying Service or TrueCar to learn what's a fair price for the model you want. Run the numbers to see whether buying a new or used version is right for you. Used-car prices are elevated now, so you may find that buying new is smarter than buying a 3-year-old car. Also, lower finance charges, zero miles on the odometer, and a full factory warranty can make new cars more appealing. Buying used these days often means looking back several years in order to see a meaningful discount.
Research Your Trade-In Value
Use CR's Trade-InValue Estimator to find out what your old car is worth. Then see what a local dealer will offer. You're likely to get more money for your old car if you sell it yourself, so check its retail value using Kelley Blue Book, and look at what similarly optioned versions of the same model are listed for.
Secure Financing
Get preapproved for financing through your bank or an online vendor such as Carvana or LendingTree. Locking in a rate gives you a starting point for negotiating financing terms with a dealership. If the dealership can beat your secured loan, great.
Find Your Car at a Fair Price
Use a car-listing aggregator like Cars.com or CarGurus to find models nearby. You can widen your search radius if you're not finding what you want in your area. But call dealerships before heading out to see a specific car, because some post online listings before the cars are on their lots. Use CR's Build & Buy Car Buying Service to compare in-stock vehicles and see what others paid. You can get up-front price offers online from local certified dealers. On top of national incentives, Consumer Reports members are eligible for additional incentive offers from select manufacturers.
Test-Drive and Verify Your Features
Test-drive the car to make sure that you're comfortable with its performance—and physically check to make sure the car you're buying has all the features you want before you drive it off the dealership lot. Some manufacturers have had to suspend certain options due to the chip shortage and other supply chain issues, meaning online information and brochures may be out of date. Ask if the manufacturer plans on installing missing features retroactively.
Be Prepared to Act Fast
This is a seller's market. If you have to go outside your local area to a dealership, CR's experts advise putting down a refundable deposit on the car via phone to make sure it's actually there when you arrive. Also, have your financing complete and your old car prepped for trade-in to expedite the transaction. Dealers are less willing to negotiate now, if at all, but manufacturers still may still offer attractive terms on leases and financing.
More From the 2022 Autos Spotlight