When you shop through retailer links on our site, we may earn affiliate commissions. 100% of the fees we collect are used to support our nonprofit mission.
Learn more.
Brawny and unsophisticated muscle cars used to be the sole domain of Detroit. However, nowadays a homegrown Chevrolet Camaro and Ford Mustang exhibit manners reminiscent of European sports cars and a purebred Swabian can outmuscle Motown's iron. Clearly, there is a synergy of concepts at play here and it's good news for driving enthusiasts. Case in point: the 2016 Mercedes-Benz AMG C63 S.
This is the laudable Mercedes' C-Class compact sedan taken to the performance extreme by AMG, the automaker's motorsports wing. AMG turns the luxurious, comfortable and capable C-Class into a fire-breathing muscle car, one that won't back down to a challenge issued by a Chevrolet Corvette or Porsche 911, let alone the iconic BMW M3 or its new domestic challenger, the Cadillac ATS-V. Yet for all of that power and road-holding competency, you can still use it for running errands. To sample this intense C-Class and share our impressions, we rented one from Mercedes-Benz.
The C63 starts at $65,250 with a "mere" 469 hp. Opt for the S designation, as we did, and you get a blistering 503 hp. That power comes at a price: $73,250 before options.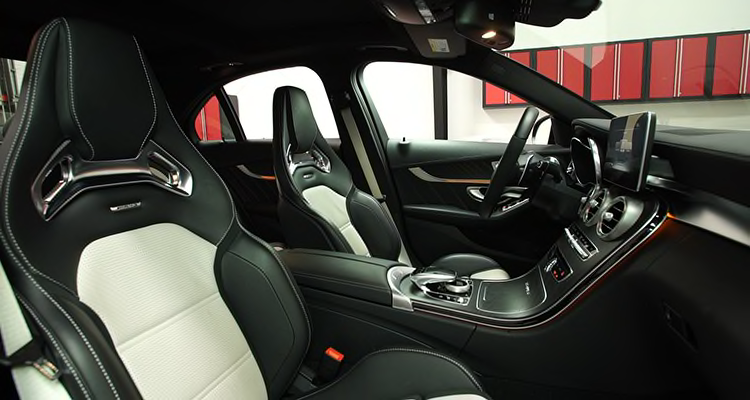 With the memory of the previous-generation C63 still burned into our synapses, the expectations for this generation were high. With a lowered and stiffened suspension, beefed up brakes, fat and sticky Dunlop Sport Maxx tires, and aerodynamic enhancements all around, this four-door super-sedan from Stuttgart looked poised to storm our test track.
Unlike the previous-generation's normally aspirated 6.2-liter V8, the new C63 employs a 4.0-liter turbocharged V8. Another change is that the wonderfully communicative, hydraulic-assisted steering has been replaced by an electric set up. Those changes don't sound like a recipe for pure, unadulterated thrills; indeed, the connoisseurs among us still preferred the old car's steering. That said, we reveled in the new C63's outright performance, sound, and cornering prowess.
Any trepidations about the smaller-displacement turbo engine not being up to the task vanish as soon as you unleash this force-fed beast and feel it catapult without lag or hesitation. Unlike its six-cylinder competitors, the big 4.0-liter feels, sounds, and pulls like a big-chested V8. Tromp on the pedal at any point and "V8 versus V6" arguments get blasted into the Internet-forum weeds. We didn't verify the claimed 0-60 mph acceleration time of 3.9 seconds, but with such stratospheric performance, those numbers are just bragging rights. Suffice it to say the C63 can humble most muscle cars.
The AMG folks used a dual-clutch automated manual in the new C63 AMG. It works wonders in all conditions, but it especially shines when driven with gusto on a track. Think of it as a virtual robot shifting a manual transmission for you and doing a darn good job at it. Various modes, from Comfort to Race, alter shift points, engine sound, and suspension tightness. We particularly liked driving the car in Sport Plus, which turns the heat up with rev-matching downshifts and perfectly coordinated exhaust bark, pops, and crackles. Regardless of speed or throttle position, the C63 leaps forward with an eagerness that's accompanied by an equally invigorating soundtrack.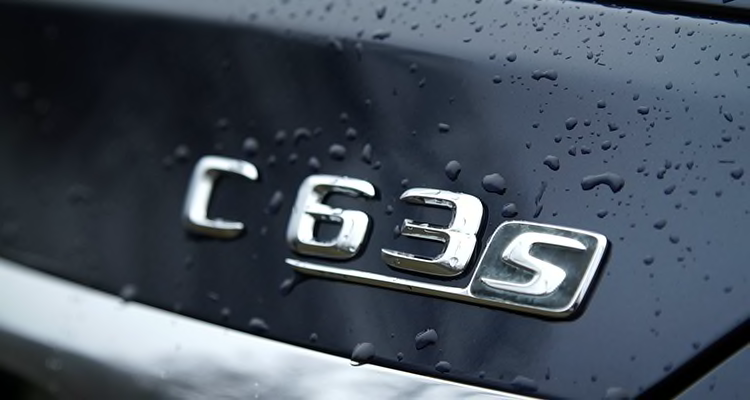 Don't think that this is merely a 'bahn-storming muscle car. The C63 takes the already agile C-Class to another level, endowing it with handling chops that put many sports cars to shame. Turn-in response is immediate, and the hunkered down, stiff C63 remains planted.
The steering is quick with a well-judged effort, but it lacks the real-time feedback the old car displayed. On our track, the C63 practically begged to be driven to its high limits. In Race mode this 'Benz lets its hair down. The stability control becomes a bit loosey-goosey, allowing just enough tail slide in corners to provide thrills without spills. Advanced or adventurous folks can defeat the stability control entirely and turn the C63 into one splendid drift machine (not recommended if you don't have a track in your backyard).
The interior ratchets up the snazzy ambience of the C-Class with sporty features such as heavily bolstered, two-tone sport seats with built-in head restraints; a lovely suede steering wheel; gorgeous matte wood trim; and AMG logos strewn in various places.
And yet, the C63 can serve as a daily commuter without any significant sacrifices. Of course, you'll forgo quite a bit of ride plushness and noise isolation, and ease of access is made challenging by those seats. Plus, this supercar engine isn't exactly frugal with fuel. But leave the car in Comfort mode and the C63 settles into its role of a stealth bomber, flying incognito under the radar without eliciting any complaints from the neighbors.
The C63 AMG is fun—if challenging—track tool that when mastered is rewarding to drive. Possessing a real punch, a glorious soundtrack, and a capable, playful chassis makes it an authentic and serious performance machine, without looking ostentatious.
Talking Cars: Mercedes-Benz AMG GT vs. C63 AMG