When you shop through retailer links on our site, we may earn affiliate commissions. 100% of the fees we collect are used to support our nonprofit mission.
Learn more.
With a profile that harkens back to the original 1967 Chevrolet Camaro, the all-new sixth-generation car looks immediately familiar, marking a slight styling evolution over the outgoing model. Despite advances in powertrain and platform, several shortcomings carry forward.
We purchased a 2016 Chevrolet Camaro SS to test this reborn muscle car. Sticker price started at $41,300 and rose to $47,020 as we piled on options, such as magnetic ride control, power sunroof, dual-mode exhaust, and Chevrolet MyLink audio system. Appearance extras further padded the price, such as the Garnet Red Tintcoat paint, black Chevrolet emblems, and 20-inch black wheels. But those cosmetics add both class and attitude.
At a glance, the new Camaro may appear to be the result of a cosmetic makeover, but it is now based on the Alpha rear-drive platform that underpins the Cadillac ATS and its dimensions are a bit smaller. This mechanical pedigree gets the coupe off to a good start. Reduced weight, revised suspension, and the adjustable shocks create a ride unlike any muscle car buyer's expectations. The Camaro feels much more like a fine European sport sedan than anything a shopper may be trading in.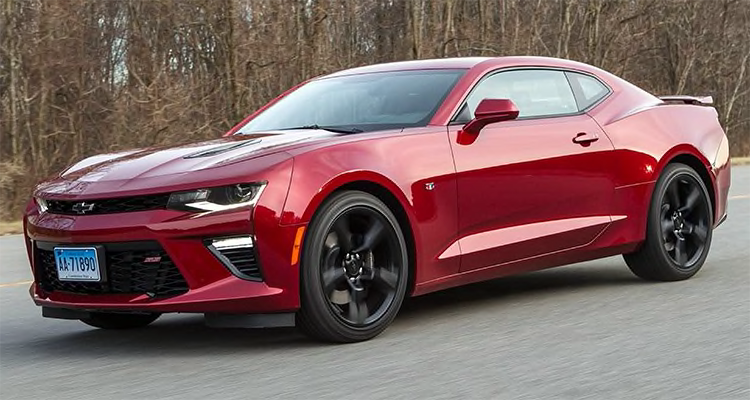 Likewise, the Camaro vanquishes the notion that muscle cars are designed purely for running in a straight line. Here is a car that loves twisties, rewarding the driver with a planted body and quick turn-in response. The steering is sharp with decent feedback. The ride skews firm and connected, masking bumps well.
Three engines are offered, including a turbocharged 275-hp, 2.0-liter four-cylinder and 335-hp, 3.6-liter V6. The 2016 Chevrolet Camaro SS packs a Corvette-sourced 6.2-liter V8 with 455 horsepower and 455 lb.-ft. of torque. As the horsepower wars wage on over the decades, today's Camaro V8 bests the base eight-cylinder offerings from its crosstown rivals, Dodge Challenger and Ford Mustang.
The power is put to great effect with the six-speed manual in our test car. The shifts are swift, aided by short throws. Clutch is relatively low effort, making driving in traffic easier than with some other high-horsepower cars. Active rev matching, controlled via steering wheel paddles, can help transform a casual driver into a pro, while enhancing the soundtrack in the process.
Copious power is readily available, even without chasing the right cog for the situation. Tip into the throttle, and the Camaro pulls fiercely from nearly any gear. Downshift, and it becomes a veritable road rocket—as one would expect from the most powerful Camaro SS in Chevrolet history. Around town, the Camaro has a muted rumble from the exhaust that turns to a roar under hard acceleration.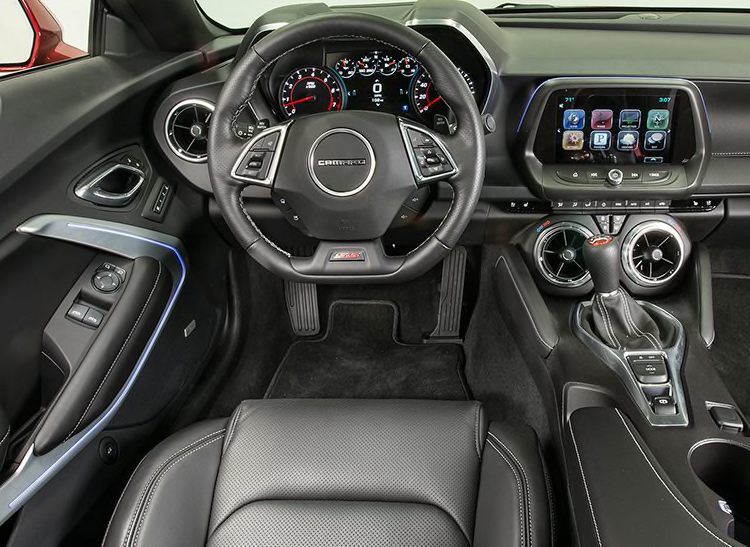 Dynamically, the Camaro is a real delight. However, the packaging still suffers from overt flaws that may turn away some buyers. Visibility remains atrocious, making it hard to see stoplights, to view cars at its flanks, and to spot obstacles when backing up. Plus, the narrow side glass makes the car feel as if the roof has been crushed. Fortunately, it includes a rear backup camera, along with parking assist and rear cross-traffic alert—all systems you need with this coupe.
The driver's space is decidedly intimate for a sizeable car. The bolstered sport seats are comfortable, but we were dismayed that there was no lumbar adjustment in a car of this heady price. Further, the driver's right leg is crammed against the transmission tunnel. And head room is non-existent, having us wish we bought a model without the moonroof. Wearing a helmet is out of the question. In fact, there's barely room for a comb over for some drivers. The rear seat remains vestigial, with limited people-toting ability. (If you want a muscle car with passenger space, look to the Chevrolet SS or Dodge Challenger.)
But the cabin is relatively quiet and refined, looking far less toy-like than the previous model. The Chevy MyLink infotainment system is graphically pleasing and intuitive to use. However, its screen tilts down slightly, presumably to better shield it from sun reflections. As a result, it looks like it is melting awkwardly forward. The interior door handle is also positioned at a strange angle, making operation uncomfortable. Temperature adjustments are hidden in the vent bezels, and the dash vents are positioned unusually low.
Trunk space remains tight, with an unusual opening size that would limit the Camaro's functionality for warehouse store runs.
Based on the break-in miles thus far, the Camaro's acceleration, ride, and handling all shine bright. But the packaging limitations may turn off some buyers and warrant consideration from all would-be owners.
We look forward to completing the testing, when the weather warms up.