Helping Low-Income People Afford Cars
For many, a car isn't a luxury but a necessity. The Vehicles for Change program suggests that subsidized loans may be a solution.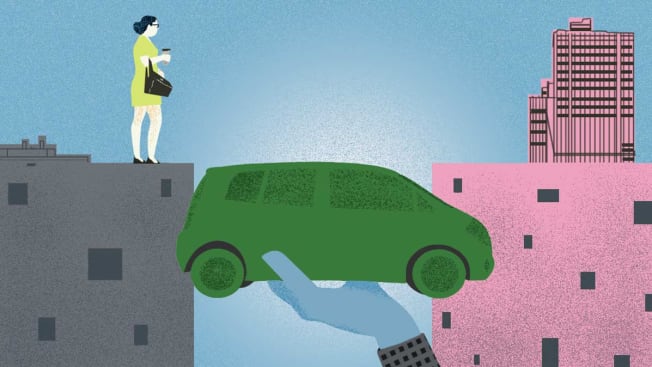 Mornings were mayhem back when Donna, then a 32-year-old mother of small children, was carless. She had to wake up her kids at 5 a.m. to get them to school via public transportation.  
"I'm like, 'Kids, hit the granola bar,' " she told a researcher in an interview for a paper published last year in the Journal of Planning Education and Research. "Let's roll." 
When we speak to recipients, so many of them are just so excited to take their children out on an adventure.
Simone Baptiste
Nicholas Klein, a city and regional planning professor at Cornell who wrote the journal article and interviewed 30 VFC applicants in his research, found that the program vastly improved the lives of the people accepted into it. 
For example, Donna told him that having a car meant she could get home 2 hours sooner every night to "cook dinner, help my kids with their homework, give the baby a bath." Others were able to find higher-paying jobs. 
"Having access to a car confers accessibility gains," Klein says. "You can just get to more things."
Although detailed data on outcomes for VFC participants isn't available, Klein's anecdotal observations track with other studies that strongly tie car ownership to a higher income and a better quality of life. 
For one thing, access to a car—especially in the many places in the U.S. with nonexistent or unreliable public transportation—makes it easier to get to work on time and therefore keep a job, or find new, better-paying work opportunities. Mobility also has a positive impact on lifestyles. "When we speak to recipients, so many of them are just so excited to take their children out on an adventure," Baptiste says.
Some critics of subsidized car ownership programs worry that it could negatively contribute to problems like pollution and suburban sprawl, Klein's paper says. Some are also concerned that the financial burden of car ownership will be too challenging for low-income people.
But Klein says critics "fail to consider what happens in the absence of these programs." 
For instance, low-income car borrowers are often left to contend with the used-car market, where they may wind up obtaining financing at high annual percentage rates for cars that are unreliable and ultimately break down. Many of the people Klein interviewed would have bought a car were it not for VFC, he says, "but I don't think the outcomes would've been as good." 
When you have a low income, "the options for buying a car are really bad," he says. "The used-car market is treacherous, but the degree to which it was was really shocking. People were getting scammed, buying lemons." Over the course of more than a decade, one interviewee said she bought seven cars that were unreliable or ended up breaking down.
Klein's observations complement the findings of an investigation by Consumer Reports into auto lending. We found that lower-credit consumers can pay interest rates that exceed 25 percent. 
"It really highlights the degree to which households with low incomes are facing precarious car ownership," Klein says.
If you live in Virginia or Maryland, go to the Vehicles for Change website for information about eligibility requirements and how to apply to the program. 
There are also more than 120 other similar programs around the country, according to Working Cars for Working Families, an initiative of the nonprofit National Consumer Law Center. 
Those programs provide low-interest loans for car purchases and may match savings for down payments and purchases, the group's website says. 
Klein's study also notes the existence of local government partnership programs to help low-income consumers repair cars, like the Tune In & Tune Up initiative in the San Joaquin Valley of California, which helps subsidize repairs of vehicles that fail smog tests.