Ford Bronco SUV and Ranger Pickup Truck Recalled Because Windshield May Detach
The automaker is unsure why the glass was not properly bonded to the vehicle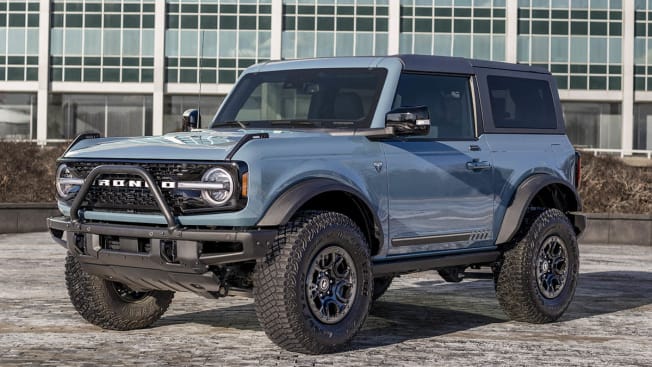 Ford Motor Company is recalling more than 63,000 Bronco SUVs and Ranger pickup trucks from the 2022 model year because the windshield may separate from the vehicle in a crash, increasing the risk of injury.
All of the Broncos that are subject to the recall were built between December 8, 2021 and April 12, 2022. The build dates for the Ranger are December 17, 2021 through April 12, 2022.
Ford looked at variables including ambient temperature and humidity, oven settings during the bonding process, the presence of contaminants, clearcoat thickness, and others, but it has not been able to come to a conclusion as to why the windshields may detach.
Ford says that it is unaware of any crashes or injuries related to the problem.  
Vehicles recalled: 39,063 Ford Broncos built between December 8, 2021, and April 12, 2022, and 24,231 Ford Rangers built between December 17, 2021, through April 12, 2022.
The problem: The windshield may not have been properly bonded to the vehicles, which could let them detach in a crash. According to documents provided by the National Highway Traffic Safety Administration (NHTSA), the problem was first discovered on a customer's Bronco in early April 2022. After further review Ford determined that eight out of 65 sampled units did not meet Ford's requirements. In mid-April additional testing was conducted and an additional 16 vehicles were found to not meet the standard. Because the Ranger windshield process is similar to that of the Bronco, Ford investigated and determined that the Ranger suffered from the same issue.
The fix: Ford dealers will remove and reinstall the windshield, at no charge to the owner.
How to contact the manufacturer: Ford will notify owners via mail starting July 11, 2022. Owners of affected vehicles may call Ford at 866-436-7332.
NHTSA campaign number: 22V451. Ford's number for the recall is 22C12.
Check to see whether your vehicle has an open recall: NHTSA's website will tell you whether your vehicle has any open recalls that need to be addressed.
If you plug your car's 17-digit vehicle identification number (VIN) into NHTSA's website and a recall doesn't appear, your vehicle doesn't currently have any open recalls. Because automakers issue recalls often, and for many older vehicles, we recommend checking back regularly to see whether your vehicle has had a recall issued.
Stay informed about recalls that might affect your vehicle by using our Car Recall Tracker. Create a free account now to become a CR member.