Kia Sorento Hybrid and Plug-in Hybrid SUVs Recalled for Seat Belt Issue
The seat belt pretensioner could explode and injure occupants during a crash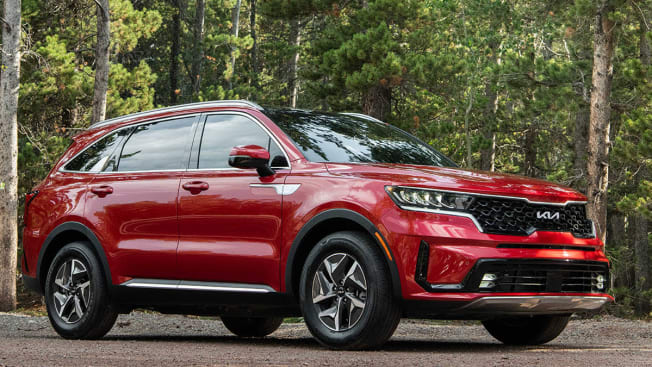 Kia is recalling the 2021 and 2021 Sorento Hybrid SUV and the 2022 Sorento Plug-in Hybrid because their front seat belt pretensioners may explode and cause injuries during a crash. Almost 17,200 vehicles are included in the recall.
A seat belt pretensioner is an important safety device that uses a controlled explosive charge to tighten the belt at the onset of a crash in order to prevent injury. However, on these recalled vehicles, the seat belt pretensioners could explode in a way that sends metal fragments toward the vehicle's occupants.
To fix the problem, Kia dealerships will install a protective cap on the faulty pretensioners, free of charge. A small number of these vehicles have already been recalled for a similar issue but will still need this recall fix.
In documents provided to the National Highway Traffic Safety Administration, Kia says that it is not aware of any injuries related to this recall but that it is issuing the recall because these Sorentos use the same seat belt pretensioner as previously recalled Hyundai Elantra sedans. Three people have been injured in crashes involving Hyundai Elantras with exploding pretensioners. Hyundai and Kia are run as separate business units, but they share a corporate parent, and in many cases their cars share parts.
Vehicles Recalled 
• Kia Sorento Hybrid SUVs manufactured between Sept. 2, 2020, and May 18, 2022.
• Kia Sorento Plug-in Hybrid SUVs manufactured between June 29, 2021, and May 16, 2022.
The problem: The seat belt pretensioners were overpressurized, and as a result may explode in a way that injures occupants during a crash.
The fix: Kia dealerships will add a cap to both front seat belt pretensioners that will prevent them from deploying in a way that could injure occupants.
How to contact the manufacturer: Kia will notify owners by mail starting Aug. 19, 2022. Owners may also contact Kia at 800-333-4542.
NHTSA campaign number: 22V447. Kia's own number for this recall is SC241.
Check to see whether your vehicle has an open recall: NHTSA's website will tell you whether your vehicle has any open recalls that need to be addressed.
If you plug your car's 17-digit vehicle identification number (VIN) into NHTSA's website and a recall doesn't appear, it means your vehicle doesn't currently have any open recalls. Because automakers issue recalls often, and for many older vehicles, we recommend checking back regularly to see whether your vehicle has had a recall issued.
Stay informed about recalls that might affect your vehicle using our Car Recall Tracker.
Create a free account now to become a CR member.