Nissan Recall: Frontier and Titan Owners Should Use Parking Brake Whenever They Park Their Pickup
A faulty part means a truck could roll away even if it's in Park. A fix is not yet available.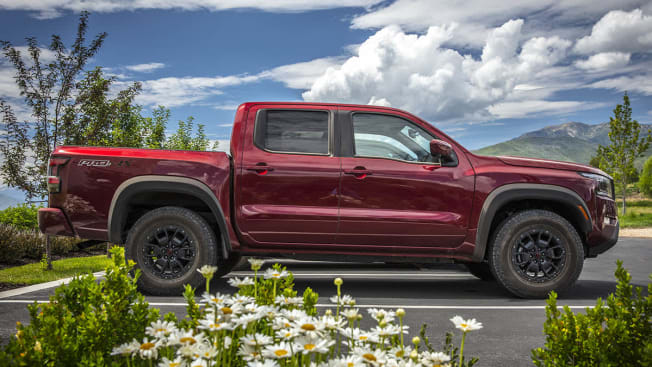 Nissan is recalling over 180,000 Frontier and Titan pickup trucks from the 2020 through 2022 model years as the trucks could roll away even if the shift lever is in Park. So far, the automaker says it is aware of four reports of injuries.
The automaker is currently developing a fix for the problem, but in the meantime, Nissan says that owners should use the parking brake every time they park their vehicles. Once a remedy is available, owners will be able to take their trucks to a Nissan dealer for a free repair.
Vehicles Recalled
• Nissan Frontier pickup trucks equipped with a 9-speed automatic transmission, built from June 10, 2020, through June 25, 2021, and from July 13, 2021, through June 14, 2022.
• Nissan Titan pickup trucks equipped with a 9-speed automatic transmission, built from Dec. 13, 2019, through June 10, 2022.
The problem: A part within the transmission that holds the vehicle in place when it's shifted into Park may not engage. The part is called a "parking pawl."
The fix: Nissan is still working on a fix, and will notify owners when one is available. In the meantime, owners should always use the parking brake whenever they park their vehicles.
How to contact the manufacturer: Nissan will send out a recall notification by mail on July 20, 2022. It will send another letter when the recall fix is available. Owners who have questions may contact Nissan at 800-867-7669. 
NHTSA campaign number: 22V457. Nissan's own number for this recall is R22A2 R22A3.
Check to see whether your vehicle has an open recall: NHTSA's website will tell you whether your vehicle has any open recalls that need to be addressed.
If you plug your car's 17-digit vehicle identification number (VIN) into NHTSA's website and a recall doesn't appear, it means your vehicle doesn't currently have any open recalls. Because automakers issue recalls often, and for many older vehicles, we recommend checking back regularly to see whether your vehicle has had a recall issued.
Stay informed about recalls that might affect your vehicle using our Car Recall Tracker.
Create a free account now to become a CR member.