When you shop through retailer links on our site, we may earn affiliate commissions. 100% of the fees we collect are used to support our nonprofit mission.
Learn more.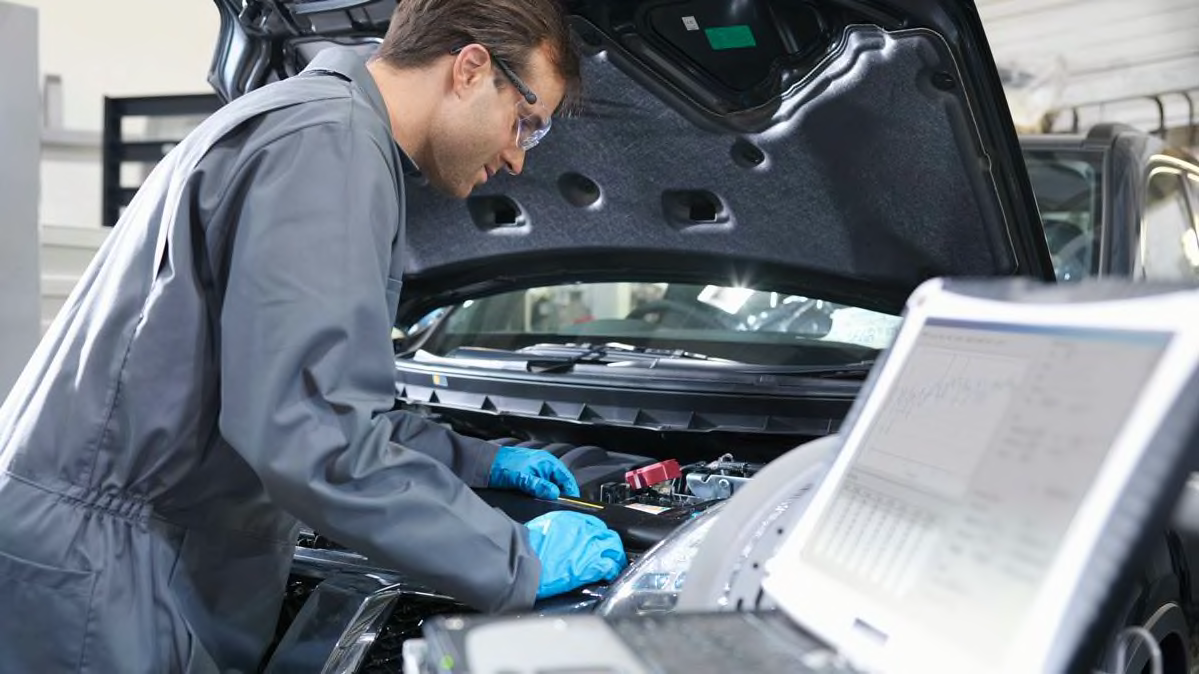 As states across the country begin to relax pandemic restrictions on businesses and loosen stay-at-home orders, many consumers will be bringing their vehicles to local repair shops and dealership service centers to catch up on maintenance and repairs.
Even so, this is not the time to ease up on your personal safety, says Jake Fisher, senior director of auto testing for Consumer Reports. "Make sure you find out exactly how the repair shop will keep you and your car protected from the coronavirus before you make an appointment."
We contacted several national automotive organizations, as well as local repair shops, to find out what consumers can expect when they head back to the shop for the first time. Below are some tips for you to consider before heading out.
Tips to Stay Safe at Repair Shops
Do your research. The first thing you should do is look at the dealer or repair shop's website to see whether they clearly lay out their safety precautions related to the coronavirus, says John Ibbotson, CR's chief mechanic.
Ask questions. When you call the service or repair shop to make an appointment, double-check what their precautions are, especially pertaining to how they will disinfect your car and limit your interaction with employees. "Make sure you are aware of, and comfortable with, the steps and actions your repair shop is taking," says Trish Serratore, senior vice president of communications for the National Institute for Automotive Service Excellence (ASE), a nonprofit organization that works to improve the quality of vehicle repair and service.
Follow the rules. Be aware of what safety precautions the dealer requires of its customers, too, such as whether a face mask is a necessity, as well as the procedure for dropping off or picking up a car at the shop to limit interaction.
Ask about home pickup or drop-off. Inquire whether the repair shop has a complimentary home pickup and drop-off service. Some shops that didn't offer this service before have adopted this practice in light of the pandemic for customers who live locally. An additional benefit is that the car can then sit for a day or two in "quarantine" at your home to let any virus present die.
Wipe it down. Regardless of whether you pick up your car or it's dropped off, it's still a good idea to wipe down all key touch areas with a disinfectant, just to be on the safe side. Some areas that you might not think of to wipe down include: steering-wheel buttons, stalks, and steering-column adjustment lever; start button and key fob; parking brake; driver's seat and headrest, as well as the seat belt and buckle.
What Shops Should Be Doing
Vehicle maintenance and repair shops were determined by the Department of Homeland Security to be part of the nation's critical infrastructure. "The vast majority of auto service departments have remained open throughout the pandemic," says Jared Allen, vice president of communications at the National Automobile Dealers Association (NADA).
The World Health Organization (WHO) and the Centers for Disease Control and Prevention (CDC) have given guidelines for safe practices for businesses to follow, but each state can set its own rules, says Ellen Edmonds, AAA's automotive public relations manager. "AAA has developed best practices for its approved auto repair facilities to keep its staff and customers safe," Edmonds says.
AAA specifically suggests that repair technicians should use a seat cover, floor mat, steering-wheel covers, and as an extra step, place something such as a sandwich bag over the gear selector, according to Edmonds. "They should also be required to wear a face mask and wash hands every time they exit the vehicle," she says.
It's important to remember that decisions about business closures and reopenings are made and enforced at the state and local levels, says NADA's Allen.
But regardless of which set of guidelines a repair shop is adhering to, customers should be proactive about what they need from a shop, says ASE's Serratore. "If the customer feels a shop is not complying with appropriate safety standards, they should find another shop," she says.
What the Repair Shops Are Doing
The repair shops CR spoke to or visited for this story appear to be taking the precautions seriously.
"Ultimately, our goal is to have as little contact with the customer as possible," Keith Sikora, service manager at Reynolds' Subaru in Lyme, Conn., told CR. "One of the biggest things we can do is to pick up and drop off the customer's car at their home if they live locally," a service that's being offered at no extra charge, Sikora says.
Repair payments are done over the phone so that customers don't have to sign for anything, and the car is completely wiped down and disinfected when it's brought back to the customer's home.
"If the customer wants to come in like usual, they'll see that all of our people are wearing masks, we have plastic shields between us and the customer, and we constantly wipe surfaces down," Sikora says. Reynolds' Subaru also asks that all customers wear face masks. Sikora says the coronavirus procedures they've implemented came from a variety of sources, including the NADA and CDC, and from Connecticut's governor.
"We came up with some things on our own," Sikora says. "For instance, the plastic partitions I saw when I went to Lowe's, so we incorporated them."
CR saw similar safety implementations when we brought our BMW Z4 test car in for service at a local BMW dealer. All the service advisers stood behind plexiglass dividers, and dealership signs made it clear that customers were expected to wear face masks—every service adviser wore a face mask. There also was a sign informing customers that the complimentary car wash and vacuuming services had been suspended.
Customers of Classic Auto, a repair shop in East Hampton, Conn., have been making greater use of the shop's after-hours night-drop key slots to limit interaction.
"Many cars are dropped off before we even open, they pay over the phone, and we lock the keys back in the vehicle for pickup," says co-owner Mark Nowakowski. "But we also still have many customers that are comfortable coming in."
Nowakowski says his mechanics are sanitizing vehicle door handles, steering wheels, shifters, keys, etc. "Our employees wear gloves normally, and they are constantly replacing them with new ones as they go from one procedure to the next."
He says his mechanics all have masks available, but because they work in their own bays, they don't necessarily wear them constantly throughout the day.
How Long Will This Last?
Nowakowski of Classic Auto says not only have its protocols changed but business also has slumped by about 30 to 40 percent since the coronavirus pandemic started. He also thinks, regardless of how soon the coronavirus clears up, that some of the precautions that have been instituted will remain. "Handshaking, hugs—yes, we get hugs from some of our customers—will not be normal anymore. And I suppose the habit of the extra wiping down of surfaces will stay to some degree for the long haul," he says.
Sikora from Reynolds' Subaru echoes the sentiment that it's too early to tell how long the extra safety and sanitizing precautions will be in place. "Ultimately, we'll go with what the governor says and mandates. We expect this to go on for at least a couple more months, and we will stick with it as long as need-be—or maybe longer than that."