Driver Monitoring Is Necessary When Cars Add Automation, AAA Says
A new study suggests that camera-based systems work best, but that all driver monitoring needs improvement More and more vehicles are starting to feature driving assistance systems that can control some braking, accelerating, and steering functions, which make driving less stressful but increase the risk of driver distraction. Now, new research from AAA shows that adding a driver-facing camera is the best way to make sure that drivers will still pay attention to the road while their cars are doing most of the work.
The not-for-profit organization tested four vehicles with active driving assistance systems that also attempt to monitor whether the driver is paying attention. Its researchers compared direct, camera-based driver monitoring systems with indirect systems that can detect only whether a driver's hands are on the wheel. Systems without cameras were found to take up to 51 seconds longer to alert an inattentive driver than systems with cameras.
In other words, a driver could be distracted, paying attention to a phone or even asleep for up to a mile of highway travel.
Why Is Driver Monitoring Needed?
About 50 percent of new vehicle models allow drivers to engage adaptive cruise control and lane centering at the same time, according to an analysis by Consumer Reports last fall. Together, these systems can keep a car in its lane and a set distance from the car ahead with minimal driver intervention, a convenience that many drivers appreciate, according to responses to a recent survey of CR members.
But decades of research suggests that drivers are less likely to pay attention when that automation is active, which could cause a crash if they aren't alert and ready to take over. 
That's why Consumer Reports and other groups and agencies, such as AAA, the National Transportation Safety Board, the Insurance Institute for Highway Safety (IIHS), and the European New Car Assessment Program, say that driving assistance features should always be paired with driver monitoring, which uses computers and cameras to monitor attentiveness. 
"Research shows that these systems may be introducing new safety risks for drivers," says Kelly Funkhouser, manager for vehicle technology at CR. "It's the responsibility of automakers to mitigate those risks by equipping vehicles with safeguards, such as driver monitoring cameras." 
CR is now awarding additional points to the Overall Score of vehicles that pair a driver monitoring system with driving assistance features. Currently, only Ford's BlueCruise and GM's Super Cruise will earn these additional points. Later this year, the IIHS will roll out a new ratings program that evaluates the safeguards that vehicles with partial automation employ to help drivers stay focused on the road.
AAA didn't rank the vehicles it tested, but it did compare the performance of four vehicles: a 2021 Cadillac Escalade with Super Cruise and a 2021 Subaru Forester with EyeSight and DriverFocus (both of which include driver-facing infrared cameras as part of their driver monitoring systems), and a 2021 Hyundai Santa Fe with Highway Driving Assist and a 2020 Tesla Model 3 with Autopilot and software version 10.2 (both of which monitor drivers by determining whether their hands are moving or touching the steering wheel). 
AAA told CR that the Model 3 it tested didn't have cabin camera-based features. Although some Model 3s do have active in-cabin cameras, both CR and the MIT AgeLab's Advanced Vehicle Technology consortium have found that the camera doesn't appear to limit the driver's use of Autopilot. CR tested a Model 3 with both software versions 10.2 and 11.0.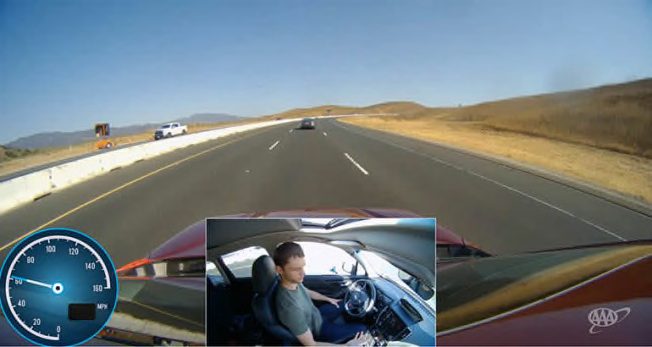 AAA researchers tested the vehicles on a 24-mile loop in Southern California under the following conditions:
• With hands off the steering wheel, and the driver's head facing up and toward the road but with eyes gazing down.
• With hands off the steering wheel, but with the driver's head and gaze aimed down and to the right, as if looking at the center console.
• Attempting to "beat the system" by varying head placement and eye gaze and occasionally moving or touching the steering wheel.
To determine whether external factors were at play—including a camera's inability to recognize a driver—AAA conducted the tests during daytime and nighttime, and used testers from diverse racial and ethnic backgrounds. 
They found:
• Direct, camera-based systems issued alerts 51 seconds sooner than systems that check to see if a driver's hands are on the wheel.
• Although both types of driver monitoring systems could be intentionally misused, camera-based systems were better at preventing misuse and abuse.
• During a 10-minute drive, camera-based systems allowed drivers 2 minutes of disengagement, compared with steering-wheel-based systems that allowed 5 minutes of disengaged driving.
• Camera-based systems didn't significantly differ in performance between daylight and nighttime conditions.
AAA researchers recommend that all vehicles with driving assistance systems should have some form of direct driver monitoring, and that camera-based systems work best. But its researchers expressed concern that the systems were easy to defeat intentionally—and that drivers could travel up to 5 minutes between warnings.
"AAA advocates for direct driver monitoring systems on all vehicles equipped with active driving assistance technology," in addition to those equipped with lane centering and adaptive cruise control systems that can be engaged simultaneously, Lum says.
Funkhouser agrees. "Camera-based driver monitors aren't a perfect solution, but they are the best safeguard we have right now that, at the very least, ensures the driver is awake and looking toward the road," she says.