When you shop through retailer links on our site, we may earn affiliate commissions. 100% of the fees we collect are used to support our nonprofit mission.
Learn more.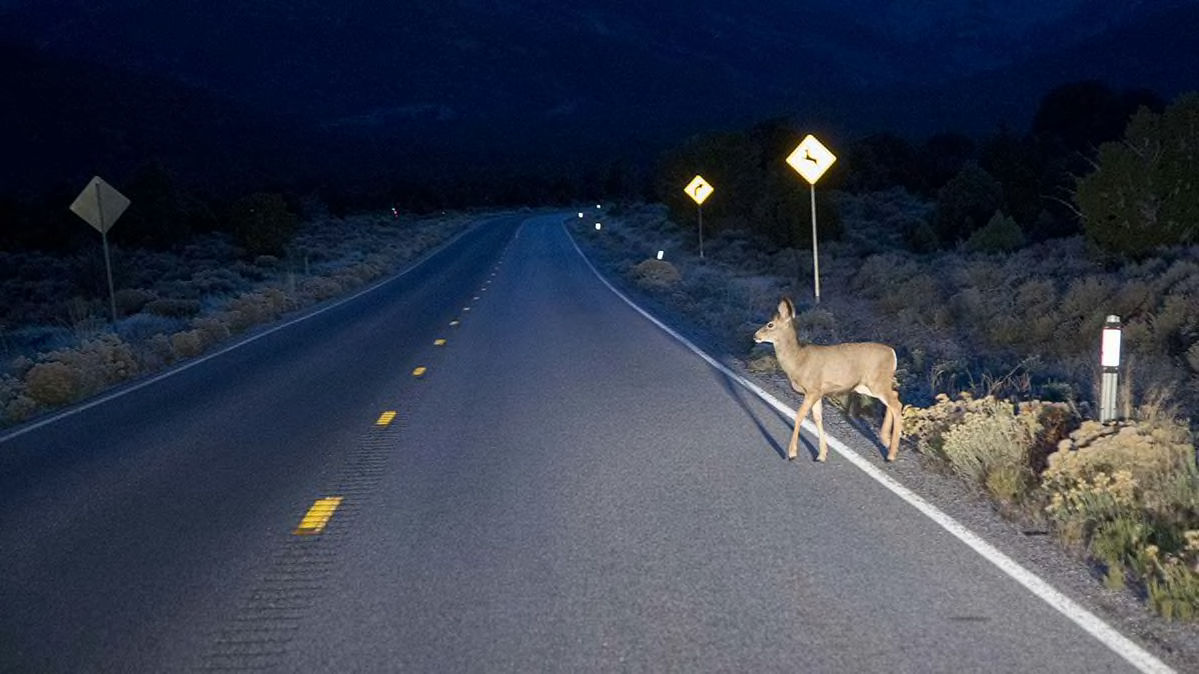 Be on the lookout for deer while you are commuting or cruising to enjoy autumn's colors. Insurance claims for collisions with animals rise significantly in the fall when deer are mating, with November having the highest claim frequency.
The State Farm insurance company estimates that there were almost 2 million animal collision insurance industry claims for the past year. The severity of crashes increases in the fall, according to the Highway Data Loss Institute, rising dramatically in October before peaking in November.
The average cost of November animal-strike claims from 2006 to 2019 was $3,685 per claim, reports the HLDI, compared with $2,890 for February, the month with the least severe crashes. Its analysis is based on data from 25 insurance companies that specifically track animal collisions.
See the interactive map below that reveals the chance of hitting an animal in each state.
According to a State Farm spokeswoman, there was a 20 percent decrease in claims volume, with 70,000 fewer collisions reported this past March, compared with the same month in the prior year, possibly because of reduced vehicle traffic and miles driven during the COVID-19 pandemic.
"Adapting pedestrian crash prevention systems to detect animals as well as people in the roadway could help avoid many of these collisions," says Matt Moore, senior vice president of the HLDI.
Consumer Reports analysis shows that 61 percent of new cars now come with automatic emergency braking with pedestrian detection. But not all systems are designed to recognize large animals.
"Fall brings the dangerous combination of the deer being more active when we're driving more in the dark due to the shorter daylight hours," says Jen Stockburger, director of operations at Consumer Reports' Auto Test Center. Deer are most active at dawn and between 6 p.m. and 9 p.m., so use your high beams at those times, Stockburger says.
Collisions with animals can result in occupant deaths. In 2018 (the most recent year with published data), 190 people were killed in crashes involving animals; 126 of those deaths were caused by hitting the animal, according to the Insurance Institute for Highway Safety. The others were the result of other related actions, such as rolling the vehicle over or striking a fixed object.

How to Avoid Hitting a Deer
Slow down. Watch for deer especially around dawn and between the hours of 6 p.m. and 9 p.m., when they're most active.
Be aware. Look out for deer-crossing signs and wooded areas where animals are likely to travel. If you travel the same route to and from work every day, you may find deer consistently grazing in the same fields. Make a mental note of when and where you regularly see the animals.
Be alert. If you see an animal on the side of the road, slow down. At night when traffic permits, put on your high beams for improved visibility.
Brake, don't swerve. Swerving to avoid an animal can put you at risk for hitting another vehicle or losing control of your car. It can also confuse the animal as to which way to go. Instead, just slow down as quickly and safely as you can. Your odds for surviving an accident are better when hitting an animal than when hitting another car.
Assume they have friends. "Where there's one, there are usually more" often holds true. Deer travel in groups, so if you see one run across the road, expect others to follow.
Don't rely on deer whistles. These are aftermarket devices that some drivers put on their front bumpers to scare off animals. But animal behavior remains unpredictable, even if you use one of these. State Farm advises, "No scientific evidence supports that car-mounted deer whistles work."
Buckle up. A seat belt is your best defense for minimizing your risk in a crash. An IIHS study found that 60 percent of the people killed in animal-vehicle collisions weren't wearing their seat belts.
If you hit an animal, move your car safely off the road and call the police or animal control. Don't attempt to touch an injured animal. Photograph the scene, then call your insurance company when you get home. Damage from animal collisions is usually covered by auto insurance policies.

State Farm's annual claim study reveals a rather consistent roster of the 10 states with the most animal collisions.
The map below shows the state by state likelihood of an impact—just roll your cursor over the state to see its figure.
Drivers have the greatest risk in West Virginia, where the chance of an animal collision was 1 in 37, according to the insurer.

Chances of Hitting an Animal in a Year
2019 Collision Likelihood
1 in 30
1 in 600
Chances of Hitting an
Animal in a Year
Alabama:
1 in 90
Alaska:
1 in 325
Arizona:
1 in 416
Arkansas:
1 in 80
California:
1 in 427
Colorado:
1 in 209
Connecticut:
1 in 220
Delaware:
1 in 109
Florida:
1 in 396
Georgia:
1 in 89
Hawaii:
1 in 649
Idaho:
1 in 118
Illinois:
1 in 148
Indiana:
1 in 103
Iowa:
1 in 58
Kansas:
1 in 89
Kentucky:
1 in 88
Louisiana:
1 in 173
Maine:
1 in 91
Maryland:
1 in 107
Massachusetts:
1 in 114
Michigan:
1 in 54
Minnesota:
1 in 64
Mississippi:
1 in 59
Missouri:
1 in 78
Montana:
1 in 47
Nebraska:
1 in 95
Nevada:
1 in 551
New Hampshire:
1 in 188
New Jersey:
1 in 171
New Mexico:
1 in 221
New York:
1 in 133
North Carolina:
1 in 75
North Dakota:
1 in 73
Ohio:
1 in 102
Oklahoma:
1 in 113
Oregon:
1 in 180
Pennsylvania:
1 in 51
Rhode Island:
1 in 84
South Carolina:
1 in 70
South Dakota:
1 in 53
Tennessee:
1 in 119
Texas:
1 in 158
Utah:
1 in 163
Vermont:
1 in 116
Virginia:
1 in 72
Washington:
1 in 279
West Virginia:
1 in 37
Wisconsin:
1 in 57
Wyoming:
1 in 64
Top States for Deer Collisions*
The states are listed in order of the likelihood of a driver having hit an animal between July 1, 2019, and June 30, 2020.
1. West Virginia: 1 in 37
2. Montana: 1 in 47
3. Pennsylvania: 1 in 51
4. South Dakota: 1 in 53
5. Michigan: 1 in 54
6. Wisconsin: 1 in 57
7. Iowa: 1 in 58
8. Mississippi: 1 in 59
9. Minnesota: 1 in 64
10. Wyoming: 1 in 64
*According to State Farm.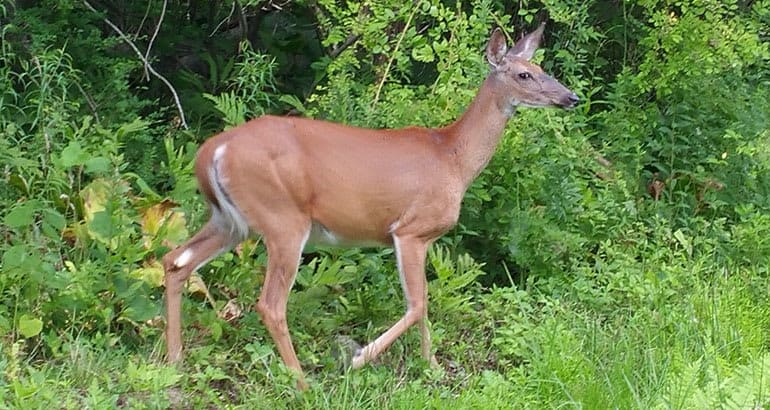 How to Avoid Striking a Deer
More than a million deer are hit by drivers every year. On the "Consumer 101" TV show, a "deer" Consumer Reports expert explains to host Jack Rico what can be done to prevent an accident.