2 Small SUVs Earn Poor Score in Tough New IIHS Side Crash Test
Only the Mazda CX-5 gets a top Good score in the new evaluation, while two compact SUVs get the lowest Poor rating A new, tougher side crash test from the Insurance Institute for Highway Safety shows that there's a lot of room for improvement when it comes to side-impact safety. In the first round of 20 small SUVs that were tested, only one vehicle, the Mazda CX-5, got a top Good rating, while two models, the Honda HR-V and Mitsubishi Eclipse Cross, earned the lowest score of Poor.
Unlike prior side-impact tests, this updated evaluation is designed to find out how vehicles fare if they're struck from the side by a heavier, midsized SUV at a higher speed. Most of the vehicles tested received middling ratings. Other vehicle sizes and types have yet to be evaluated.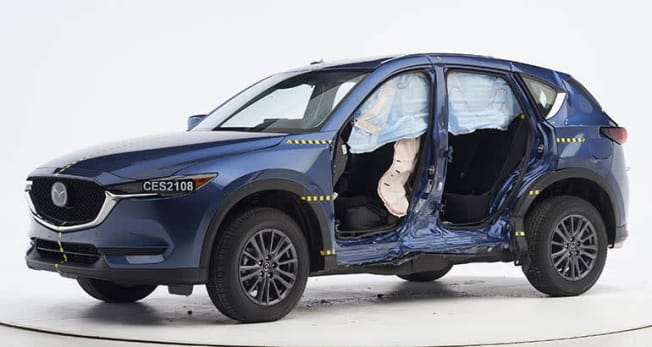 All 20 of these vehicles earned a Good score under the prior side crash test protocol. Jennifer Stockburger, director of operations at CR's auto test center, says it's clear that the test needed an update. "Once vehicle designs are improved to a point where the majority of them are performing well, it suggests that the test could be changed to address the next areas where designs can be improved to protect occupants even further," she says. 
According to the IIHS, the prior crash test led to big improvements in safety: A 2011 study of 10 years' worth of crash data showed that a driver of a vehicle with a Good side rating is 70 percent less likely to die in a left-side crash than a driver of a vehicle with a Poor rating. However, there's still work to be done: The IIHS estimates that side impacts still accounted for 23 percent of passenger vehicle occupant deaths in 2019.
In general, those vehicles that scored poorly tended to have weak overall structures, according to the IIHS. For example, the crash caused the HR-V's B-pillar—the roof pillar behind the driver's head—to partially tear away from the frame of the vehicle, which led the side of the vehicle to crush inward almost to the center of the driver seat.
"The updated test appears to be challenging vehicles in new ways that better replicate real-world crashes," Stockburger says.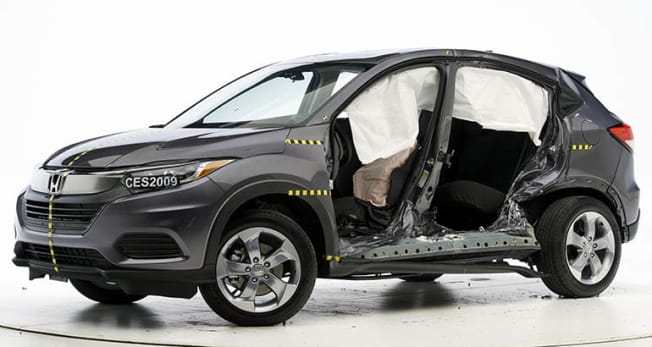 Editor's Note: This article has been updated to add a comment from Honda and Mitsubishi.