When you shop through retailer links on our site, we may earn affiliate commissions. 100% of the fees we collect are used to support our nonprofit mission.
Learn more.
Despite the increased availability of active safety systems in new cars, trucks, and SUVs, America's roadways have become increasingly dangerous. The National Highway Traffic Safety Administration has released preliminary data today showing a significant uptick in motor vehicle traffic deaths in 2015: A notable 7.7 percent increase over 2014.
Preliminary data released by the Federal Highway Administration revealed that total vehicle miles traveled increased in 2015 by about 107.2 billion miles—that's a 3.5 percent increase. So fatalities per miles traveled also increased.
While the estimate of 35,200 fatalities in 2015 over 32,675 in 2014 is notable, the figures require additional analysis to determine contributing factors or potential implications, NHTSA said. Fatality totals could change when the final data for 2014 and 2015 are released later this year. However, the agency noted that the most significant areas of increase appeared in the reported deaths of motorcyclists, pedestrians, and bicyclists.
"As the economy has improved and gas prices have fallen, more Americans are driving more miles," said NHTSA Administrator Dr. Mark Rosekind. "But that only explains part of the increase. Ninety-four percent of crashes can be tied back to a human choice or error, so we know we need to focus our efforts on improving human behavior while promoting vehicle technology that not only protects people in crashes, but helps prevent crashes in the first place."
Other Areas Where Fatalities Are on the Rise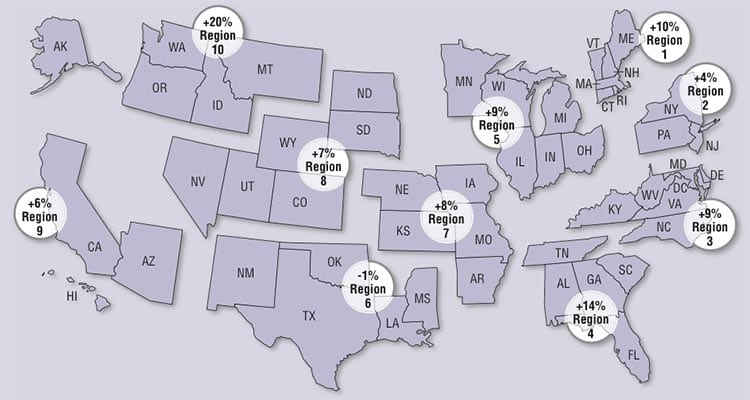 NHTSA records traffic data across 10 regions within the continental United States. The region that comprises Washington, Oregon, Idaho, and Montana showed the largest increase in estimated fatalities, at more than 20 percent. New Mexico, Texas, Oklahoma, Louisiana, and Mississippi showed a 1 percent decrease in fatalities—the only region with a decline.
Fatalities among bicyclists increased by 13 percent in 2015. Pedestrian deaths grew 10 percent, while motorcycle deaths went up 9 percent. Rollovers in personal vehicles increased by 5 percent, while fatalities involving large trucks went up 4 percent.
Fatalities of young drivers, a particularly vulnerable group, grew 10 percent in 2015 over 2014.
"These figures may suggest an increased role of distractions and, at minimum, underscores the importance of being attentive behind the wheel," said Jake Fisher, director of Consumer Reports Auto Test Center.
Summer driving also appears to be the peak season for fatalities, with the months of July through September showing an 11 percent increase in fatalities.
As NHTSA continues its analysis, it is clear that our roads are becoming more dangerous. We encourage all motorists to drive safely, without distraction. And both motorcyclists and bicyclists would be smart to dress for visibility, protection, and wear helmets.