When you shop through retailer links on our site, we may earn affiliate commissions. 100% of the fees we collect are used to support our nonprofit mission.
Learn more.
Two U.S. senators are applying pressure on the auto industry for answers and more transparency over issues related to spontaneously shattering sunroofs.
In letters to senior executives of car companies doing business in the U.S., Senators Richard Blumenthal, of Connecticut, and Edward Markey, of Massachusetts, both Democrats, have asked 15 detailed questions about sunroof materials, design, and defects, and have said they would like answers by Dec. 4.
The lawmakers want to know what types of glass the companies are using in their sunroofs, and whether automakers are tracking exploding sunroof incidents for their vehicles.
"While, thankfully, severe injuries have not been officially linked to this hazard, the increasing trend of this risk requires immediate response and action," the senators wrote. "It is vital that you take steps to assure consumers of the structural integrity of their sunroofs."
In October, Consumer Reports published an investigation into sunroofs that shatter suddenly without explanation. The special report found 859 accounts of consumers reporting such incidents to the National Highway Traffic Safety Administration's complaints database, with the cases spanning 208 models and 35 brands. CR's analysis found that such complaints have spiked in recent years, as larger, so-called panoramic sunroofs have become more popular and more prevalent.
Podcast: Hear Drivers Tell Their Stories
​
The senators have asked the auto executives about design changes they've made over the last 20 years and whether they've alerted their dealers about the potential for shattering incidents.
They also want to know about any voluntary recalls, and how each company handles consumer complaints. The executives have been asked to share any patterns they've noticed to shattering-sunroof incidents related to vehicles they make.
The letters went out this week to: BMW, Daimler Trucks, Ferrari, Fiat Chrysler, Ford, General Motors, Honda, Hyundai, Jaguar Land Rover, Kia, Mazda, Mercedes-Benz, Mercedes-Benz Vans, Mitsubishi, Nissan, Subaru, Tesla, Toyota, Volkswagen, and Volvo.
Some, but not all, of the automakers on the list were cited in Consumer Reports' investigation.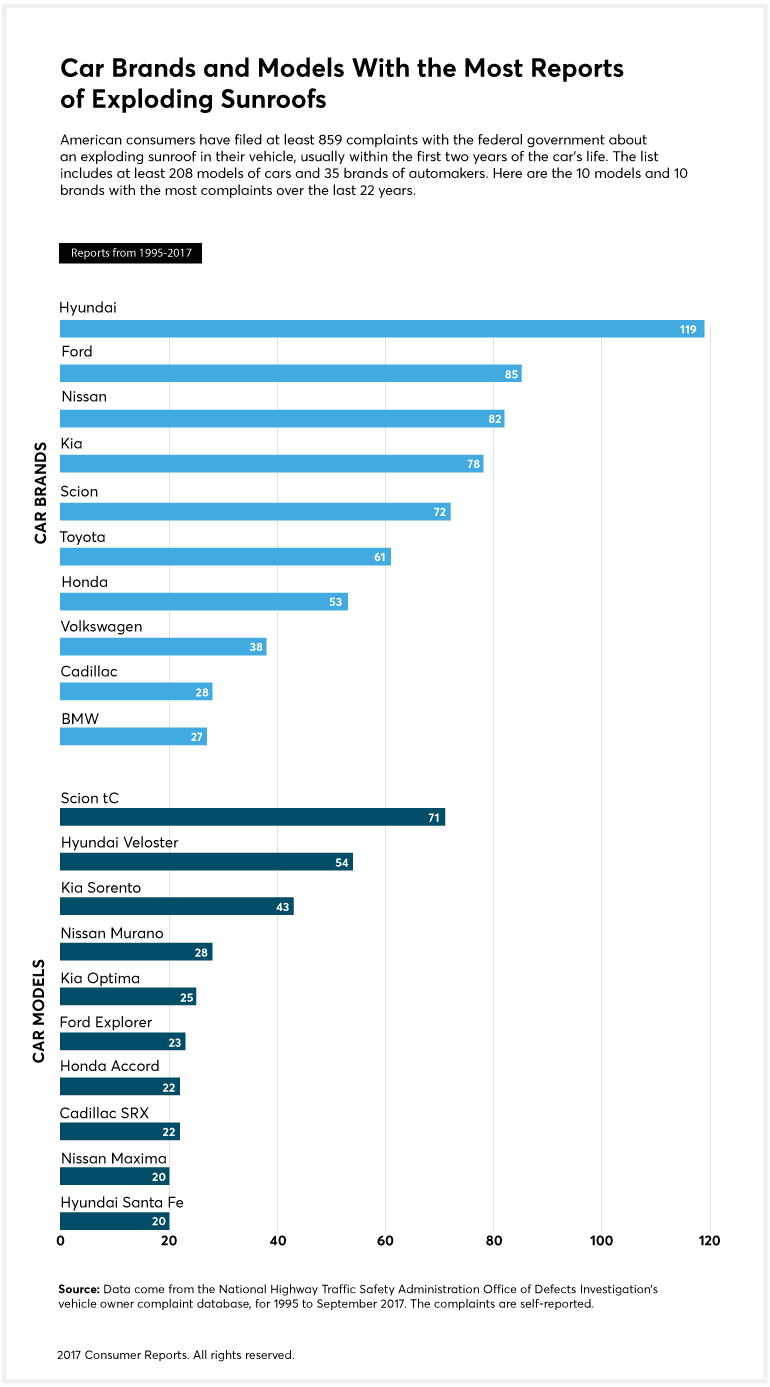 Blumenthal and Markey are members of the Senate Commerce, Science and Transportation Committee, which oversees NHTSA. They often work together on issues related to safety and the auto industry.
The senators asked a lot of the same questions Consumer Reports asked in the course of its reporting. In all, Consumer Reports reached out to 17 automakers to find out, among other things, if they would support a standard of glass that would make shatterings less likely. While all companies acknowledged receipt of our questions, nearly all of their responses were short on specifics, with some citing pending lawsuits as a reason for not being more forthcoming.
Many of the other automaker responses echoed the same themes, including Fiat Chrysler, which told us that "safety is paramount" and that it continually monitors "the performance of our vehicles in the field."
The Alliance of Automobile Manufacturers, which represents nine of the companies contacted by the senators, said they're aware of the letter and are reviewing it. The Association of Global Automakers, which represents five of the companies, declined to comment.
One common explanation from automakers with higher numbers of incidents in the NHTSA database is that a rock or some other foreign object has caused the sunroof glass to shatter. Senators Blumenthal and Markey are asking the automakers if they've noticed similar patterns of breakage in side and back windows, which typically have the same kind of tempered glass found in sunroofs.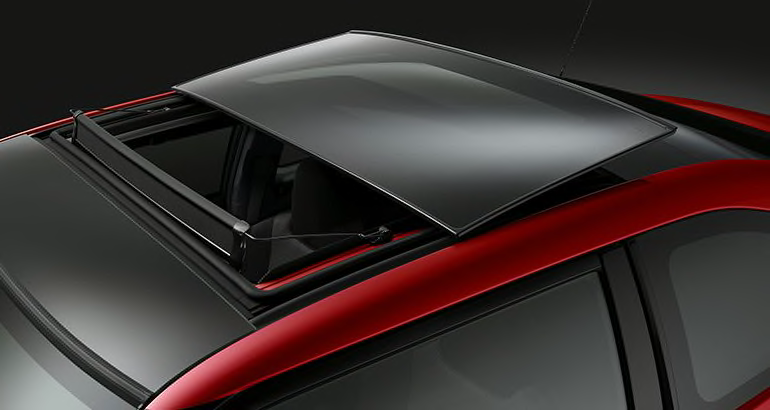 Finally, the senators have asked the auto CEOs to spell out actions consumers can take to protect themselves from the risk of a shattering sunroof. They want to know about replacement costs and what companies typically do to assist with repairs and to compensate their customers.
Last month, Consumers Union, the policy and mobilization division of Consumer Reports, called on NHTSA to complete its investigation into the Kia Sorento SUV, which has been under way since 2013. Consumers Union also has asked the agency to look at other automakers and models, and is urging automakers with shattering incidents to order recalls if they haven't already done so.
Senators Blumenthal and Markey are asking the auto executives if they'll commit to working on new safety performance standards, something else Consumers Union is advocating for.
Since the CR report first ran, dozens more consumers have written in or contacted Consumer Reports to share personal accounts of shattering sunroofs.
If you have an incident to report, go to NHTSA's consumer complaint website, or call the Vehicle Safety Hotline at 888-327-4236.
Editor's Note: This story was updated to include Kia in the list of automakers that received a letter from Senators Blumenthal and Markey.