When you shop through retailer links on our site, we may earn affiliate commissions. 100% of the fees we collect are used to support our nonprofit mission.
Learn more.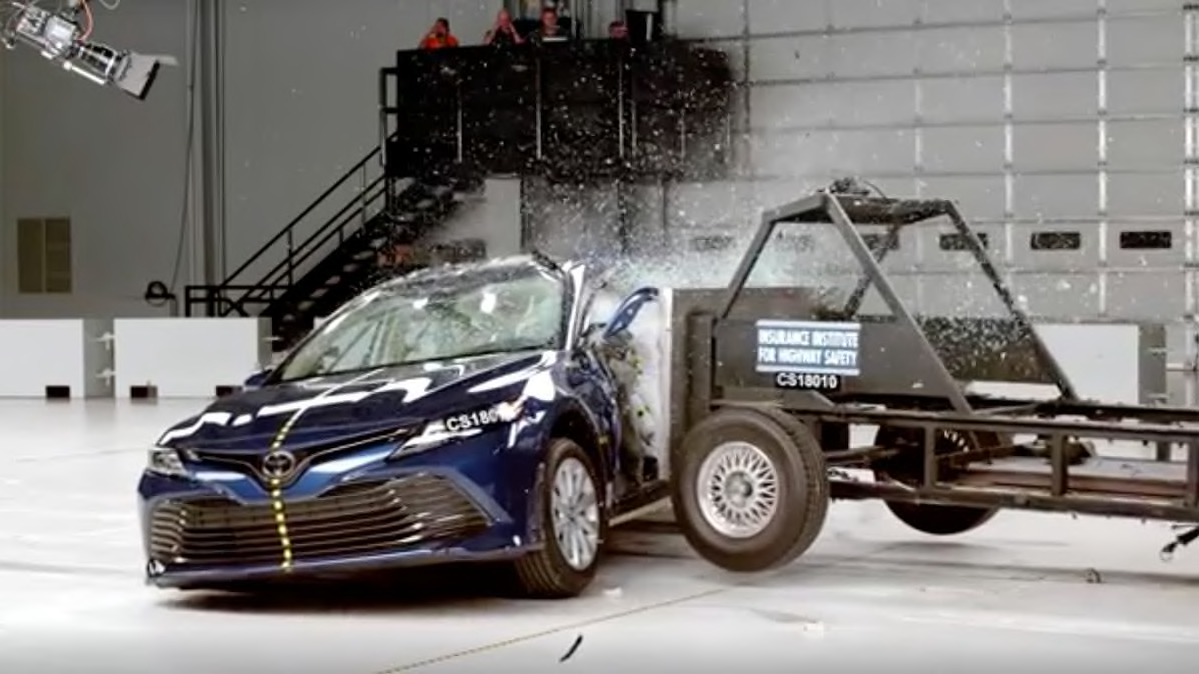 The Jaguar F-Pace, Land Rover Discovery, and Porsche Macan are all comfortable SUVs with extra trimmings and technology. Consumers can easily compare their fuel economy, 0-to-60-mph acceleration time, and cargo capacity. But when it comes to safety, consumers are left in the dark as to how they would hold up in certain crash scenarios. That's because these vehicles have no publicly available crash-test ratings.
Nearly a half-million passenger cars and SUVs sold each year have not been crash-test rated by the two main organizations that conduct independent assessments: the federal National Highway Traffic Safety Administration, which uses a star rating system, and the insurance industry-backed Insurance Institute for Highway Safety, which rates vehicles from Poor to Good.
Most of the vehicles without ratings are low-volume models, sports cars, luxury vehicles, or large vans. The expense is too great for NHTSA and the IIHS to test all vehicles, so choices are made based on car sales volume and testing budgets. Some untested models are new or redesigned and merely waiting in line to be evaluated. About 97 percent of all new vehicles sold are crash-test rated by one or both of the independent organizations.
If the vehicle you're interested in is new and doesn't have a rating yet, it may be worth waiting until it gets tested, says Jake Fisher, CR's senior director of auto testing. "This is another good reason not to get the first new model at the dealership," he says. "In addition to being able to see the results, if you wait, you'll get a car that's likely more reliable and probably with more of a discount, too."
To be certified for sale, every new model sold in the U.S. must be crash-tested internally to ensure minimum federal safety standards are met. But a publicly available rating isn't required.
Currently, no Jaguar, Land Rover, or Porsche models are rated by NHTSA or the IIHS. Last year, those three automakers represented almost half of all vehicles sold without any public crash-test ratings—or more than 185,000 new vehicles on American roads.
Among vehicles without ratings, a few—such as the Cadillac CT6, Kia K900, and BMW 7 Series luxury sedans—have sales numbers below 10,000 cars a year. NHTSA has no crash-test ratings for any recent Maserati or Alfa Romeo vehicle, although the IIHS tested the Alfa Romeo Giulia and Maserati Ghibli sedans, both of which got Good ratings for crashworthiness. Similarly, NHTSA did not test the Fiat 500L hatchback, but the IIHS did—and it got a Poor rating on the driver-side front small-overlap test.
CR does not perform crash tests, but we take NHTSA and IIHS crash-test ratings into account (when available) to calculate our Overall Score for each vehicle we buy and rate. That score also takes into account available safety systems, a vehicle's CR road-test score, and results of CR's exclusive Annual Auto Surveys, where owners report on their reliability experiences and their satisfaction with their vehicle. Vehicles without public crash-test ratings can still earn a CR recommendation. The current BMW 7 Series, Honda Clarity, Lexus GX, Mazda Miata MX-5, Nissan 370Z, Porsche 718 Boxster, Porsche Cayenne, Porsche Macan, and Toyota Sequoia earned recommendations, as did the 2019 Chevrolet Corvette.
What If the Car You Want Hasn't Been Tested?
Some currently unrated cars, including the Cadillac CT4, are likely to be tested in the future. And now that Jaguar is selling more SUVs, the IIHS may consider testing some of them, says IIHS spokesman Russ Rader. But others, including the Nissan 370Z sports car, and Lexus GX and Toyota Sequoia full-sized SUVs, have been on sale for years without ever having received a public rating.
Rader says that car buyers who are interested in a model without publicly available crash-test data should at least look up driver fatality rates and insurance claim losses by make and model, which can be found on the IIHS website.
"These resources show how vehicles are performing for safety in real-world crashes and include some vehicles that are not routinely crash-tested by independent testing organizations," he says. Rates for most cars are included, but there's not enough data to determine rates for certain low-selling vehicles.
American consumers shouldn't rely on ratings from safety agencies in other countries because protocols and safety standards can differ from country to country, and vehicles sold in other markets may have design differences that greatly affect their performance in crash tests even if those variations aren't visible to the naked eye.
The vehicles in the chart below do not have public crash-test ratings from NHTSA or the IIHS. They're organized in order of average annual sales volume, listed in the right-hand column.
Models Without Public Crash-Test Ratings
NHTSA says it provides crash-test ratings for 85 percent of new vehicle models, and the IIHS has crash-tested over 80 percent of mainstream vehicle models—which represents more than 97 percent of all passenger vehicles sold. Some vehicles that have not been crash-tested have been evaluated for child car seat fit, headlight visibility, rollover risk, or advanced safety features.
A NHTSA spokeswoman told CR that the agency chooses vehicles "predicted to have high sales volume, structural or restraint design changes compared to the previous year, and/or improved safety equipment," and that some vehicles are not tested because of budgetary restrictions. Similarly, Rader told CR that the IIHS typically does not test high-end vehicles, sports cars, or large SUVs. "We try to stay in the heart of the consumer market," he said.
David Friedman, CR's vice president of advocacy and a former NHTSA acting and deputy administrator, says that although the agency might leave some vehicles out, focusing on top-selling cars is a wise move, considering that it pays for the cars it crash-tests, which can cost $10 million each year. For the most part, the IIHS also pays for the cars it tests.
"To fit in low-volume luxury cars would require either testing fewer cars that are more popular or taking money away from other life-saving efforts," Friedman says.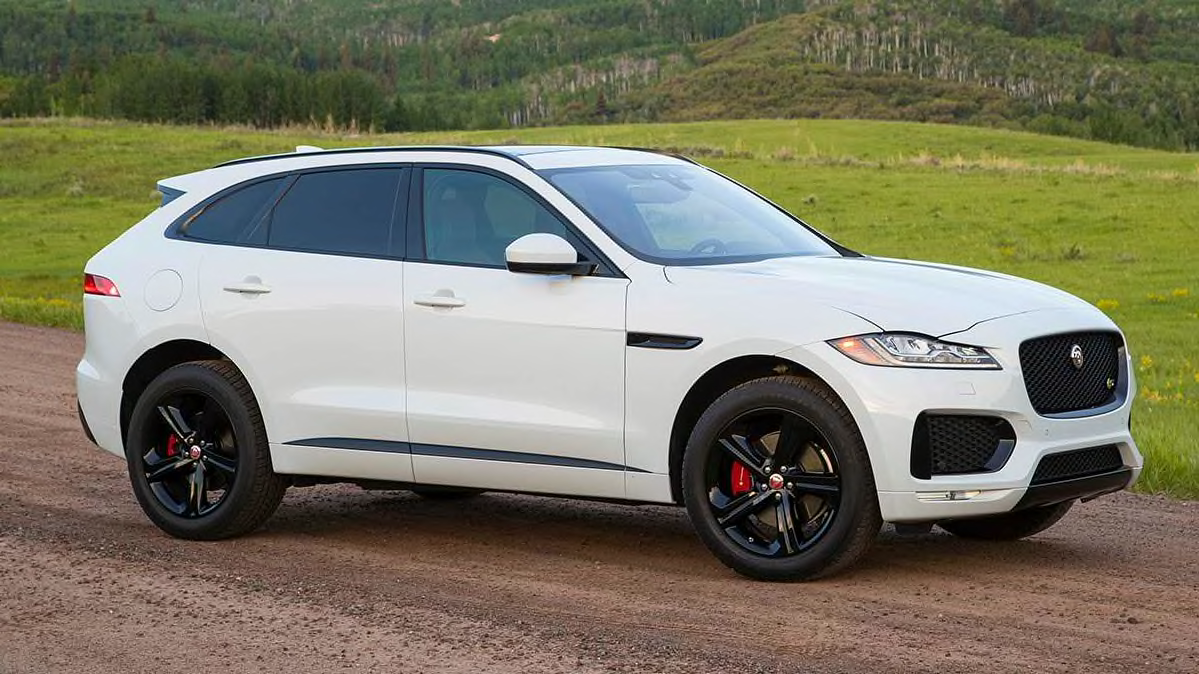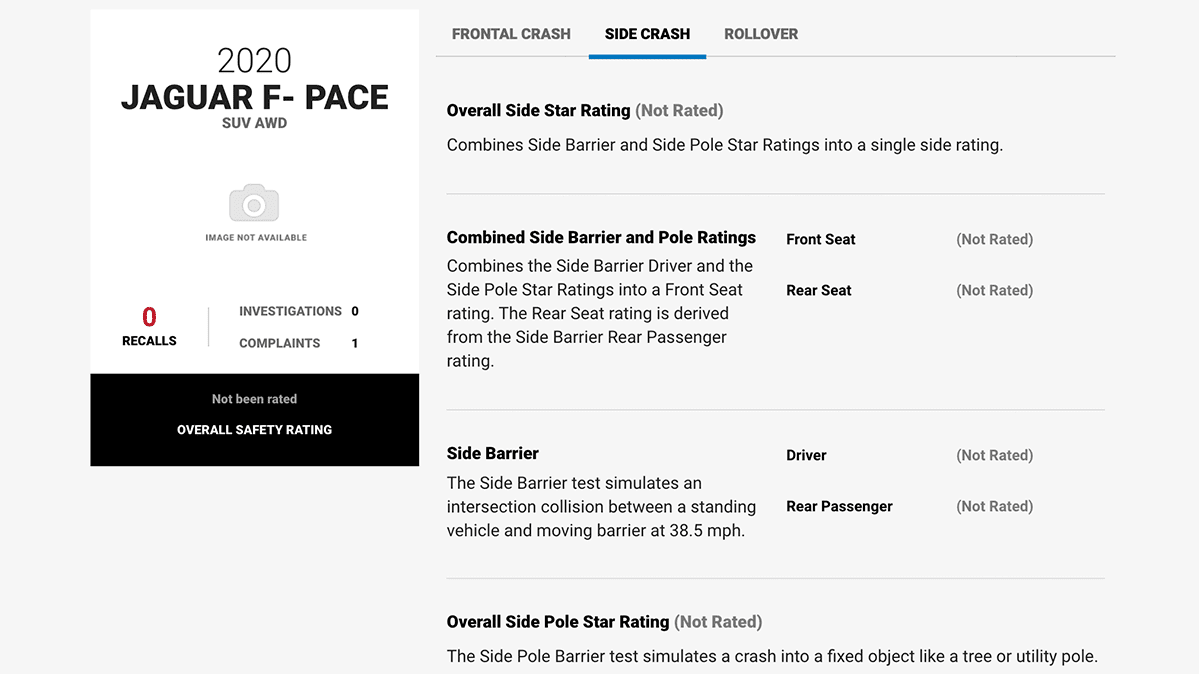 All Models Must Meet Federal Standards
Even cars that lack public crash-test ratings from NHTSA or the IIHS must still meet minimum federal safety standards. In order to sell a new vehicle in the U.S., manufacturers must provide information from their own company crash tests to NHTSA to ensure compliance with federal standards. Some automakers, such as Mercedes, also told CR that they perform extra crash tests before introducing a new vehicle. "We often conduct up to 15,000 realistic crash simulations and about 150 vehicle crash tests to make an entirely new vehicle ready for customer operations," said Ashley Gillam, a spokeswoman for Mercedes-Benz.
A spokeswoman for Jaguar Land Rover did not respond to CR's questions. A spokesman for Porsche told CR that NHTSA and the IIHS determine which vehicles to test, that the automaker "rigorously designs and tests its vehicles to confirm they comply with" federal standards, and that those results are shared with NHTSA.
NHTSA also sometimes randomly tests vehicles that aren't part of its regular five-star rating program—including some Alfa Romeo, Jaguar, and Land Rover models—to make sure manufacturers are in compliance with federal standards.
Manufacturers can request a crash test, too—which is why the IIHS tested the Maserati Ghibli sedan, Rader says. The agency has occasionally tested specialty vehicles, such as convertibles and hydrogen fuel-cell cars, to see how they perform in a crash. The IIHS will accept data from crash tests performed by manufacturers in certain cases—such as when the prior version of a model got a Good score—but the IIHS still audits a selection of those reports, Rader says.
Ultimately, crashworthiness is one of the many important considerations buyers must take into account when purchasing a new vehicle, in addition to the available advanced safety features that may help prevent a crash from occurring.