When you shop through retailer links on our site, we may earn affiliate commissions. 100% of the fees we collect are used to support our nonprofit mission.
Learn more.
Although nine in 10 Americans report using seat belts in the front seat, a new report from the Insurance Institute for Highway Safety concludes they're not buckling up enough in rear seats, with potentially dangerous consequences.
The report and its conclusions—taken from a national survey and other IIHS research—also points to a troubling trend of passengers in taxis and other ride-for-hire services failing to properly buckle up.
It's a big deal because unbuckled passengers in rear seats are nearly eight times as likely to be hurt in a crash. The data also show that their unbelted bodies can become dangerous projectiles, potentially hurting front-seat passengers.
The report concludes that adding audible and visual seat-belt warnings would increase rear seat-belt usage and potentially save lives. While the technology exists right now, only a handful of automakers are taking advantage of it.
"This study underscores why everyone should buckle up—and why every new car should have a seat-belt reminder for the back seat, too," says William Wallace, policy analyst for Consumers Union, the policy and mobilization arm of Consumer Reports. "Seat belts save lives whether you are in the back seat or front, and yet the government is behind on rear seat-belt reminder requirements."
According to the national survey, 72 percent said they always use a seat belt when sitting in the back of a vehicle. The reasons for not wearing one varied: About 25 percent of respondents said they believe the rear seat is safer. Other reasons include habit/forget (13 percent), comfort (12 percent), difficult to use (10 percent), and the law doesn't require it (9 percent).
It gets worse for those people who use ride-for-hire services; only 57 percent of respondents say they regularly use rear seat belts when riding in a taxi, Uber, or other services, the survey found.
The phone survey of 1,172 adults was conducted between June and August of 2016.
According to a study by IIHS and The Children's Hospital of Philadelphia, unrestrained rear-seat occupants are nearly eight times as likely to sustain a serious injury in a crash as restrained rear-seat occupants.
Yet when buckled, back-seat passengers are just as safe as belted front-seat passengers, says Jessica Jermakian, an IIHS senior research engineer and a co-author of the study.
In a collision, an unbelted rear passenger can slam into a front seat, injuring passengers there.
"People who don't use safety belts might think their neglect won't hurt anyone else. That's not the case," Jermakian says.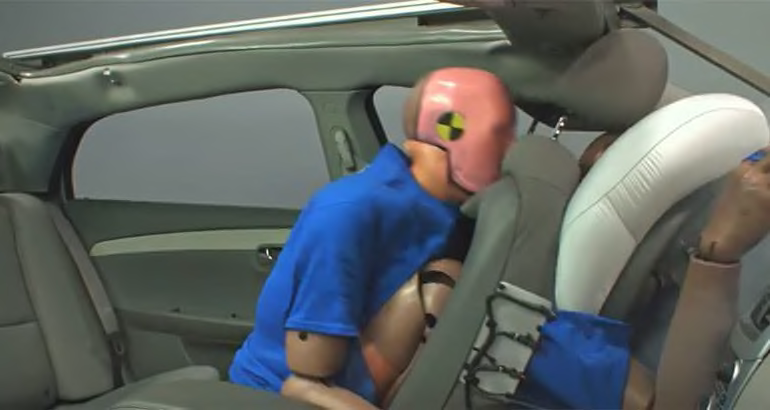 IIHS recently conducted a crash test to simulate that scenario, and the findings corroborate a study by the University of Virginia in 2013 that showed drivers are about twice as likely to be fatally injured in crashes where the passenger behind them was unbelted.
Look at the screen grab from that test, above, and the resulting risk is painfully obvious.
Seat-belt usage, front and back, remains a problem. About 2,800 deaths a year could be prevented if all U.S. passengers used seat belts, according to the IIHS.
"With these facts in mind, it's not only important for all of us to buckle up whether we're in the front or rear seat but to assure that our passengers—adult and child alike—always do so as well," says Jennifer Stockburger, director of operations at Consumer Reports' Auto Test Center.
So, what will it take to get people to buckle up? It turns out, the same features that have led to front-seat compliance could have a strong impact, namely alert tones, warning lights, and strong, well-communicated laws.
In the IIHS poll, 75 percent of respondents said they'd buckle up in the rear seat if they were reminded; 73 percent said they would do so if there was a concern that the driver could be pulled over for an infraction; and 62 percent said they'd buckle if there was an audible reminder. These results highlight the potential for technology such as rear seat-belt minders to increase belt use.
There are different levels of legal pressure across the U.S. According to IIHS, 29 states and Washington, D.C., have laws that require rear-seat seat-belt use. Of those, in 20 states these laws have primary enforcement rules, meaning that police can pull over a car specifically because someone isn't wearing a seat belt.
Some respondents cited comfort and convenience as significant factors to not using a seat belt, with 59 percent citing shoulder-belt comfort as an issue. Features like adjustable upper anchors for the shoulder belt can go a long way toward improving belt comfort. Though they're common for front seats, they aren't always on rear belts.