When you shop through retailer links on our site, we may earn affiliate commissions. 100% of the fees we collect are used to support our nonprofit mission.
Learn more.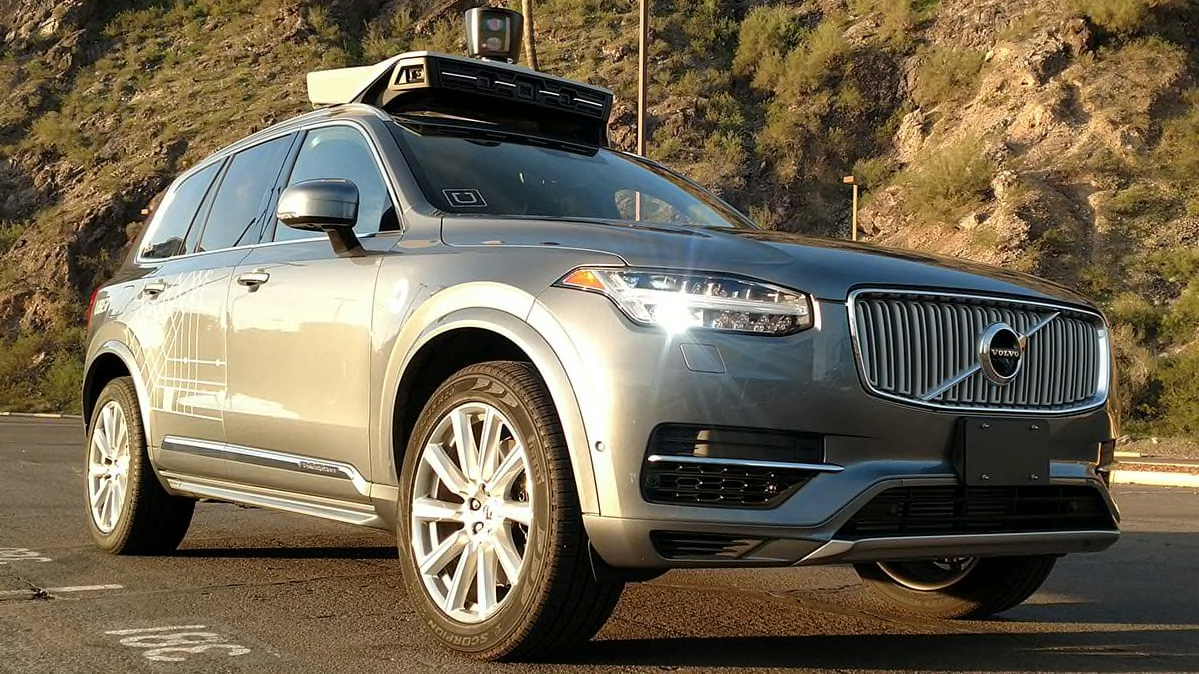 Federal regulators are sending teams to Arizona to investigate a fatal crash in which a self-driving Uber SUV killed a pedestrian crossing the street.
The crash, which took place in the Phoenix suburb of Tempe, is believed to be the first pedestrian fatality caused by a self-driving vehicle on a public road in the U.S. What investigators find could influence plans for future deployment of self-driving fleets in American cities, as well as pending federal regulations for autonomous vehicles.
The SUV was in autonomous mode around 10 p.m. Sunday "when a female walking outside of the crosswalk crossed the road from west to east when she was struck by the Uber vehicle," according to the police statement. The pedestrian, later identified as 49-year-old Elaine Herzberg, was taken to a local hospital, where she died from her injuries.
Tempe police said in a statement that the vehicle had an Uber operator behind the wheel at the time of the crash.
In response to the incident, Uber has shut down its self-driving test program in the four cities where it was operating: Phoenix, Pittsburgh, San Francisco, and Toronto.
The National Highway Traffic Safety Administration is sending a Special Crash Investigations team to the scene, an unusual step that indicates the agency is taking this incident very seriously. The National Transportation Safety Board said it is also investigating the crash, agency spokesman Christopher O'Neil said in an email to Consumer Reports.
In 2016, the NTSB sent a similar team to Florida to investigate the fatal crash of Tesla driver Joshua Brown, who died when his Model S collided with a semi-trailer while in Autopilot mode.
According to a post on Uber's Engineering blog, its self-driving vehicles use Lidar modules (a laser-based system that works much like radar) and cameras to detect pedestrians, check blind spots, monitor traffic signals, and stay within marked lanes.
But even as high-tech as these systems are, they have not been proved to work 100 percent of the time.

"The technology that can assess and react to the driving environment continues to evolve, but it's not foolproof," says Jake Fisher, director of auto testing at Consumer Reports. Even advanced safety and object-detection systems, found in many cars today, have not yet been perfected, he said. "We see all sorts of driver-assist systems fail from time to time in the cars that CR evaluates. That includes forward-collision systems that issue false alerts and lane-keeping systems that don't recognize lane markings as they should."
Arizona has become a popular proving ground for autonomous vehicles, in part because of state laws that encourage automakers and tech companies to test their fleets there.
On March 1, Gov. Doug Ducey issued an executive order to clarify that self-driving vehicles do not need to operate with a human driver as a backup as long as they follow applicable traffic rules. According to the governor's order, 600 autonomous vehicles are operating in Arizona today.
Two proposals in Congress, one already passed by the House, the other currently before the Senate, could create a federal law for autonomous vehicles, overriding the current patchwork of state laws. Both proposals would allow hundreds of thousands of self-driving vehicles to be sold to fleets as well as to consumers without requiring them to conform to current federal safety standards.
Safety advocates say the Tempe fatality shows that Congress shouldn't let automakers sell self-driving vehicles until they can prove that they are safe for occupants, other drivers, and pedestrians.
"The promise of self-driving cars is that they can avoid fatalities, but this tragedy makes clear they have a long way to go," says David Friedman, director of cars and product safety policy at Consumers Union, the advocacy division of Consumer Reports.
"Right now, Congress is focused on exempting these cars from safety standards in an effort to get them on the market faster. Congress needs to shift its focus to ensuring these cars are safe," Friedman says.

An Uber spokesperson said in a statement: "Our hearts go out to the victim's family. We are fully cooperating with local authorities in their investigation of this incident."
This is the second crash involving Uber's pilot fleet of self-driving vehicles in Arizona since the company began testing there in February 2017. The first crash involved no serious injuries.