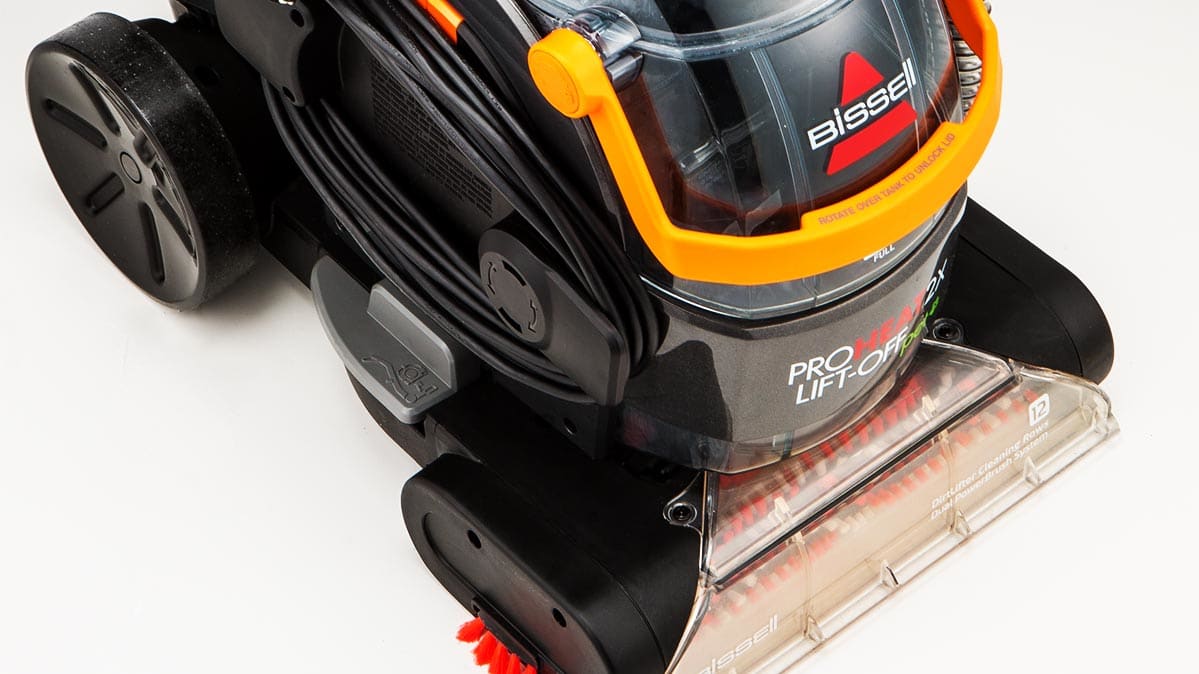 You can rent a carpet cleaner at your local hardware store, but if you have a busy household with lots of carpet, you might want to invest in one instead.
For as little as $130 you can get one of the top performers in Consumer Reports' latest carpet cleaner tests. Take note that these machines are powerful—and heavy. The best easily remove embedded dirt and stains without leaving a trail of water and a soggy stretch of carpet behind.

Before choosing a model, take stock of the area you'll be cleaning. If you live in a one-story house, you might not need a model with a long hose.

"On the other hand, if you have carpeted stairs, you want to get a carpet cleaner that has a long hose, so you can reach up the steps," says Larry Ciufo, who oversees Consumer Reports' carpet cleaner tests. "You don't want to put the cleaner on the top step and pull on the hose when you're cleaning, because the machine could barrel down the steps."

Ciufo also recommends that you think about space and storage, and look for models with attachments that suit your needs. "If you want to clean your furniture, look for a carpet cleaner with a brush that is easy to swivel around cracks and clean fabric," he says.

Keep in mind that carpet cleaners are noisy; some are so loud that we recommend wearing hearing protection. And don't buy by brand name alone. In our tests, we found big differences from one model to another. For example, Bissell holds both the top and bottom spots in our ratings.
How We Test Carpet Cleaners
It takes three days to put one carpet cleaner through our battery of cleaning-performance tests. Our engineers soil large swatches of off-white nylon carpet with red Georgia clay. We run a cleaner over the carpet for four wet and four dry cycles, simulating how you'd clean a particularly dirty spot on a well-trafficked carpet. Then we repeat the test on two more swatches.
Our experts use a colorimeter, a device that measures the absorption of light wavelengths, to take 60 readings of each carpet swatch: 20 in its "virgin" state, 20 after it has been soiled, and 20 after it has been cleaned. The total? 180 readings per machine.
Considering a carpet cleaner? Check out our full carpet cleaner ratings and read "5 Things to Know Before Buying a Carpet Cleaner." Here are five picks from our tests, as well as two you may want to skip.
5 Top Carpet Cleaners
Bissell ProHeat 2X Lift-Off Pet 15651, $260
CR's take: Weighing 24 pounds when empty and 30 pounds when filled with water and cleaning solution, this machine is well-sized for carpet cleaning. It has a removable tank with a useful carrying handle that makes trips to and from the sink much easier; you don't have to drag the entire machine with you each time you need a refill.
But at just over 5 feet, the hose is average-length. This model might fit the bill if you have a smaller space in a one-story house; it can cover only 15 square feet on one full tank of solution. (Some machines cover twice that area.) But you'll end up with a carpet that dries easily because this Bissell scores an Excellent on our dryness test.

Hoover PowerDash Pet FH50700, $130
CR's take: This affordable Hoover is lightweight, inexpensive, and a good choice for those who have small carpets or area rugs. When empty, this model weighs only 12 pounds, and it weighs 20 pounds when full with a gallon of water, making it easy to move around the house. Notably, this model doesn't come with a hose, so you might not be able to clean tight areas, such as stairs, as easily, and it doesn't have an extra carrying handle. Overall, this Hoover is very good at cleaning your carpets and leaving them dry.
Hoover SmartWash Automatic FH52001, $230
CR's take: Unlike most other carpet cleaners, the SmartWash Automatic is motion-activated—you push it forward and backward and the carpet cleaner detects what motion you're making, and reacts accordingly, dispensing cleaning solution when moving forward, and sucking it up when moving backward. There are three tanks, one for detergent, one for clean water, and one for dirty water, which means you don't have to mix up solution each time you refill the tank. Because of these features it earns a Very Good score for convenience.

Rug Doctor Mighty Pro X3, $460
CR's take: The Rug Doctor Mighty Pro X3 has front-to-back sliding brushes instead of rotational brushes, like other carpet cleaners, similar to the commercial version of the Rug Doctor you can rent. It's relatively heavy at 43 pounds and takes 3 gallons of water to fill its tank—easily adding up to 25 pounds to its weight—and wasn't very intuitive when our testers went to fill it up. It does have a long hose, at 155 inches, so you won't have to lug it at every turn, and its dryness score is Excellent. But unless you have a lot of carpet to clean and plan to clean often, you might want to consider a lighter model.
Hoover Dual Power Max Pet FH51001, $150
CR's take: At 105 inches long, the hose on this carpet cleaner makes the Hoover a good candidate for homes with carpeted stairs and other hard-to-reach spots. This model is slightly lighter than the Bissell ProHeat 2X Lift-Off Pet at 18 pounds empty and 27 pounds when full of solution. And at this price, it's easier on your wallet, too. It scores Very Good at both cleaning and drying, and can cover up to 33 square feet of carpet on one tank of solution.

2 That Aren't Worth the Storage Space
Bissell Deep Clean Deluxe Pet 36Z9, $300
CR's take: For carpet cleaners, this is where it gets tricky: Both of the higher-performing Bissell models on this list have "pet" in their names. This one does, too, but that's where the similarity ends. Unlike the two Bissells covered above, the Deep Clean Deluxe Pet is only so-so at cleaning and worse than that at leaving a dry carpet behind, scoring a Poor. It's also several pounds heavier when full of solution—36 pounds, so it can be a bit unwieldy. The ironic part? It costs more than our two top Bissell picks, proving that the price-quality relationship doesn't always bear out.

Hoover Power Scrub Elite Pet FH5025, $190
CR's take: This Hoover performs at two extremes. It gets the poorest marks for cleaning of all the carpet cleaners in our tests but one of the best scores for leaving behind a dry carpet, an Excellent. It does have some nice convenience features, such as separate tanks for clean and dirty water, a 100-inch hose, a carrying handle, and brush attachments. Unfortunately, features don't make up for poor performance.




Consumer Reports is an independent, non-profit organization dedicated to helping consumers. We make it easy to buy the right product from a variety of retailers. Clicking a retailer link will take you to that retailer's website to shop. When you shop through retailer links on our site, we may earn an affiliate commission – 100% of the fees we collect are used to support our mission.
Learn more.
Our service is unbiased: retailers can't influence placement. All prices are subject to change.