When you shop through retailer links on our site, we may earn affiliate commissions. 100% of the fees we collect are used to support our nonprofit mission.
Learn more.
For many airline travelers, carry-on luggage is a great way to save time and money—they can bypass baggage claim and avoid the hefty fees for checked baggage.
But if you're in the market for new carry-on luggage—for yourself or as a holiday gift—Consumer Reports has an important heads-up: Carefully measure any carry-on bag before you buy.
The reason? You can't always rely on the product dimensions found on the bags' hangtags or on a seller's website to determine whether a piece of luggage is carry-on-compliant. It has to be 22 inches high x 14 inches wide x 9 inches deep for domestic travel on three of the biggest airlines—American, Delta, and United—for instance. Other airlines have different carry-on rules.
Carry-On Complaints
We were tipped off about this carry-on luggage size problem by customer comments on Amazon.com and eBags.com indicating that the carry-on bags they ordered were larger than advertised. For example, one customer left this comment about a bag he ordered via Amazon:
"BEWARE! This bag is being presented as a carry-on, and that is the reason I purchased it. However, it will not fit into the airline "sizers" that are appearing at checkin and gate counters. There is a good chance that if agents are checking bag size, you will be told you have to check the bag (defeating the purpose of buying a carry on bag!)."
And this one on Amazon from another frustrated traveler:
"I bought this [luggage] as a carry on and it is advertised as a carry on. It is too big to fit in overhead bin. It is 23 and a half inches long not the advertised 22 inches long thus will only fit in overhead bin sideways not the correct way with wheels toward the back of the bin and handle to the front of the bin."
Consumer Reports Gets Onboard
So we decided to see for ourselves. We bought 11 different pieces of luggage from 11 different brands that were marketed as carry-on luggage size. Our measurements were done using a measuring box incorporating a laser level.
Before we started measuring, however, we had to deal with the bulges that some bags—in particular soft-sided pieces—have in certain areas. Otherwise, measurements might not reflect true dimension of the bag.
To ensure accurate, uniform measurements, we flattened the opposing surfaces of each carry-on by placing a 21-inch-long x 10.5-inch-wide piece of plywood on the top surface, with a 10-pound weight placed on top of the wood. We measured each dimension—height, width, and depth—in the same way. (See the photo below.)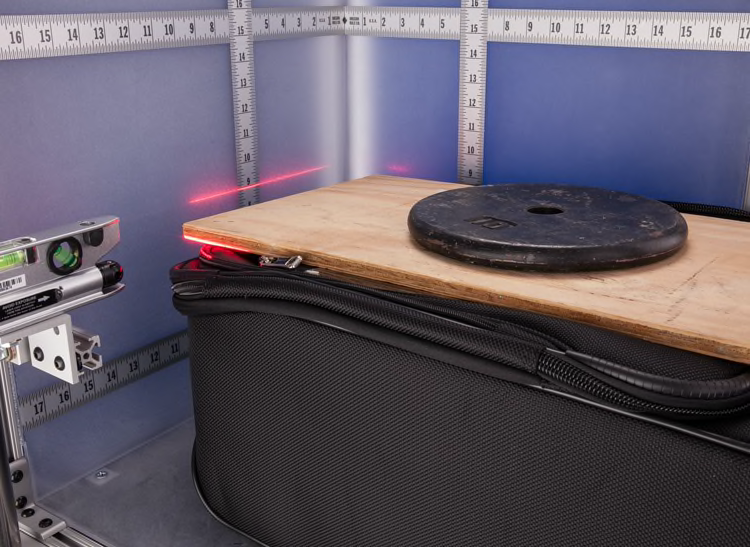 How Do the Bags Measure Up?
When we did your tests, we found that nine out of the 11 models we measured were larger than claimed by the manufacturer. (See the table, below.)
For example, the TravelPro Maxlite 3 21" Expandable Spinner was labeled as being 21 inches high x 14 inches wide x 9 inches deep. A suitcase of those dimensions would be within the size limit for domestic carry-on on American, Delta, and United— 22 inches high x 14 inches wide x 9 inches deep.
However, when we measured the bag, the actual size was 22.5 inches x 14.75 inches x 9 inches—exceeding the company's claimed size by 1.5 inches in length and 0.75 inches in width.
Even carry-ons from companies that topped the list for durability and ease of carrying in our survey of luggage brands showed inconsistencies between the marketed and our measured dimensions.
*Prices reflect manufacturer or retailer price as of early November 2015.
**Measurements are per tag and company website; total overall dimensions also listed on back of tag.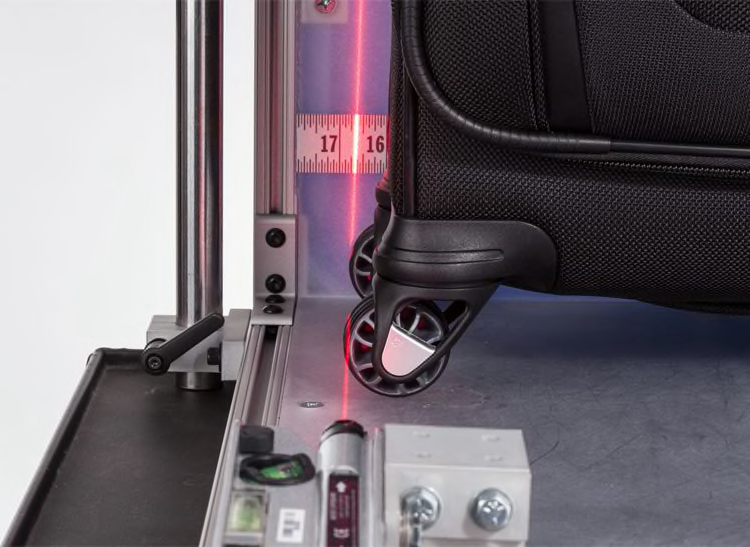 Why the Discrepancies in Labeled and Measured Sizes?
It appears that many manufacturers focus on the interior dimensions of the bag to capture packable space.
A spokesperson for Samsonite said that the company does not measure the handles or wheels. "We measure 'wire to wire' and 'edge to edge' so that you have the packing dimensions," the spokeswoman, Amy DiLisio, said.
Briggs & Riley initially told us that the company measures its bags from the bottom of the case to the top of the handle. But then the company sent us examples of bags on its website for which the measurements include the wheels and handle. For the domestic carry-on expandable upright that we measured, Briggs & Riley listed the dimensions as the same on the bag's tag and the company website. The tag on the bag we measured didn't mention including the wheels and handle in the measurements, but the Briggs & Riley website did.
But when we measured this bag, we found it to be over the claimed size of 22 inches high x 14 inches wide x 9 inches deep—measuring at 22.5 inches high x 14.5 inches wide x 9.25 inches deep. This size is bigger than American, Delta, and United's carry-on measurement limited of 22 inches high x 14 inches wide x 9 inches deep—and you might have to pay to check a bag over the carry-on size limit.
Airlines care about the full footprint of your bag. The exterior dimensions include the wheels, the handle in the retracted position, and any other projections. It all takes up space in the overhead bin, so it all counts.
All of this is important because the dimensions on the product's hangtag or in website description drive purchasing decisions. If a manufacturer provides only the interior dimensions, it's not helpful if you're looking for a carry-on that complies with your airline's carry-on rules.
Bottom Line
When you shop for luggage in retail stores, take along a measuring tape. And if you are ordering online, check user reviews on retailer and manufacturer sites to find out whether other owners have faced problems taking the "carry-on" onto the plane. Also check the retailer's return policy. Just in case.
Editor's Note: When we checked the policies of the bags included here, only Costco stated that it would take back its Kirkland luggage once used.