When you shop through retailer links on our site, we may earn affiliate commissions. 100% of the fees we collect are used to support our nonprofit mission.
Learn more.
BMW focused on reducing weight, adding technology, and reducing cabin noise with its 2017 5 Series redesign. The new car is essentially the same size as the outgoing model, but BMW says it's lighter by 220 pounds and the rear seat and trunk are marginally roomier.

We recently purchased a 2017 530i xDrive to test. Although we're still putting on break-in miles, the new 5 Series could be one of the most satisfying midsized luxury sedans on the market. It's super quiet, comfortable, reasonably quick, and fuel efficient, while the cabin is finely crafted without being glitzy.

Engines have been bolstered across the board. The 2.0-liter turbo four-cylinder in the 530i is up to 248 horsepower, while the 3.0-liter turbo six-cylinder in the 540i has been bumped to 335 hp. Both engines are mated to a slick eight-speed automatic transmission. All-wheel drive is optional on all versions except the M550i xDrive, which comes with standard AWD. That extra traction should prove handy for putting the 456 hp from the M550i's 4.4-liter turbo V8 to the road. BMW says the M550i sprints to 60 mph in just 3.9 seconds—that's quicker than typical muscle cars and many sports cars.

There's also a 530e plug-in hybrid version coming, which will command only a $200 premium over the 530i and is also available with all-wheel drive. Both the M550i and the 530e will arrive in dealers in the April to May timeframe.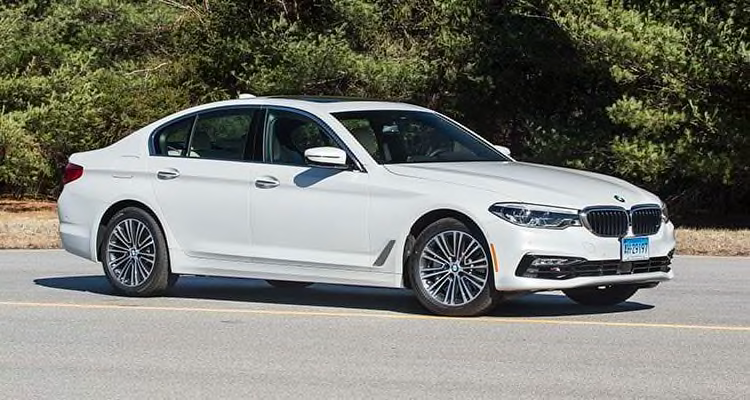 The 530i's turbo-four doesn't deliver explosive power, but there's more than enough oomph on hand for effortlessly merging, passing, and hill climbing. The transmission shifts with smooth precision. The EPA rates the 530i xDrive at 27 mpg combined, which is impressively frugal for the class. So far, we've been observing similar consumption. Plus, the 530i also has one of the smoothest automatic start/stop systems we've encountered.
The steering, a sore spot with the last 5 Series, has good weighting on the new car, but it is still short on feedback. Handling is calm and composed, though without the agility of previous 5 Series models or the Jaguar XF. The ride is smooth and supple, unfazed by most bumps the road throws at it. The extra sound deadening measures have worked wonders—wind, tire, and engine noise are impressively muted.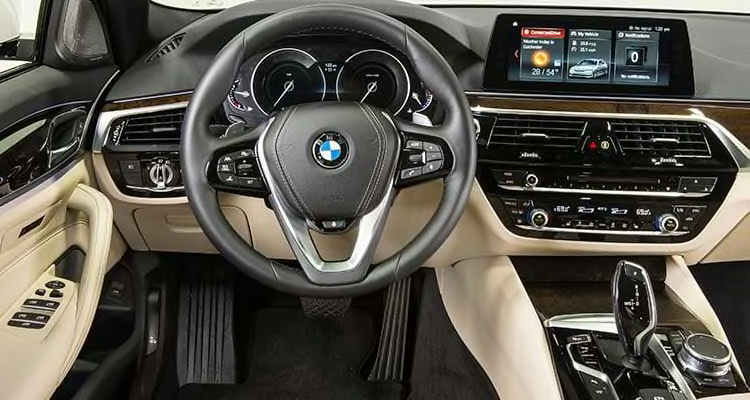 Soft-touch materials and expensive-looking trim pieces cover just about every surface. Controls, including the iDrive 6.0 infotainment system with a 10.2-inch screen, are well executed. Our test car has the superb head-up display that's part of the $1,800 Driving Assistance package. It not only projects your current speed onto the windshield, but it also shows audio and phone tasks when executed through the steering wheel buttons.

The one demerit is the electronic shift lever that takes some getting used to. We also don't see the point of the optional "gesture control," which lets you adjust stereo volume and perform some phone functions with an aerial sweep or poke of your finger. As in the 7 Series, we found gesture control a redundant gimmick that's merely good for a "gee-whiz" factor for your friends. In daily driving it's more distracting than just using hard knobs or buttons.

The standard front seats are fantastic, with 16-way power adjustability, including four-way lumbar and moveable side bolsters. The cushions are firm yet comfy, and there's plenty of all-day support. Even the rear seats and steering wheel are heated, part of the $800 Cold Weather package.

A plethora of advanced safety systems are available, including lane-departure warning, lane-keep assist, and blind-spot monitoring. Forward-collision warning and automatic emergency braking are also available, but it's a shame BMW doesn't make them standard equipment, as these two important safety systems have been proven to reduce crashes.

An interesting new available feature is Evasion Aid, which will help you steer around a car or obstacle that's suddenly in your path. We will determine its usefulness as part of our avoidance maneuver testing.

Pricing for the 2017 530i starts at $52,195, the 530e at $52,395, and the M550i xDrive begins at $73,095. With several option packages tacked on, our 530i xDrive cost $65,210.
Overall, the new 5 Series comes across as a mature, calm, and well-thought out luxury sedan. But since the last generation was introduce, BMW's midsized sedan hasn't been the ultimate driving machine of the segment. It seems to have grown up, along with its clientele.

Check back for a full road test on the new 5 Series after we complete our battery of instrumented testing and evaluations.