When you shop through retailer links on our site, we may earn affiliate commissions. 100% of the fees we collect are used to support our nonprofit mission.
Learn more.
T he car rental industry has made an art out of the low-advertised-price scam, promoting a bargain rate that neglects to mention mandatory extras. Rent a car at an airport and you may be hit by a truly amazing stack of additional fees.
Besides the rental itself, you could be charged for the airport concession, the rental facility, and even the car's reg­istration. You may find charges for a local civic improvement, a juiced-up local sales tax, and other surcharges, including one levied on frequent fliers.
Those don't even touch the optional extras: insurance, gasoline, additional driver, child seat, toll transponder, and navigation system.
Drivers under 25 (or under 21 in some states) may either pay a much higher rate or a daily "underage" surcharge, face a large-dollar hold on their credit card, or not be able to rent at all. A possible solution for these younger drivers is a car-sharing organization like Zipcar.
You can ply these shark-infested waters with minimal danger if you're willing to plan ahead. It can be a chore, but worth it in the end. For instance, you may find that renting the smallest car isn't the best choice. Sometimes the rate for a midsized car is lower than for a subcompact from the same company—and it is likely more comfortable and safer.
Shop Online
When it comes to securing a rental car, comparison shopping is vital, and shopping online is the easiest way to go. Use a travel site like Orbitz, Kayak, or Expedia; a dedicated site like Carrentals.com; or simply Google "cheap car rental" and the name of the city you're visiting.
We recently checked out prices for renting a Toyota Corolla for five days, spanning a holiday weekend, from Chicago's O'Hare International Airport. The 11 quotes produced by Orbitz ranged from $135 (Alamo) to $240 (Advantage), not including those pesky extra fees. With those, the rentals actually ranged from $223 to $341. The median quote, including taxes, was about $285.
Another choice you'll see is to pre-pay with your booking or pay the day of pickup. Pre-paying can net a big discount, but check the cancellation terms. You want to be able to back out painlessly if your plans change—or you find a better deal.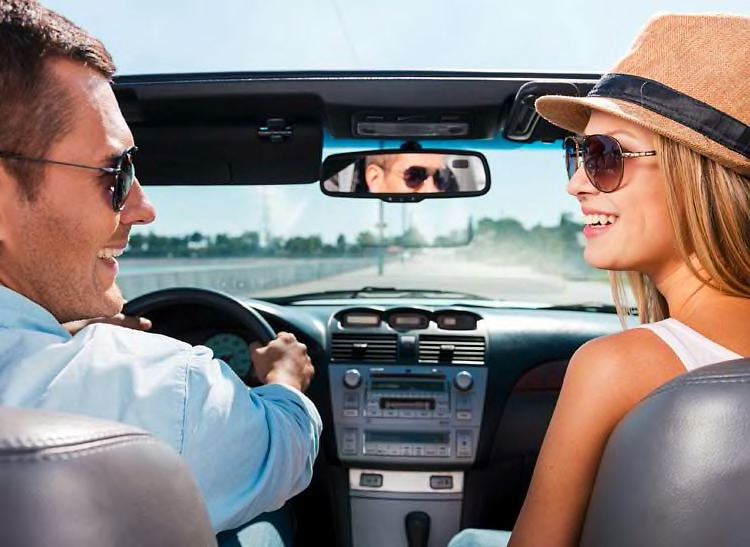 No More Recall Worries
As recently as early 2016 it was still legal for car rental companies to let customers drive off the lot in vehicles with open recalls. But that all changed on June 1, 2016, when the Raechel and Jacqueline Houck Safe Rental Car Act of 2015 took effect as part of the Fixing America's Surface Transportation Act (FAST).
FAST is the larger omnibus legislation that authorizes funds for Federal-aid highways, highway safety programs, transit programs, and other purposes. As part of the legislation, all cars under a safety recall—whether new, used, or rented—should be repaired before the customer is handed the keys to drive it off the rental lot. Consumers Union, the advocacy and policy arm of Consumer Reports, was an active and aggressive advocate for the law. CU worked directly with members of Congress and allied safety groups to generate support for the law, and is happy that Congress enacted it in December 2015 as part of the FAST Act.
Ignore the Big Boys
Many of the rental companies seem independent, but they're actually part of a larger company. Alamo/National, Avis/Budget, Firefly/Hertz, and Dollar/Thrifty often operate in the same building or right next to each other and end up sharing the same pool of cars. However, due to their market positioning, their prices can be radically different. Often, the higher-priced brand will have newer and better-equipped cars on the lot. But during peak season, there's not really a huge distinction between the brands.
Don't be afraid to check out smaller car-rental names like Ace, Fox, and Payless. Local and regional agencies can charge 20 to 50 percent less than the big chains. However, those companies often used "hand-me down" rental vehicles from their parent companies. So their fleet might be slightly older than other rental car companies. Make sure you do your due diligence, however. It's a good idea to check local—and recent—online reviews on the smaller players. Service quality can vary a great deal.
There are also some notable new players in the market. Sixt is the newest major car-rental brand launched in U.S. Most of their fleet is filled with European vehicles, such as BMW, Mercedes-Benz, and Volvo. You can also get European luxury vehicles from the major chains at comparable prices. Silvercar is a smaller—but rapidly expanding—brand that offers a fleet of silver Audi A4s and Q5s. Mcar is a new brand launched by Midway car rental, a major operator in Southern California. In addition to standard rental cars, they have a huge fleet of specialty vehicle such as hybrids and exotics.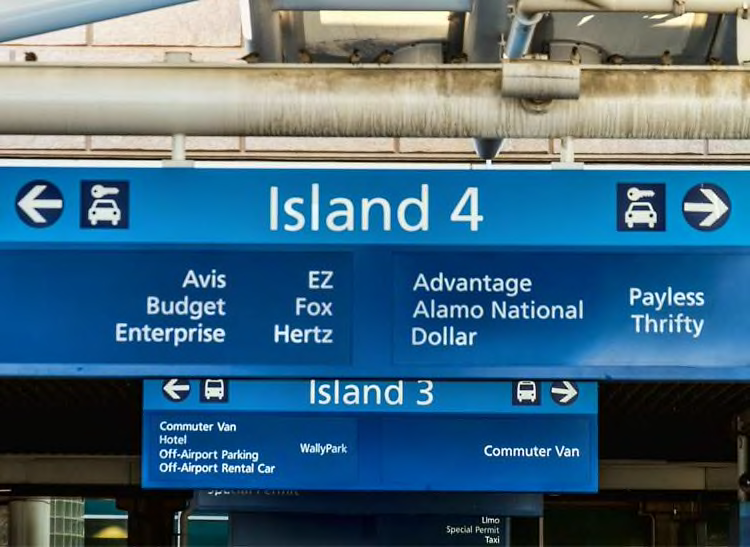 Skip the Airport
You might get a big break, perhaps as much as 50 percent off, by renting downtown, or in a suburb if you're headed for one, rather than grabbing a car at the airport.
If you can avail yourself of a cheap shuttle, train ride, or cab trip to your hotel, all the better, especially if it allows you to skip the airport-rental queues and chaos.
One possible option, if you go for an off-airport deal, is to check out the cost of a one-way rental. This is where you drop the car off at the airport on the return leg. That may give you the best of both worlds.
Join the Club
Organizations like AAA and AARP offer cheap—or at least discounted—rental-car deals. AAA members may get perks such free use of a child seat. Costco and BJ's also offer some great discounts. Costco, for instance, looks for deals that include an additional driver at no extra cost. American Express and numerous Visa and MasterCard offerings also offer car-rental discounts.
Timing is Everything
Weekend rates are often the cheapest, but you can also get good deals by renting at a weekly rate. But watch out for big charges if your plans change mid-trip and you end up returning your car sooner or later than you planned.
You may be charged for a full extra day if you're as little as an hour late at drop-off. Some companies also charge you extra for dropping your car off too early. Your weekly-rate discount may be voided as well, sticking you with a far higher daily rental rate.
Should You Buy Insurance?
A rental company's insurance offerings—Collision Damage Waiver (CDW), property-theft coverage, and so on­—can add $10 to $30 per day if not more. If you have no alternative, you should spring for CDW. But your own car insurance may already cover you, so check that out ahead of time.
If you don't carry collision coverage on your own car, though, you probably won't have it on your rental, either. American Express and many Visa and MasterCard programs also supply rental-car insurance, so long as you pay using that card.
The rental clerk may say your own insurance doesn't cover tires, glass, or days out of service. Check the fine print in your own auto and credit-card coverage before you leave home. And bring your insurance card with you, just in case.
When you inspect the car before picking it up, take close-up pictures with your smartphone, to prove that any minor damage or upholstery stains present were there at the start.
Extras to Turn Down
Child seat. If you need a child safety seat while traveling, bring your own rather than taking a chance on whatever the rental company has to offer. It might not be clean or easy to secure, and the fee—typically $10 a day—can quickly mount up.
Navigation. It might not be worth your while to rent a nav­igation system, especially if you have a smartphone with GPS or own a portable system you can bring with you.
Playing the Gas Game
You're often given three fuel choices: agree to return the car with a full tank; prepay for a full tank; or let the rental company top up the tank when you return the car.
The first choice is best if you start with a full tank. Fill the car immediately before returning it—and save that receipt!
Buying a tankful up front makes sense if you can contrive to return the car almost empty. If you return it partly full, you don't get a refund. In other words, you get to pay not just for your own fuel but some of the next customers', too.
Letting them fill it for you could be the worst bet. Rental companies can add "service" charges that could tack on sev­eral dollars a gallon.
Electronic Toll Trolls
Many regions are adopting cashless electronic highway tolls—EZ-Pass in the northeast, SunPass in Florida, FasTrak in California, and so forth. Typically you'll pay $3 to $5 a day for the car's built-in e-toll transponder, whether you go through any tolls or not, plus the tolls themselves.
Sometimes you're given a choice of having the transponder activated or not. If you decide mid-trip that you'll need it after all, you'll be charged for all the days you didn't have it, as well as those you did. If you turn down that privilege and happen to breeze through a cashless toll, be prepared to pay a big charge, $100 or more, plus the toll, and perhaps other fees.