When you shop through retailer links on our site, we may earn affiliate commissions. 100% of the fees we collect are used to support our nonprofit mission.
Learn more.
Self-driving cars have been in the news a lot recently, with multiple announcements made at the recent Consumer Electronics Show (CES) in Las Vegas and the North American International Auto Show in Detroit. Plus, the federal government is fast-tracking autonoumous car regulations, and the Obama administration proposed spending $4 billion over the next 10 years for research and infrastructure. Our "Talking Cars with Consumer Reports" podcast takes a look at these developments and the potential benefits that they hold for consumers.
The promise for autonomous cars is that safety will be improved by reductions in crashes due to driver error. And, of course, the tedium of boring interstate drives can be relieved. As quick as this technology is coming down the road, as we note in the podcast, we're not quite there yet.
Coming back to the present, two small German SUVs, the BMW X1 and Mercedes-Benz GLC300, try to make driving less ordinary right here and now. Although rather similar in profile and size, the two compete in different market segments. Driving both crossovers reveals the importance of starting with a well-designed foundation and properly tuning all of the parts during development. While we enjoy driving the luxurious and refined Mercedes, the BMW leaves us flat, especially considering our test car's $44,000 sticker price.
Next we answer viewer questions. First up, a buyer wants a large high-performance sports sedan for under $50,000; although the question seems ambitious, there happens to be a tailor-made answer. Next, a viewer wants to know if a new teen driver is better off with an old Volvo or a new compact car with modern safety gear. Finally, we wrap up with questions from our Detroit auto show coverage about an Acura concept car and the all-new Chrysler Pacifica minivan.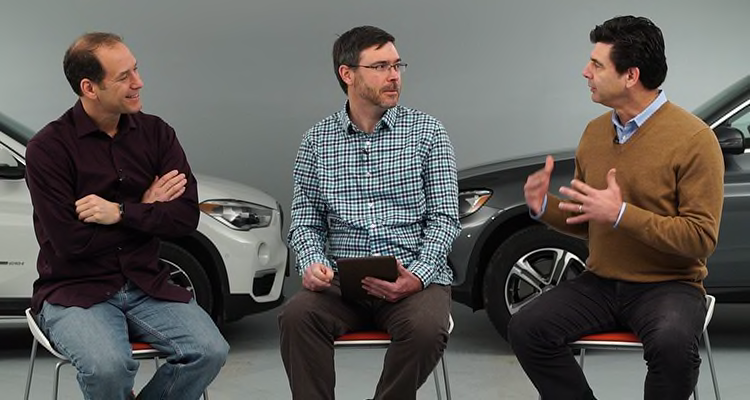 As with the other "Taking Cars," this episode is also available free through the iTunes Store. Subscribe to the video or audio. You'll also find the video on YouTube.
Share your comments on this show below, and let us know if you need any advice for choosing a car.