When you shop through retailer links on our site, we may earn affiliate commissions. 100% of the fees we collect are used to support our nonprofit mission.
Learn more.
When the Chevrolet Volt was originally introduced at the end of 2010, it was part of a turning point for electric cars. Together with the Nissan Leaf, the Volt presented customers with an approachable mass-market electric car experience. The Volt added a significant measure of practicality and peace of mind with its gas engine that would kick in for longer distances. Now, five years later, the Volt enters its second generation as a more mature and capable car. It replaces the original Volt's science experiment ambience with more conventional looks and expanded capability. While we're waiting to take delivery of our own Volt, we rented one from GM for an initial taste.
The 2016 Chevrolet Volt sees a battery capacity increase from 17.1 kWh (originally it was 16.5 kWh) to 18.4 kWh—that bumps the electric-only range from 35 miles to a claimed 53 miles. A new 1.5-liter engine replaces the previous 1.4-liter unit.
Pricing starts at $33,170 for the LT and goes up to $37,520 for the Premier version. That's about a $6,000 price drop compared to the original Volt we tested in 2011. Plus, the Volt still benefits from the $7,500 federal tax incentive available to electric car buyers. That means that the effective purchase price will end up being about $26,500.
While driving the 2016 Chevrolet Volt in late fall at temperatures of about 50 degrees, we observed an electric-only range of 48 miles without even trying. Once the battery level drops to a low level (about 20 percent), the car makes a commendably smooth transition to gas mode. In that mode, the car operates pretty much as a hybrid with sufficient electric power for low speed driving, typically up to 20 mph. In that mode alone we observed an average of 36 mpg. With the Volt's small 8.9 gallon fuel tank, that translates to additional 320 miles range, in addition to the electric-only portion, for a total range of 370 miles. That puts the 2016 Chevrolet Volt almost on par with conventional cars. No range anxiety here.
Regardless of mode, the Volt benefits from an immediate and smooth power delivery thanks to the electric motor's torque. GM claims a 0-60 mph acceleration time of 8.4 seconds.
With our 240-volt connector, we observed a charging time of 4.5 hours. A portable home kit allows for charging on regular household 120-volt line, but that will take at least twice as long. Even still, an overnight charge is still quite feasible.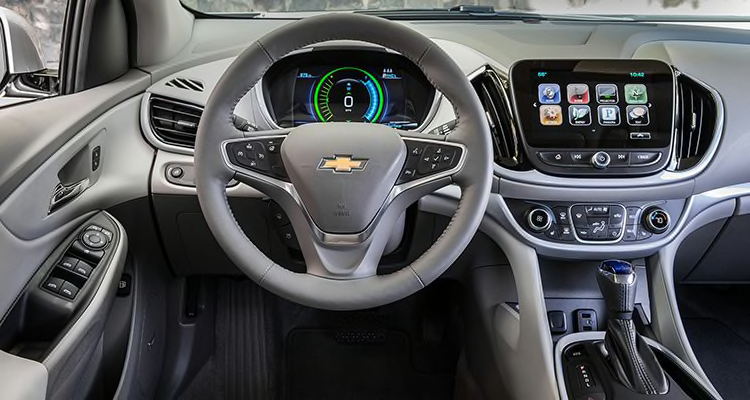 Ride comfort and noise isolation are significantly improved in the new Volt. The suspension irons out just about any bumpy pavement, lending the car a more solid and mature feel than before. It is more quiet, with engine, wind, and road noise notably suppressed.
Handling is sound and responsive in regular driving. But when you really want to maximize the electric range and refrain from slowing down for the corners, the car becomes a bit reluctant to cooperate. Some body lean and more steering input will be required. No one will confuse the Volt's agility with that of a BMW i3, another electric car choice. On the other hand, brake pedal modulation feels more traditional now despite the regenerative braking feel that typically plagues EVs.
The Volt retains its versatile hatchback configuration, even though it could pass for a sedan when viewed from a side profile. Moving up from the previous four-place configuration, the 2016 Chevrolet Volt is at least theoretically a five-passenger car. That middle position in the rear is largely symbolic, being more useful for a child seat than transporting an adult. On the Premier we tried, the console containing the cup holders and rear seat heater switches gobbled up any leg room.
While we could get by without extra cupholders, those seat heaters are essential, because in an electric car, heat isn't free; Cabin heat will always suck down the battery more rapidly. We found the heat output to be rather tepid, but thanks to quick-acting seat and steering wheel heaters we were able to keep comfortable. Unfortunately, there is no lumbar support adjustment even in the Premier trim line.
Thankfully, the Volt's new control layout is much more conventional. There are no more capacitive-touch buttons. Instead, there are rather conventional buttons for most functions and a prominent touch screen with a version of GM's MyLink, which we found intuitive enough. Other instrumentation is much more EV-friendly now, including stats for MPGe (miles per gallon equivalent). A mesmerizing, on-screen power flow diagram allows the driver to interact with the car and adopt economical driving habits.
The 2016 Chevrolet Volt may not appear as radical as its predecessor, but with increased electric driving range, more conventional controls, and vastly improved refinement and livability, we embrace the changes wholeheartedly.
We look forward to taking delivery of our own Volt and putting it through our tests.