When you shop through retailer links on our site, we may earn affiliate commissions. 100% of the fees we collect are used to support our nonprofit mission.
Learn more.
Few things can enhance your mood as much as a top-down drive on a sunny day or moonlit night. But the convertible market has recently been pretty glum, with slim pickings for buyers seeking an affordable four-seat convertible. Just in time for spring, American convertible lovers get a gift from, of all places, Germany: the 2016 Buick Cascada.
The Cascada's timing also seems perfect because with the demise of the Toyota Solara, Chrysler 200, and Volkswagen Eos, affordable four-seat drop-tops have been limited to the sporty rear-drive Chevrolet Camaro and Ford Mustang.
Imported from Europe, courtesy of GM's German arm Opel, the 2016 Buick Cascada is mostly based on the Opel Astra sedan, itself a mechanical sibling to the Buick Verano sedan. Sold overseas for several years, it finally joins the U.S. marketplace as Buick's first convertible in more than 20 years. The Reatta soft top was offered in North America in the early 1990s.
Pricing starts at $33,990, about $3,000 more than a Ford Mustang convertible, but with more standard features, including leather heated seats and navigation. The Cascada Premium trim adds dual windblockers and forward-collision and lane-departure warning for another $3,000. To put that into perspective, the nearest front-drive competitor to the 2016 Buick Cascada is the Audi A3, which starts at the same price as a loaded Cascada but winds up costing thousands of dollars more when comparably equipped.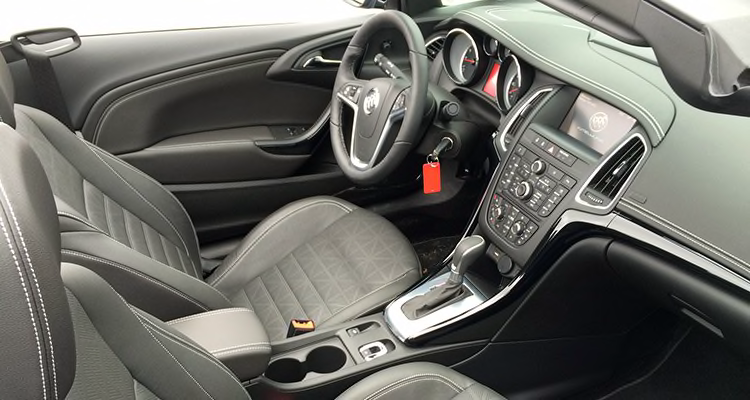 To gather first impressions, we rented a 2016 Buick Cascada from GM and enjoyed an early taste of spring. We anticipate purchasing one very soon for our formal test program. The Cascada comes across as a well-considered convertible that suits its mission as a nice-day cruiser, but it feels just a bit dated in some details.
Power comes from a 200 horsepower, 1.6-liter turbocharged four-cylinder engine that does a decent job of hauling this heavy, front-drive car. A smooth, responsive six-speed automatic is the only transmission choice. We've observed 23 mpg overall on premium gas so far.
The 2016 Buick Cascada gets top marks in top-down friendliness, thanks to many clever details. Well-insulated, the fabric top keeps out noise and keeps in warmth, even in zero-degree temperatures. Fully power operated with no need to release any latches, the top opens or closes in a quick 17 seconds, tucking under a hard cover that keeps everything looking neat and tidy. It can open and close on the go at speeds of up to 31 mph, handy when the traffic light changes mid-top-cycle. A single switch conveniently raises or lowers all windows, but it's easy to confuse this control with the electric parking brake switch.
Wind buffeting is kept to a minimum, at least for front passengers, by a small wire-mesh windblocker. If there are no rear passengers, a larger foldable wind blocker can be installed to further reduce buffeting. A trunk partition lets you choose if you want to maximize cargo space or allow the roof to fold.
Made for cruising smooth boulevards, the Cascada's body structure is largely free of the unwanted shake that afflicts many convertibles. All Cascadas come standard with 20-inch wheels and low-profile tires. While the ride is mostly supple, that wheel/tire combination inherently limits some absorption, allowing sharp bumps to noticeably come through.
Handling is responsive with fairly quick reflexes and prompt steering response. Body lean is kept in check, but don't expect the 2016 Buick Cascada to be a sportster like a Chevrolet Camaro or Ford Mustang. That said, it certainly is more nimble than the long-retired Toyota Solara or Chrysler Sebring/200 Convertible.
Inside, the seats are comfortable and supportive with four-way power lumbar support adjustment. Heated front seats and a heated steering wheel stretch the open-top season, facilitating convertible motoring in chilly weather. Seat belt presenters extend from behind the front doors, making for an easy reach to the belts as soon as you close the door. They also keep the belts out of the way when climbing into the rear seat, unlike in many two-door cars. Both driver and passenger's seats are power operated. Easy-to-reach levers make the seats recline and scoot forward to ease access to the rear; the seat then returns to its original position. You won't find such niceties at this price anywhere—even on GM's own more expensive Camaro convertible.
Two adults will be able to sit in the rear, but with the top up, headroom is restricted. Also restricted is the driver's view to the rear and sides, thanks to a very small rear window. Unfortunately, blind-spot monitoring is not available, but at least a rearview camera is standard.
Some of the Cascada's dashboard details feel dated, a sign of this design's age. Like many Buicks from five years ago, a sea of buttons and knobs makes the controls look daunting at first. Inserting a key instead of having a push-button start is just so 2008. The IntelliLink infotainment touch screen takes care of connectivity with audio choices, including Pandora and Stitcher, as well as phone interactions, but it's a long reach to its somewhat small screen.
Opel-related Buicks, such as the Verano and Regal, have shown average or better reliability in our survey. It would be a stretch to project that to the Cascada, but it gives hope.
Sunseekers who want some wind in their hair and enjoy some niceties without breaking the bank will now have to shop Buick. Who knew?