When you shop through retailer links on our site, we may earn affiliate commissions. 100% of the fees we collect are used to support our nonprofit mission.
Learn more.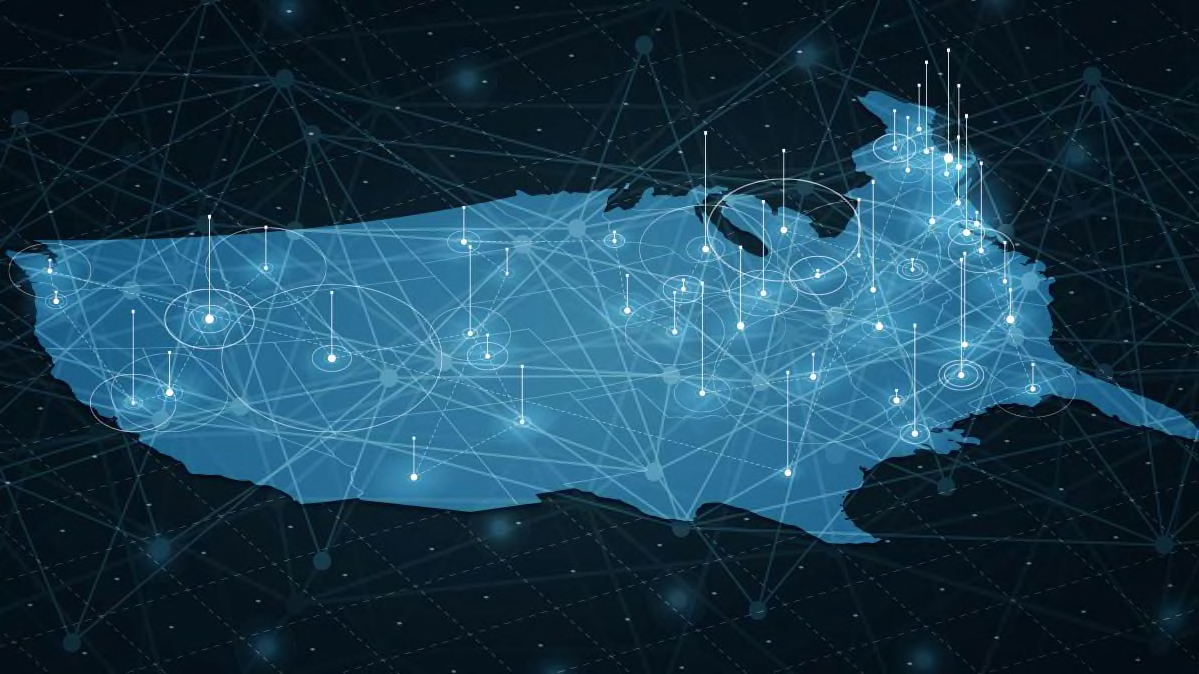 The speedy 5G network service we've been hearing about hasn't quite swept the nation, but its footprint grows larger by the month.
All four of the major U.S. carriers now have some form of consumer 5G service up and running. And smartphone makers continue to announce new devices.
Samsung's three new flagship Galaxy S20 phones will come standard with 5G, as will LG's upcoming V60 ThinQ 5G.
And while those are premium phones with prices to match, manufacturers are set to role out more affordable models, too, including some that will cost less than $500, thanks to new, cheaper 5G chips. (See the TCL and Coolpad models below.)
According to telecommunications experts, 5G speeds—five times faster than 4G connections at peak performance—will eventually allow users to download a movie in just 5 seconds.
More on 5G and Smartphones
The technology will also pave the way for the instantaneous response times required to safely perform robotic surgery and operate self-driving cars that communicate with other vehicles and road infrastructure.
But while experts say 5G networks made tremendous progress in 2019, they still have a long way to go to reach those lofty goals. And that's what 2020 is all about.
"We're in a phase right now where there's a lot of hype around 5G," said Phil Solis, a tech analyst for the market research firm IDC, at the CES trade show in Las Vegas. "But the reality doesn't match the hype just yet."
Here's a rundown on the 5G service of the major carriers and the latest 5G-compatible phones.
5G Networks
AT&T
After months of offering 5G service only to business and select customers, AT&T's consumer network now covers 45 markets across the country, including smaller cities like Kalamazoo, Mich.; Worth, Ga.; and Erie, Pa.
AT&T says it plans to have a national network up and running sometime in the second quarter of this year. And the company says it will soon offer 5G service to customers of its budget-priced Cricket Wireless subsidiary with compatible phones and plans.
Though AT&T says it won't charge extra for 5G service, you have to sign up for the Unlimited Extra or Unlimited Elite plans to access it.

Phone options: AT&T currently sells the Samsung Galaxy Note10+ 5G. It also plans to offer Samsung Galaxy S20 phones and the LG V60.
Sprint
Sprint has 5G service up and running in parts of the Atlanta; Chicago; Dallas; Houston; Kansas City, Kan., Los Angeles; New York City; Phoenix; and Washington, D.C., metropolitan areas.
Sprint says it won't charge extra for 5G service, but you're required to sign up for the carrier's Unlimited Premium plan, which at $85 for one line is the company's most expensive option.
Phone options: Sprint currently carries the LG V50 ThinQ, Samsung Galaxy S10 5G, and OnePlus 7 Pro 5G. It also will carry Samsung's S20 phones.
T-Mobile
T-Mobile launched what it's calling the first "nationwide 5G network" in December 2019. The company says it covers more than 200 million people in more than 5,000 cities and towns across the U.S.—but that still leaves significant portions of the population without 5G connections.
In conjunction with the launch of Samsung's new phones, T-Mobile says it's adding an additional 95 cities and towns to its 5G network.
The company's previous network, which launched over the summer, operated in parts of Atlanta, Cleveland, Dallas, Las Vegas, Los Angeles, and New York. But it ran on a high-band spectrum, and as a result, the 5G signal didn't have the same ability to travel through walls and other common obstacles.
In our testing, a passing city bus or even a tree branch was enough to disrupt the signal.
T-Mobile says that won't be a problem with the new network, which operates on the 600MHz low-band spectrum. Those signals aren't stopped by such obstructions.
Phone options: T-Mobile customers who bought a Samsung Galaxy S10 5G smartphone last year for use on the company's early 5G network won't be able to use the device on the new network, because it's not designed to pick up the low-band signal.
But T-Mobile says those phones will be compatible with Sprint's midband network, as long as the merger of the two companies closes. Midband signals also have the ability to pass through walls and other objects.
For the new nationwide network, T-Mobile is selling the Note10+ 5G and the OnePlus 7T Pro 5G McLaren. It also plans to offer all three of Samsung's S20 phones.
Verizon
The carrier's 5G service has officially started in parts of 34 markets across the country, including Chicago; Miami; Little Rock, Ark.; and Sioux Falls, S.D.
Accessing the Verizon 5G network will eventually cost customers $10 per device on top of the fees for the carrier's Play More, Do More, and Get More Unlimited plans. Verizon is currently waiving those charges.
The 5G service will be unlimited as well, and Verizon says there will be no throttling of data speeds even when the network gets busy. Carriers, including Verizon, sometimes slow down data speeds to decrease network congestion.
You can also tether your laptop to a 5G-enabled phone for use as a hot spot without paying an additional charge.
Phone options: Verizon carries the Samsung Galaxy S10 5G, Samsung Galaxy Note10+ 5G, LG V50 ThinQ, and Motorola Moto Z4. It also plans to carry Samsung's S20+ and S20 Ultra phones.
5G Phones
Samsung
The U.S. versions of Samsung's newest flagship phones—the Galaxy S20, S20+, and S20 Ultra—will all come with 5G standard. Pre-orders are currently underway, and the phones reach stores on March 6.
The phones, which start at $1,000 for an S20, feature slightly larger displays, new optical zoom lenses, and larger batteries. You can expect full Consumer Reports test results a few weeks after they go on sale.
In the meantime, the Galaxy S10 5G, which reached stores as a Verizon exclusive in May, is now widely available.
The S10 5G, which comes in black and silver, starts at $1,300 for a version with 256 gigabytes of storage. Boosting the storage to 512GB will cost you $100 more.
The phone features a 6.7-inch display. It has six cameras, including a 3D depth camera, and can create videos in portrait mode. All of that is powered by a monster 4,500-milliamp-hour battery.
And the Note10+ 5G, which launched in August 2019, is now being sold by AT&T, T-Mobile, and Verizon. It features a 6.8-inch display and the Note line's trademark stylus. It also starts at $1,300.
LG
The LG V50 ThinQ is available through Sprint and Verizon for about $1,000.
As with the V40 ThinQ before it, the V50 has five cameras—two on the front and three on the back. It also boasts a 4,000mAh battery, stereo boom-box speaker, and 6.4-inch OLED display.
In late February, LG announced the V60, which will come standard with 5G connectivity. The phone will have a 6.8-inch display, shoot video in 8K, and feature an optional, attachable, dual screen. Pricing and availability have yet to be announced.
Motorola
To be compatible with 5G, the Moto Z4, which went on sale through Verizon in June, requires the optional $350 Mod attachment created for the Moto Z3 phone.
The Z4, which retails for $500, boasts a 6.4-inch OLED display and a 3,600-mAh battery, making it considerably bigger and more powerful than the Z3. That phone has a 6-inch display and a 2,000-mAh battery.
The Z3 also works with Verizon's network but is no longer listed for sale on the company's website.
OnePlus
Sprint carries the OnePlus 7 Pro 5G, and T-Mobile is offering the OnePlus 7T Pro 5G McLaren.
Both phones are new, and our testers haven't had a chance to try them out yet.
TCL
During CES, TCL, known best for TVs, announced its first 5G smartphone: the TCL 10 5G.
The company didn't reveal much in the way of details at the time. But the TCL 10 5G will be powered by Qualcomm's recently announced 7-Series 5G chip, which is geared toward lower-priced devices. It also will have four rear cameras and a high-quality display.
The model is set to go on sale in the second quarter of this year.
Coolpad
This company, which makes smartwatches for kids, also announced a 5G phone—for adults—during CES. Coolpad says it will have a starting price of less than $400.
Also set to go on sale in the second quarter of this year, the phone, which doesn't appear to have an official name just yet, will have a 6.5-inch display and a 4,000-mAh battery.
Like the TCL 10, it will include the new Qualcomm 5G chip and launch in the second quarter of this year.