When you shop through retailer links on our site, we may earn affiliate commissions. 100% of the fees we collect are used to support our nonprofit mission.
Learn more.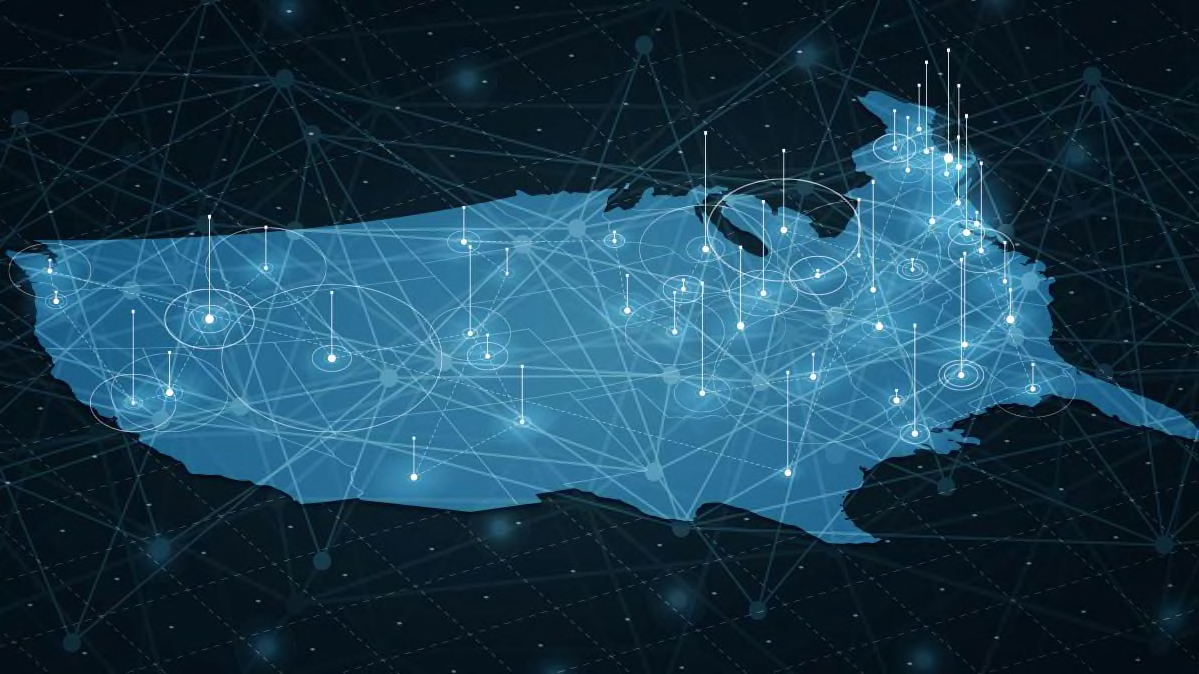 The speedy 5G network service we've been hearing about hasn't quite swept the nation, but it's expanding by the month.
All the major U.S. carriers now have some form of consumer 5G service up and running. And smartphone makers continue to announce new devices.
Samsung's three new flagship Galaxy S20 phones come standard with 5G, as does LG's V60 ThinQ 5G. And while those are premium phones with prices to match, manufacturers are set to roll out more affordable models, too, including some that will cost less than $500, partly thanks to new, cheaper 5G chips.
According to telecommunications experts, 5G speeds—five times faster than 4G connections at peak performance—will eventually allow users to download a movie in just 5 seconds.
More on 5G and Smartphones
The technology will also pave the way for the instantaneous response times required to safely perform robotic surgery and operate self-driving cars that communicate with other vehicles and road infrastructure.
But while experts say 5G networks made tremendous progress in 2019, they still have a long way to go to reach those lofty goals. And that's what cell service in 2020 is all about.
"We're in a phase right now where there's a lot of hype around 5G," says Phil Solis, a tech analyst for the market research firm IDC. "But the reality doesn't match the hype just yet."
Here's a rundown on the 5G service of the major carriers and the latest 5G-compatible phones.
5G Networks
AT&T
AT&T's consumer network now covers 395 markets across the country, including smaller cities like Erie, Pa.; Kalamazoo, Mich.; and Worth, Ga.
Starting Aug. 7, AT&T will include 5G service in all of its unlimited data plans. Right now, only users of the more-expensive Unlimited Extra or Unlimited Elite plans get access to it.
Users of AT&T's budget-priced Cricket Wireless service with compatible phones and plans will get 5G starting Aug. 21.
Phone options: AT&T currently sells all three of the Samsung Galaxy S20 phones, along with the Galaxy Note10+ 5G, Galaxy A71 5G, LG V60 ThinQ 5G, and LG Velvet 5G. The carrier will start selling the Galaxy Z Flip 5G this month, too.
Sprint and T-Mobile
Now that they've officially merged, these two carriers are in the process of combining their 5G networks. That means the midband-spectrum 5G service offered by Sprint gets added to the "nationwide network" launched by T-Mobile in December 2019.
The T-Mobile network still leaves many cities without 5G coverage, but it expanded in June to Anchorage, Alaska, giving the service a foothold in all 50 states.
At the moment, Sprint continues to offer its own service plans. Like T-Mobile, it includes 5G service in all of them.
Phone options: Sprint and T-Mobile currently carry the trio of Samsung Galaxy S20 phones. T-Mobile also sells the Galaxy A71 5G, LG V60, and OnePlus 8. It also will sell the Galaxy Z Flip 5G when it goes on sale this month.
Verizon
The carrier's Ultra Wideband 5G service has officially started in parts of 35 markets across the country, including Chicago; Miami; Little Rock, Ark.; and Sioux Falls, S.D.
To get it, you have to sign up for a Play More, Do More, or Get More unlimited plan; these plans start at $80 for one line.
Phone options: Verizon currently carries the trio of Samsung S20 phones, the Samsung Note10+ 5G, and the Samsung Galaxy A71 5G, along with the LG V60, Motorola Edge+, Motorola Moto Z4, and OnePlus 8.
5G Phones
Samsung
The U.S. versions of Samsung's newest flagship phones—the Galaxy S20, S20+, and S20 Ultra—all come with 5G standard.
The phones, which start at $1,000 for an S20, feature slightly larger displays, new optical zoom lenses, and larger batteries. And they're some of the top-ranked models in CR's smartphone ratings.
The Note10+ 5G, which launched in August 2019, is still being sold by AT&T, T-Mobile, and Verizon. Starting at $1,300, it features a 6.8-inch display and the Note line's trademark stylus.
On the less expensive side of the spectrum, the 5G version of the Galaxy A71, which starts at $600, went on sale last month. It includes a 6.7-inch OLED display, multiple rear cameras, and a generous 4,500-milliamp-hour battery.
Those phones will soon be joined by the Galaxy Z Flip 5G, which adds 5G connectivity to the clam shell-styled Galaxy Z Flip that launched in February. Preorders for that phone, which will cost $1,450, are underway, and it officially goes on sale Aug. 7.
The model didn't do great in our testing. The battery lasted just 17.5 hours, which is low by today's standards, and the device failed our tumble test, with the back glass shattering within the equivalent of 100 drops.
A 5G version of the Galaxy A51, which will start at $500, is set to go on sale later this year.
LG
The LG V60 ThinQ 5G, which sells for about $900, is available through AT&T, T-Mobile, and Verizon.
It has a 6.8-inch display, can shoot video in 8K, and features an optional attachable dual screen. In our ratings, the model ranks about the same as last year's LG V50 ThinQ 5G.
The rear cameras received Very Good ratings, and the battery lasted an industry-leading 45 hours in our testing.
The LG Velvet just went on sale for $600. Currently offered by AT&T, it will be available later this summer through T-Mobile and Verizon.
It features a 6.8-inch OLED display and a triple rear-camera setup that includes an ultra-wide lens. The phone is both wireless and quick-charge compatible and contains a 4,300-mAh battery.
Motorola
To be compatible with 5G, the Moto Z4—which went on sale through Verizon last June—requires a $350 Mod attachment that's sold separately.
The $500 phone boasts a 6.4-inch OLED display and an ample 3600-mAh battery.
Verizon also is selling the Motorola Edge+, which launched this spring. The phone, which we haven't tested, costs about $1,000 and boasts a 6.7-inch OLED display.
Like Samsung's latest 5G phones, it works with Verizon's Ultra-Wideband network.
OnePlus
Both T-Mobile and Verizon sell versions of the OnePlus 8, which launched in late April and starts at $700.
The 8 includes Qualcomm's Snapdragon 865 processor (also found in the Samsung Galaxy S20 phones) and a 6.6-inch display. In our testing, the phone's rear camera received a Good rating when it comes to still images, scoring well below other premium models. But for video- and selfie-camera quality, the model received Very Good ratings.
OnePlus also sells an 8 Pro version that starts at $900, but it's been in short supply recently. That phone features a quad-camera setup that includes a 48-megapixel main camera and another with a 3x optical zoom lens. The device is powered by a 4,510-mAh battery.
TCL
During the CES trade show in January, TCL, known best for TVs, announced its first 5G smartphone: the TCL 10 5G. The model, which will cost less than $500, is slated to reach the U.S. around September.
Touted by TCL as "the people's 5G phone," the 10 5G will be powered by Qualcomm's new 7-Series 5G chip, which is geared toward lower-priced 5G devices. The model also will have four rear cameras and a high-quality LCD display.