Best Electric Chainsaws of 2022
The latest battery-powered and plug-in models from CR's tests could make a lumberjack swoon
When you shop through retailer links on our site, we may earn affiliate commissions. 100% of the fees we collect are used to support our nonprofit mission. Learn more.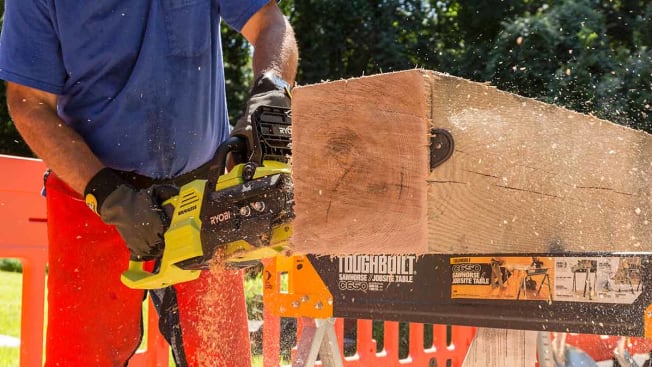 For years, electric chainsaws couldn't hold their own against gas models. That's changed. In our most recent tests, the top-ranking battery-powered saw made an astonishing 152 cuts through a 10-inch oak beam on a single charge. And it's not the only electric chainsaw to kill it in recent years.
Of the 37 electric chainsaws in CR's chainsaw ratings, 26 earn a rating of Good or better for cutting speed. And a number of the battery-powered models actually earn the top rating of Excellent in that test. That's crucial, because cutting speed is where electrics really lagged behind gas models in the past.
"In the early days, electric saws were pretty underpowered," says Misha Kollontai, CR's test engineer in charge of chainsaws. "Now our tests show that the best electrics, particularly those that use batteries rather than a power cord, can go head-to-head with gas models."
To evaluate chainsaws, we consider how well they cut, how easy they are to handle, and how safe they are to operate.
Using 10-inch-thick oak beams, we time how long it takes for each saw to work its way through the wood. We use oak because it's one of the hardest woods that most users will encounter on their property. We also assess how each saw handles, considering its weight and how easy it is to make horizontal and vertical cuts, and check for any vibration.
For ease of use, we look at a number of factors, including how simple it is to start, adjust, and maintain. We also size up safety features, check for any kickback during the course of cutting, and assess whether a model's exhaust parts, like the muffler, get hot, a possible burn hazard.
We also recently added ratings for predicted reliability and owner satisfaction, which reflect what thousands of CR members told us about their experiences with their chainsaws. Specifically, we ask whether their chainsaws ever broke or stopped working properly over the first five years of ownership, as well as the percentage of members who are extremely likely to recommend their chainsaw to a friend or family member.
Battery-powered saws tend to be slightly more reliable than their corded counterparts. A majority of battery saws earn a rating of Very Good or Excellent for predicted reliability, while the corded brands earn ratings of either Good or Very Good.
We test electric chainsaws from some of the biggest brands in the category, including DeWalt, Ego, Ryobi, and Stihl. CR members can read on for ratings and reviews of the best electric chainsaws from our tests. For more on electric as well as gas saws, see our chainsaw ratings and check out our chainsaw buying guide for information on choosing the right tool for your needs.
Best Battery-Powered Electric Chainsaws
Best Corded Electric Chainsaws