When you shop through retailer links on our site, we may earn affiliate commissions. 100% of the fees we collect are used to support our nonprofit mission.
Learn more.
Like a good pop song that yearns to rise above the radio clatter, standing out in the crowded midsized sedan segment requires a hook: terrific reliability, all-wheel drive, miserly fuel-economy, sporty handling, or good-looks-on-a-budget. There needs to be a distinctive reason to buy one sedan over another, or else a car gets lost among the noise.
Indeed, the outgoing Chevrolet Malibu never found its groove. Hurried updates couldn't fix the car's slab-sided styling, shortness of rear-seat space, or middling fuel economy. Fully redesigned from top-to-bottom for 2016, the new Malibu strives to be more memorable, but we feel like we've heard this tune before.
Parked side-to-side, you certainly won't confuse the new Malibu for the outgoing model. (That car lingers on, rebadged Malibu Classic for the rental fleets.) Instead, it looks like a shrunken Chevrolet Impala, which enjoyed its own extreme makeover a few years ago. Like the latest Honda Civic, the Malibu's rear quarter flirts with ambiguity: Is it really a sedan or is it a hatchback in disguise? The Chevy's sculpted rear flanks evoke an Audi A7, which certainly is no bad thing.
While car companies have gotten better over the years with balancing sleek styling and driver visibility, these looks still have a price: swept-back windshield pillars and fairly small side windows. At least rear visibility is augmented by the standard backup camera. Advanced safety gear, including blind-spot monitoring and forward-collision warning with automatic braking, is readily available on mid-level trim lines, although you do need to buy some fairly large accompanying option packages to get this equipment.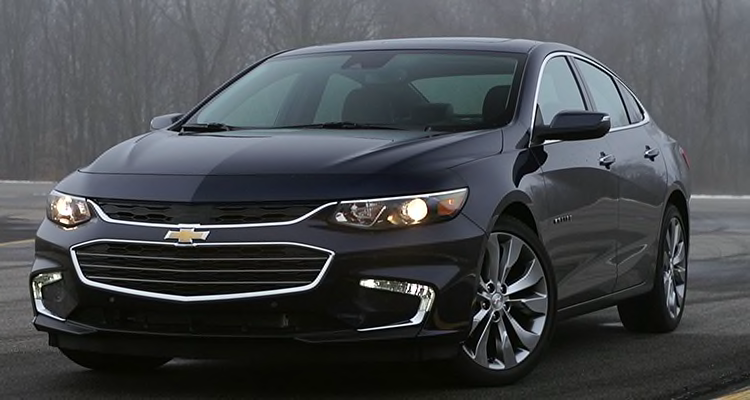 Cramped rear-seat legroom was one of the Malibu's literal shortcomings. Remedied in the 2016 Chevrolet Malibu, space is now competitive. Surprisingly, given the sloped rear roofline, rear headroom remains sufficient for adults. Up front, a minimalistic dashboard design makes the cabin feel open and spacious, especially if you indulge in the optional panoramic moonroof. Seat fabric swatches on the dashboard add an appealing touch on mid-grade LT models, helping break up an otherwise depressing sea of gray.
Controls are simple, with giant knobs and buttons for the climate system. GM's MyLink touch-screen infotainment system is straight-forward to use, supplemented with Apple CarPlay. One frustration: The outside ambient temperature display, usually displayed on the center screen, disappears when CarPlay is being used. Maybe a readout could be incorporated in the otherwise full-featured, full-color display between the clear analog gauges.
Hoping to address the concerns about fuel economy, GM jumps on the small-displacement, turbocharged four-cylinder bandwagon, with the Malibu's base engine becoming a 1.5-liter, 166-hp turbocharged four-cylinder. However, other small-displacement turbos, especially Ford's EcoBoost engines, have had mixed success when it comes to actually returning better fuel economy compared to larger engines. We are keen to see the results of our official fuel economy tests on our own Malibu to see if this turbo engine lives up to its promise.
Unlike some rivals, GM stuck with conventional automatic transmissions for non-hybrid versions of the Malibu. That sacrifices some fuel economy over a continuously variable unit, but it also rewards drivers with more direct acceleration and typically reduced engine noise. Standard start/stop technology, which turns off the engine automatically when stopped in traffic or at intersections, restarts the engine smoothly and quickly when it's time to carry on. Too bad the engine itself sounds raspy when it's being worked; power from a start feels perky enough, but it runs out of steam as the car approach highway speeds.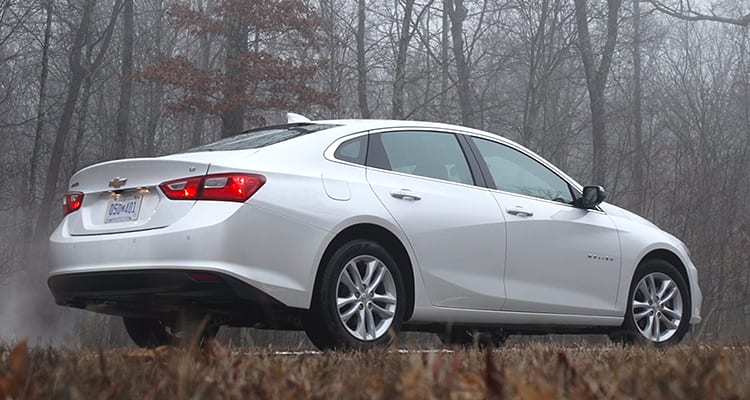 Complaints about power disappear with the uplevel engine, a 2.0-liter, 250-hp turbocharged four-cylinder, connected to GM's first eight-speed automatic in a front-wheel-drive car. Maybe eight really is enough; unlike the indecisive and bumpy nine-speed automatics found in some competitors, the eight-speed feels smooth and responsive.
Fuel economy enthusiasts will hold out for the Malibu hybrid. Previous Malibu Hybrids were half-hearted affairs, using a mild-hybrid system that only gave the car a minor boost in power and fuel economy. This time, the Hybrid isn't messing around, using a full-hybrid system that leverages technology from the Chevrolet Volt electric car.
Despite our complaints about the outgoing Malibu, the quiet cabin and cushy ride comfort made the last-generation Malibu one of the more luxurious-feeling midsized sedans to drive. Happily those qualities carried over to the 2016 Chevrolet Malibu, even with the top-trim Premier's large 19-inch wheels and tires. Handling feels planted and stable, making the car a great choice for ticking away highway miles. While piloting the new Malibu proves more pleasant overall than the rather mundane Honda Accord, it fails to match its cross-town rival, the Ford Fusion, at combining sharp handling with a composed, sophisticated ride.
Maybe that's our biggest problem with the 2016 Chevrolet Malibu. No question, it's a big step forward for this venerable nameplate, becoming more stylish and rewarding than before. But the Ford Fusion has been climbing these same charts since its most recent 2013 redesign, combining sleek looks, small-displacement turbo engines, and engaging driving dynamics into an American midsized sedan. Given that, the Malibu feels a bit like a very well-done cover of an already familiar and comfortable song.