When you shop through retailer links on our site, we may earn affiliate commissions. 100% of the fees we collect are used to support our nonprofit mission.
Learn more.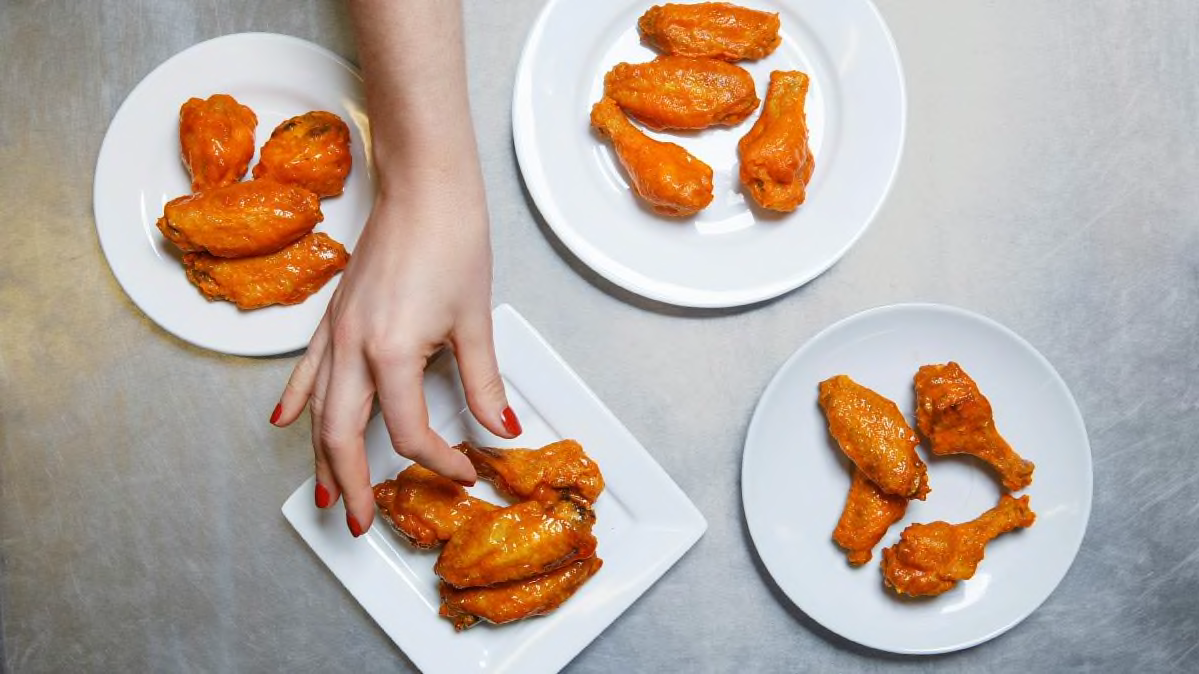 March Madness lacks some of its typical magic this year, as NCAA teams face-off to little fanfare in Indianapolis. But Wing Madness? The competition just keeps heating up.
After weeks of wall-to-wall chicken wings, the second round of the The Ultimate Hot Wings Tournament is officially in the books—and we have our Fiery Four.
If you're behind, catch up on all the contenders (cooking methods) and our play-by-play coverage of the Savory 16.
While there were no wild upsets in the latest round, there's a good chance your bracket has taken a hit or two. Perhaps you were one of the 81 percent on Instagram who placed a bet that roasting wings on a rack would survive past the first round. Nope. Or maybe you were one of the 69 percent of our followers who were sure the foil packet on the grill would bring its A game.
Whatever the case, there are more hot wings to be had, as the top-performing methods make their way toward the center of the bracket.
Read on for the details of this week's winners—and losers.
As of April 2, our #WingMadness Tournament has wrapped.
Catch up on each round:
Roast
Convection vs. Roast, No Rack
Winner: Convection
Last week, the convection-roasted wings had an easy win. But in this round, the convection wings had to fight for it. The skin didn't crisp up quite as much as the wings roasted without a rack. But the meat was juicy and tender and the skin had a better mouthfeel than the defeated wings.
Some fans thought roasting wings without a rack would be 2021's Cinderella story. Remember its upset last week when it proved that sometimes less is more—by beating out the wings that were roasted on a rack? Yes, that gorgeous skin is still a dream to behold, but tasting it alongside the convection wings made us realize they were kind of chewy and the meat was a little tough. Sorry, princess, but your fairytale run ends here.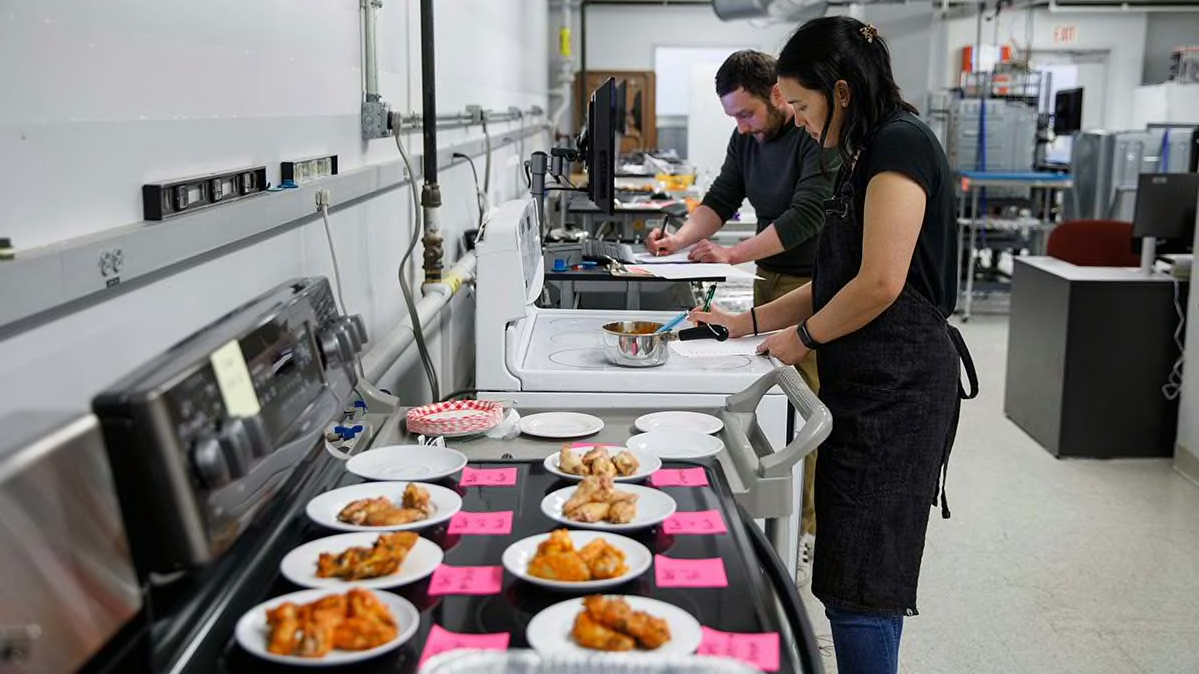 If you go deep on chicken wing research, like we did, you'll notice that it's quite trendy to coat chicken wings in baking powder to achieve crispier skin. Tons of recipes online recommend it.
So we also convection-roasted a batch of wings coated with the leavening agent to see if it made a difference. The skin turned out leathery. We made another batch, letting wings marinate in the baking powder for 1 hour: Better, but still quite leathery. We made a final batch letting wings sit for 24 hours uncovered in the refrigerator: Better, but still not as tasty as wings roasted without baking powder.
Our tip? Skip this step.
Grill
Grill, Indirect + Direct vs. Boil + Grill
Winner: Grill, Indirect + Direct
We found the chicken wings grilled over low, then high heat to be more tender than the parboiled wings, which gave this method the edge. Some tasters really enjoyed the charred bits.
The parboil helped wings take on a slightly more uniform golden color than the wings cooked over indirect and direct heat. But the sauce didn't cling properly—a culinary airball if we've ever seen one.
Broil
Broil, Low vs. Boil + Broil, No Rack
Winner: Boil + Broil, No Rack
You'd be right to wonder if it's really necessary to boil wings before broiling—or whether that's just smoke and mirrors. But the results don't lie. After a surprise upset last week, one taster put it best: "This is the Duke University of chicken wings."
The low-broiled wings looked like hot stuff facing off against high-broiled wings last week, but any dreams of beating Duke were immediately squashed in this matchup. The browning wasn't uniform and the meat felt chewier compared to the parboiled wings.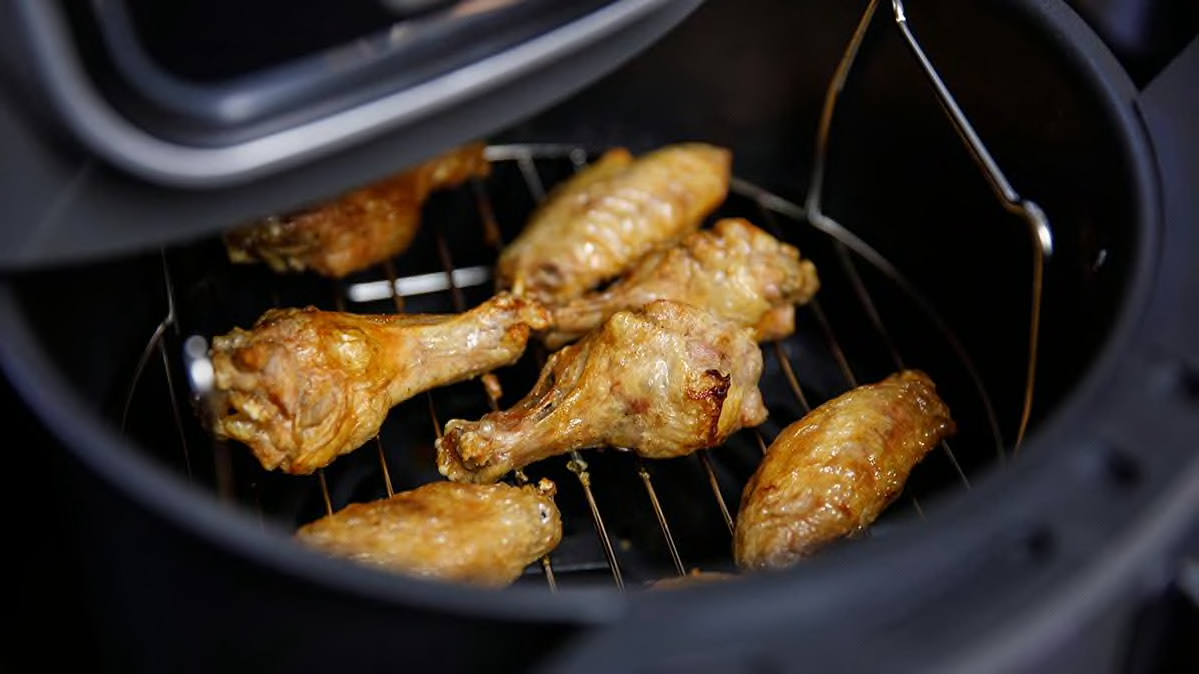 Small Appliance
Air Fry vs. Pressure Cook + Air Fry
Winner: Air Fry
The most highly anticipated taste-off in the Tasty Eight was a battle between two hot countertop appliances.
Last week, we established that pressure-cooked wings finished in the air fryer were way better than the ones finished under the broiler. But that begs the question: Do we need the added step of pressure cooking the wings before air frying? Does it really make for more succulent meat?
The answer ultimately, is no. The pressure-cooked wings were bangin' and held their own up to the very last minute. To be honest, the buzzer-beater happened post-tasting when we had to wash two appliances instead of one.
But some of us question: How will the air fryer's dominance in the small appliance region translate at the next level, when it will face off against the mighty grill?