When you shop through retailer links on our site, we may earn affiliate commissions. 100% of the fees we collect are used to support our nonprofit mission.
Learn more.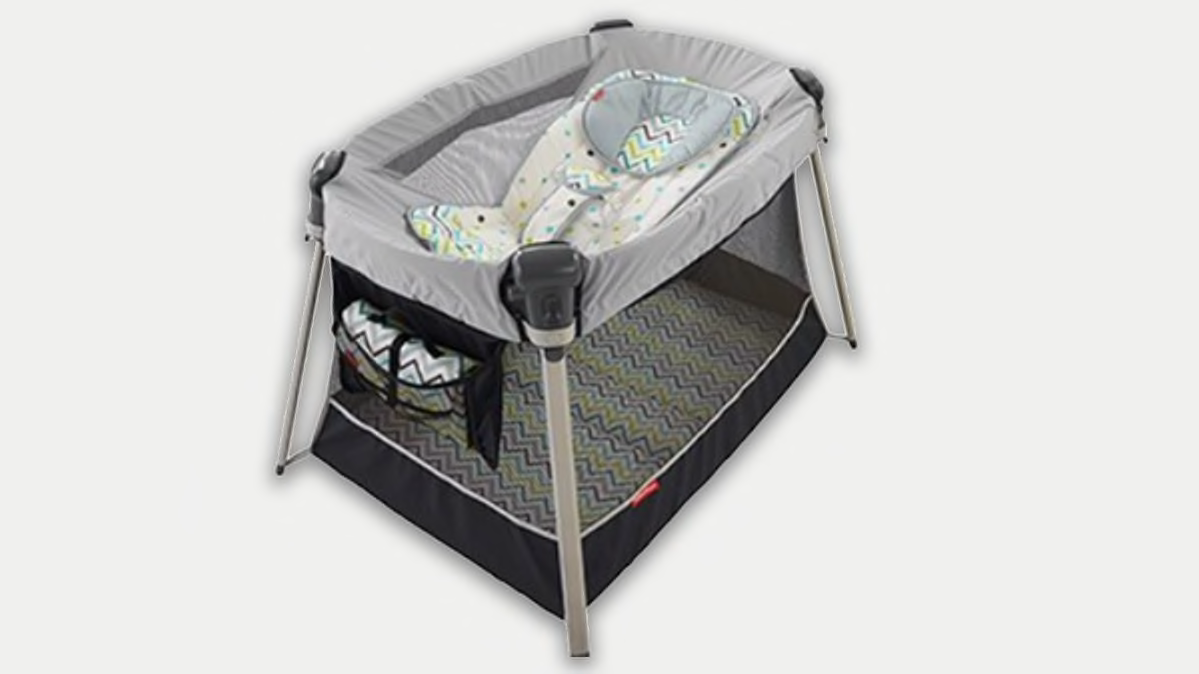 Update: On July 31, Dorel Juvenile Group USA recalled about 24,000 inclined sleepers, citing infant deaths linked to other similar products. The recall involves two inclined sleeper models made by the company: the Disney Baby Doze and Dream Bassinet (model BT071DHS) and the Eddie Bauer Slumber and Soothe Rock Bassinet (model BT055CSY). Caregivers should immediately stop using the products.
This article was originally published on June 27.
Fisher-Price today recalled about 71,000 inclined sleeper accessories included with the Ultra-Lite Day & Night Play Yards because similar products have been linked to infant deaths, the Consumer Product Safety Commission announced today.
The recall involves the inclined sleeper accessory sold with all Ultra-Lite Day & Night Play Yards with model numbers CBV60, CHP86, CHR06, CJK24, and DJD11. The model number is on the label inside the play yard and on the back of the inclined sleeper pad. The product is a portable play yard with inclined sleeper and changing station accessories and a carry bag; the recall only applies to the inclined sleeper accessory.
The recall comes more than two months after the company recalled almost 5 million Rock 'n Play Sleepers initially linked to at least 32 infant fatalities uncovered by a Consumer Reports investigation. Inclined sleep products overall have been tied to at least 50 deaths to date.
Inclined sleep products—which are designed to put babies to bed at an incline between 10 degrees and 30 degrees—are not a safe sleep environment for any infant.
The products increase the risk of airway compression, suffocation, and death, according to the American Academy of Pediatrics, and all run counter to recommendations from the AAP, the National Institutes of Health, the Centers for Disease Control and Prevention, and the federal Maternal and Child Health Bureau. These organizations say babies should be put to bed on their back—alone, unrestrained, and on a firm, flat surface free of bumpers and other soft bedding.
More on Inclined Sleepers
Consumer Reports has called for the CPSC and companies to get all inclined sleep products off the market and out of people's homes. CR strongly supports legislation in Congress to ban the manufacture, import, and sale of inclined sleepers altogether.
"Today's recall is shockingly overdue," says William Wallace, manager of home and safety policy for CR. "At the very least, it should've happened 10 weeks ago when the Fisher-Price Rock 'n Play Sleeper was finally recalled."
Anyone with the inclined sleeper accessory should immediately stop using it and contact the company for a refund on its Recalls & Safety Alerts page or call 800-432-5437 from 9 a.m. to 6 p.m. ET Monday through Friday.
"While it's good they're finally getting these 71,000 products off the market, Fisher-Price and Mattel owe it to their customers to give them full refunds, rather than partial refunds or company vouchers, regardless of how long ago the product was bought," Wallace says. "If they won't do so, then it'll be clear: The company is putting its bottom line over infant safety."